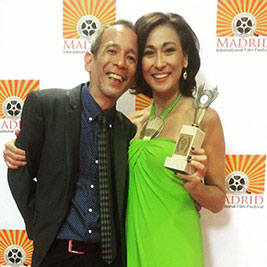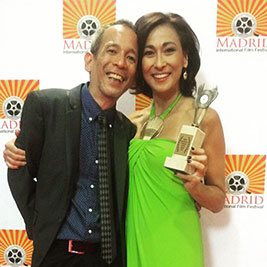 Cherie Gil was awarded the Best Lead Actress in a Foreign Language Film at the 2015 Madrid International Film Festival for her work with director Gabriel Fernandez in the movie Mana (The Inheritance). The movie received the festival's main prize, the Best Feature Film award.
Gil won over 7 other actresses and Mana bested 14 other entries in the competition for independent films.
The film's storyline revolves around the life of siblings who return to their Negros ancestral home to deal with inheritance issues and unexpectedly unearthing their family's dark past as their mother lays on her death bed.
The cast includes Jaime Fabregas, Tetchie Agbayani, Ricky Davao, Epy Quizon and the late Mark Gil, Cherie's brother.
Gil and Fernandez received their awards in Spain. Fernandez' speech honored actor Mark Gil who played siblings with real-life sister Cherie. Mark died of liver cancer in 2014.
"Mark Gil, a dear friend whom I miss to this day … and to all the OFWs [overseas Filipino workers] working in Europe as nannies, waiters, caregivers, service men and women … that they may hold their heads high with pride," said Fernandez.
Fernandez has taught at the Bacollywood Workshops for the last 25 years. He graduated from the University of Saint La Salle.
Mana was produced by the De La Salle College of St. Benilde on the occasion of its silver jubilee in 2013.
Facebook Comments