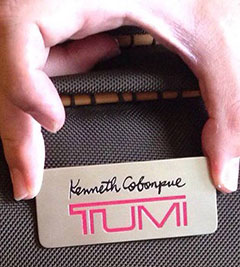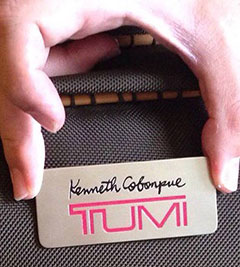 Filipino multi-awarded industrial designer Kenneth Cobonpue's brand will soon be the rage in the business and leisure travel essentials market.
Cobonpue recently tied up with world-renowned travel brand Tumi, adding his brand to the Tumi collection.
In a Facebook post in early April, Cobonpue revealed his new partnership with the US-based manufacturer of travel essentials. "We are revealing a teaser of our collaboration with Tumi, the brand known for world-class business and travel essentials. To honour this partnership, our creative director adds a personal touch to this metal plate," Cobonpue posted.
It's not the first time that Cobonpue had been in the global limelight and had collaborative projects with international sensations. The Cebu-based award winning designer has netted several citations and awards from various countries including the United States, France, Singapore, and Japan. His formations were also featured and used in Hollywood shows, design exhibits, music videos, films, and magazines.
Cobonpue is most noted for his organic designs integrating Philippine-sourced natural fibres and materials with handmade production processes.
Famous Hollywood celebrity couple Brad Pitt and Angelina Jolie were once Cobonpue's clients for whom he handcrafted a chair which was branded as the "Voyage bed" and given to the couple's son, Madox.
Tumi Inc. is a well-known manufacturer of luggage and suitcases essential for business travelling. The South Plainfield, New Jersey company is famous for their black-on-black travel ballistic nylon travel bags. It also produces accessories such as belts and electronic tools. What makes a Tumi luggage extraordinary is a metal plate with a unique 20-digit registration number incorporated on its build. Clients can input their contact details and register to the Tumi Tracer program which would help them locate their lost bags.
Facebook Comments