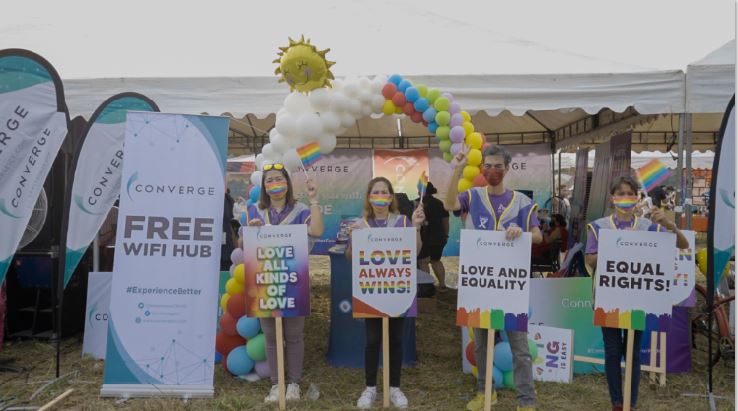 Leading fiber broadband provider Converge ICT Solutions Inc. (PSE: CNVRG) recently partnered with Metro Manila Pride (MMPride), organizers of the Metro Manila Pride Parade and Festival, to provide high-speed internet during the cultural event held at the CCP Grounds last Friday.
The event was attended by over 29,000 participants and was also streamed live through the Converge network and reached nearly 30,000 viewers online.
Apart from providing connectivity for live streaming, Converge also provided WiFi for the Volunteers and the Media Center. The successful connection for the outdoor event was made possible with the Converge pure fiber network utilizing the Seamless Whole Home WiFi System which delivered an 800 Mbps connection within a 3,000 square-foot radius.
"We're glad to be able to show our support for advocacies of equality and inclusivity while also being able to feature the best of fiber technology. For a massive event that is highly talked about and shared on social media such as the Pride March and Festival, there's no other solution but fiber. It's an honor for us to be the only Philippine telecommunications company to partner with MMPride for this year," said Benjamin Azada, Converge Chief Strategy Officer.
"After two years of conducting digital and hybrid events, increasing access has been an important component of the things we do," says Rech de Asis, March and Festival Program Lead of MMPride.
"Those among our community who are unable to join physical events due to health issues or because of the unsafe and anti-LGBTQIA+ environments they live in tell us that live streaming and live posting about our activities is an important lifeline for them. This is why having a connectivity partner like Converge who has also committed to further integrate Sexual Orientation, Gender Identity and Expression, and Sex Characteristics (SOGIESC) issues into their D&I principles has been invaluable for us," she adds.
This June, Converge cemented its commitment to Diversity and Inclusion (D&I) as it celebrated Pride Month with a series of activities for employees in partnership with MMPride. Employees and management also expressed their support for the LGBTQIA+ community and the advocacy through a Commitment Wall placed at the Pasig headquarters.
"As a company that thrives on innovation, D&I is an integral part of our sustainability commitment. Creating an inclusive workplace allows Converge to attract talented people with varied backgrounds and experiences, so we can bring new ideas and solutions for our customers. Our mission is to delight our customers by taking care of our own. Hence our partnership with MMPride is not a one-off thing, but rather the start of a deliberate effort to educate and empower Converge employees on SOGIESC issues," added Azada.
Following the event, to further strengthen the advocacy, a Sexual Orientation, Gender Identity, and Expression (SOGIE) Workshop and Learning Session for employees will be conducted through the Metro Manila Pride organization, as well as educational webinars to further instill D&I principles.
Converge has also been providing support for UAAP Men's Basketball Champions, UP Fighting Maroons.
Converge also powers former BPO employee Captain Mike to pursue his passions while helping a woman-run upcycling social enterprise expand its market online.
Good News Pilipinas is a Lasallian Scholarum Awardee. TELL US your good news story tips by messaging GoodNewsPilipinas.com on Facebook, Twitter, Instagram, or e-mail editor@goodnewspilipinas.com and WATCH Good News Pilipinas TV YouTube & Good News Pilipinas TikTok for more Filipino Pride stories!
Facebook Comments