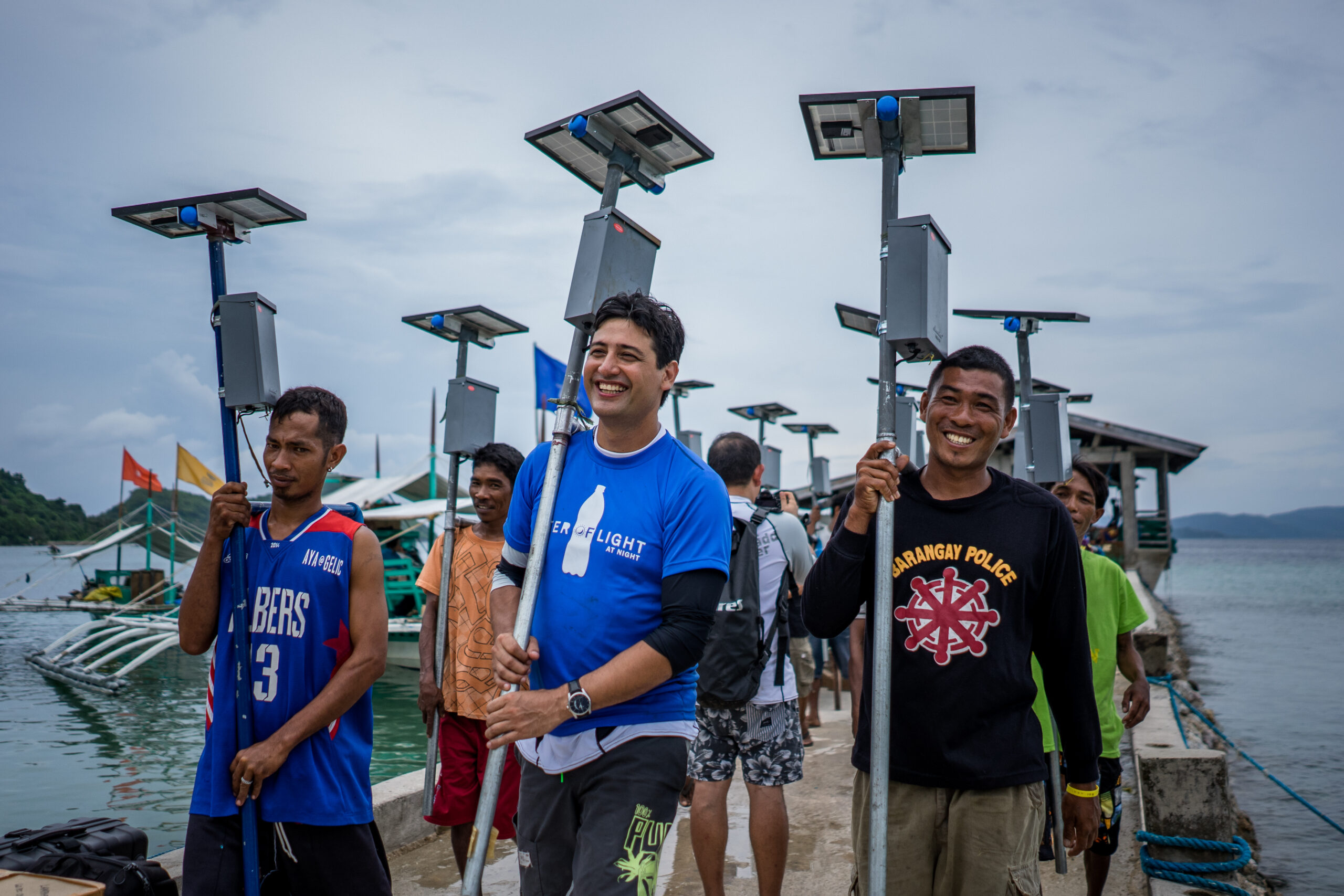 The Dubai Expo is set to host the world premiere screening of the Theory of Light documentary about the Filipino-born solar lighting movement, Liter of Light.
The documentary film is scheduled to be screened on Sunday, March 27, 2022, with an opening event graced by United Nations Resident Coordinator, Dr. Dena Assaf, in front of hundreds of dignitaries at the ongoing EXPO2020 global event in the United Arab Emirates.
The Theory of Light docu presents the Filipino as a giver of light to the world through the efforts of Edison Awardee Illac Diaz and his teams of volunteers.
The film pushes the cause of the urgency of climate action as it chronicles the efforts of Liter of Light to inspire generations of innovators to be changemakers.
Liter of Light recently made the headlines for representing the Philippines' private sector initiatives at the UN Climate Change Conference (COP26). Liter of Light is also the Philippine private sector representative of ExpoLive at the EXPO2020 Dubai which ends its run on March 31.
"Theory of Light puts a spotlight on the need for more urgent and united action to protect our people and future generations from the adverse effects of climate change. Part historical chronicle, part environmental lesson, the documentary shows how Liter of Light is reinvigorating efforts to take action and inspiring new generations of innovators from the Global South to come up with ideas that will change the world," says the film production team.
"The documentary advances bold storytelling that centers the climate emergency through a climate justice lens. With a commitment to uplift the perspectives of black, brown, and indigenous communities whose lives are already being impacted by climate change, it gives a voice to those who feel excluded from the climate movement and whose voices have not been represented in traditional climate storytelling," the filmmakers add.
The ASEAN Champion Founder and Executive Director of Liter of Light, Illac Diaz, says the film is valuable in showing how Filipinos can be givers instead of receivers of humanitarian aid.
"Most media coverage to date focuses on the receiving effects of the climate crisis; as victims and stops there. Filipinos are admired for our resilience but rarely do stories focus on the rising up, building back, and innovative solutions that communities themselves have developed to take dramatic action. In fact, only 1% of all global expenses for filmmaking are spent on the environment and the growing climate crisis," says Diaz.
"With this documentary, we want to flip the script, and share stories of common humanity and hope that inspires others to make urgent and right decisions for the people and planet," adds the Liter of Light leader.
Theory of Light is produced and distributed by TBA Studios, a production company known for its critically-acclaimed and groundbreaking films such as "Heneral Luna" and "Goyo: Ang Batang Heneral".
J.P. Gopez helmed the project in collaboration with Boomtown Studios for footage and filming.
"TBA Studios has always been committed to bringing to life stories that inspire, educate, and entertain. 'Theory of Light' is the first Filipino global environmental film with a local narrative about the harsh realities of climate change. We hope that this project will touch people's lives—the way it did ours—and continue to influence decision-makers around the world to create more sustainable and tangible solutions for all," shares TBA Studios CEO E. A. Rocha.
The film is executive produced by Liter of Light founder Illac Diaz, SM Prime President Hans Sy, TBA Studios CEOs E. A. Rocha and Fernando Ortigas with TBA's Executive Vice-President and General Manager Daphne Chiu and Film Development Manager Margie Navarro co-producing.
"I believe in the power of collaboration and partnerships to elevate global sustainability. For our children's children, the present generation must come together and adapt to the challenges of climate change. "Theory of Light" shows us that even the simplest folk can do their part and be an excellent example of resilience and disaster preparedness. We find shining beacons of light amid natural disasters," says Hans T. Sy, Chairman of the Executive Committee for SM Prime Holdings.
The project is an official partnership with the office of the UN Framework Convention on Climate Change and the Manila Observatory, the key research institution on climate change in the Philippines.
Theory of Light premieres on March 27, 2022, with an official reception at 6:00 Pm and film screening at 7:00 PM at the United Nations EXPO Opportunity Pavilion Auditorium.
LISTEN to Illac Diaz talk about his mission and passions in this Good News Pilipinas TV feature.
WATCH the trailer here and SHARE THIS STORY about the Dubai Expo premiere of the Theory of Light docu on Filipino-born solar lighting movement, Liter of Light.
Good News Pilipinas is a Lasallian Scholarum Awardee. TELL US your good news story tips by messaging GoodNewsPilipinas.com on Facebook, Twitter, Instagram, or e-mail editor@goodnewspilipinas.com and WATCH Good News Pilipinas TV YouTube & Good News Pilipinas TikTok for more Filipino Pride stories!
Facebook Comments