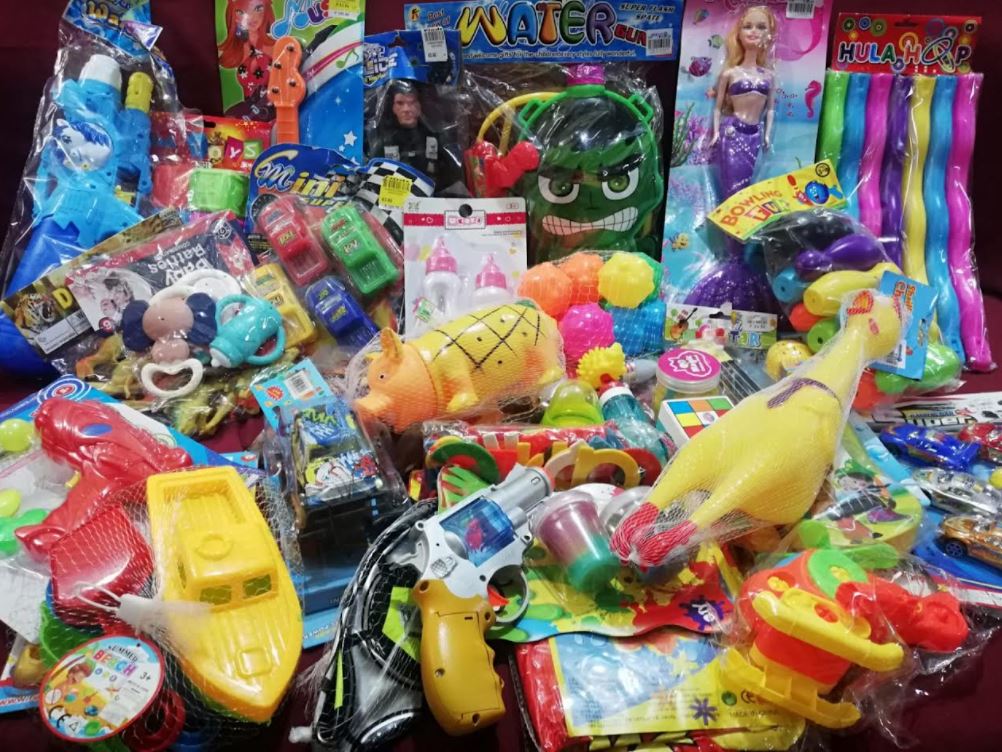 Non-profit group EcoWaste Coalition has initiated a 4-month toy safety monitoring project with the onset of the "ber" months this September, the start of the world's longest Christmas celebration held in the Philippines.
"As the Christmas gift-giving season approaches, we are again embarking on a project to monitor compliance to toy product safety regulations, including the special labeling requirements for toys sold in the local market," said Thony Dizon, Chemical Safety Campaigner, EcoWaste Coalition.
The group released the results of its examination of an initial batch of 35 toys coinciding with the seventh anniversary on September 3, 2021, of Republic Act 10620, or the Toy and Game Safety Labeling Act of 2013,
The toys costing PHP40 to PHP155 each were obtained last month from chain stores with branches in the cities of Makati, Mandaluyong, Manila, Taguig, and Quezon.
Of the 35 toy samples, none were found fully compliant with all the labeling requirements as stipulated under RA 10620 and its IRR, the group revealed.
"We hope the results of our monitoring efforts will assist consumers in making good purchases of suitable toys that pose no health and safety risks to children," Dizon said, adding "regulators will also find the information gathered useful in stepping up the enforcement of pertinent toy safety regulations and standards."
The law requires the provision of the following information on the label of toys and games:
license to operate (LTO) number issued by the Food and Drug Administration (FDA);
age grading;
cautionary statements/warnings;
instructional literature;
manufacturer's marking;
item, model, stock-keeping unit (SKU) number
Based on its scrutiny of the product labels, the EcoWaste Coalition verified that:
– 5 products had zero labeling information;
– 13 samples indicated no LTO number;
– 13 products gave no age labeling information;
– 10 samples provided no cautionary statements such as "Warning: Not suitable for children under 3 years. Contains small parts" or its equivalent graphical symbol;
– 22 products lacked information about their manufacturers or distributors;
– 23 samples had no item, model, SKU number.
None of the products provided usage instruction or instructional literature.
Last year, from September to December, the group collected 260 toy samples procured from 13 cities in Cebu, Davao, and Metro Manila.
Out of these 260 toy samples, not even a single product was found fully compliant with RA 10620's labeling and packaging requirements.
Under the said law, toys and games not in conformity with the labeling and packaging requirements will be treated as "misbranded" or "banned hazardous substance" and "withdrawn from the market at the expense of the manufacturer or importer."
Toy manufacturers, importers, distributors, and retailers found in violation of RA 10620 and its IRR will be fined not less than P10,000 but not more than P50,000, or imprisoned for not less than three months but not more than two years, or both, at the discretion of the court.
To alert both consumers and regulators on non-compliant toys that may pose a health or safety concern, the EcoWaste Coalition will continue until December its monitoring activities of toys being sold in the marketplace, including those peddled on online shopping sites.
EcoWaste has embarked on yearly campaigns on how Christmas gift-giving should protect children from toxic toys.
Check Out This Ultimate Christmas Gift-Giving Guide to Safe Toys for Children
Good News Pilipinas is celebrating its 15th Anniversary in 2021 by giving away prizes! Subscribe to our Good News Pilipinas! TV YouTube channel and enter the raffle by sending us an email to editor@goodnewspilipinas.com
Facebook Comments