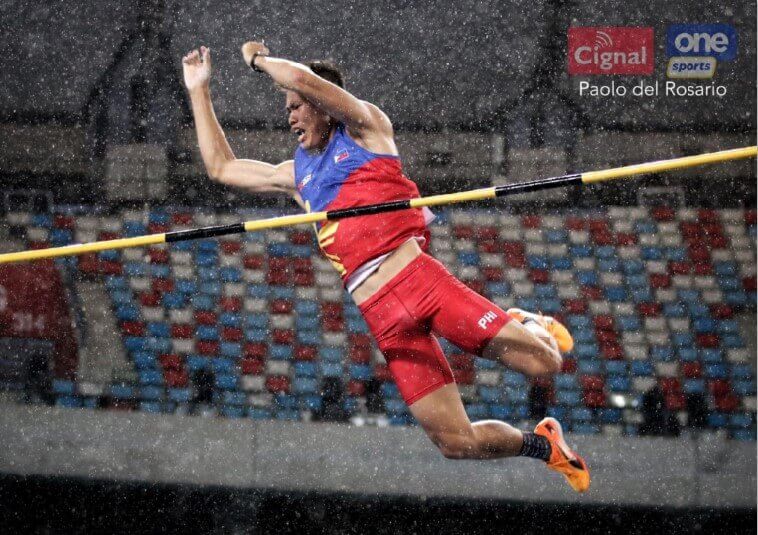 Philippine pole vault sensation Ernest John Obiena is doing more than just winning medals for his country – he's giving back to the community in a unique way.
The World No. 3 Filipino athlete recently won his third consecutive gold at the Southeast Asian (SEA) Games in Phnom Penh, setting a new Games record with a clearance of 5.65m. Obiena is auctioning off the orange shoes he wore during his record-breaking performance to raise funds for aspiring Filipino pole vaulters.
The 27-year-old Filipino Olympian athlete told reporters he had seen a video of a child pole vaulter in the Philippines using sawdust as a makeshift landing pit. Obiena aims to use the proceeds from the auction to purchase a new or second-hand pole vault pit for young athletes in Tuguegarao, a province in the Philippines. He hopes this will help eliminate the need for sawdust and provide a safer and more suitable environment for training.
"I wish I had a lot of money so I would have bought one. Hopefully, we raise something for them. If not, we get some kind of pit, if we can't get the actual size, we get something just not the sawdust," Obiena said. The auction of the personalized gold-clinching shoes, adorned with the Philippine flag, aims to make a lasting impact on the lives of these aspiring athletes.
The pole vaulter's heartwarming initiative could also boost the shoes' value over the next year, as Obiena is in strong contention for a podium finish at Paris 2024. Currently recovering from an ankle injury, he hopes to compete at the Asian Athletics Championships taking place in Pattaya, Thailand in July, and ultimately, secure a spot in the Paris Olympics.
Obiena's determination to help young pole vaulters in the Philippines highlights his dedication to the sport and his country. As he said, "We need more pole vaulters in the Philippines, and I want to do that." By auctioning off his SEA Games-winning shoes, Obiena is undoubtedly taking strides toward realizing that goal.
EJ Obiena has hurdled various challenges in his pole vault career to gain recognition for the sport in the Philippines. He has harvested world and regional championship titles, proving pole vault can be a source of medals for the country.
WATCH EJ Obiena's prize-winning vault wearing his shoes-for-auction in this video and CONTACT his social media for inquiries on how to bid for his SEA Games gold-winning shoes to support young Filipino pole vaulters!
Pole vault champion EJ Obiena is auctioning off his gold-winning shoes worn during his record-breaking vault amid rains in Cambodia to support young Filipino pole vaulters #SEAGames2023 #GOODDEED WATCH him break records here https://t.co/OqKmqd476x

— GoodNewsPilipinas.com (@GoodNewsPinas_) May 11, 2023
Good News Pilipinas is a Lasallian Scholarum Awardee. TELL US your good news story tips by messaging GoodNewsPilipinas.com on Facebook, Twitter, Instagram, or e-mail editor@goodnewspilipinas.com and WATCH Good News Pilipinas TV YouTube & Good News Pilipinas TikTok for more Filipino Pride stories!
Facebook Comments