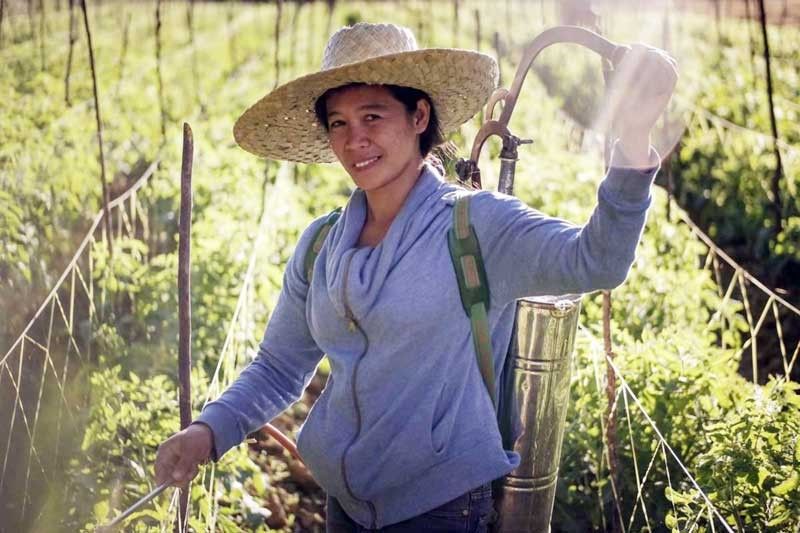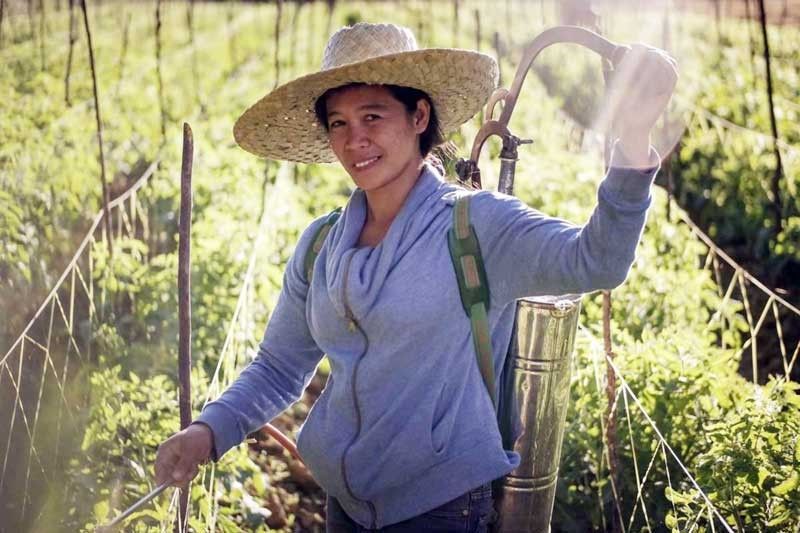 While women farmers are recognized as the backbone of the rural economy, especially in the developing world, they receive "only a fraction of the land, credit, inputs (such as improved seeds and fertilizers), agricultural training and information compared to men," according to the  Food and Agriculture Organization.
But there is a positive trend these days, especially in the Philippines where more and more women farmers are being provided with the right tools and knowledge to lead and extend their practice for them to become profitable and sustainable.
The Farmers Entrepreneurship Program of Jollibee Group Foundation aims to empower and equip farmers with the necessary entrepreneurial skills and know-how to directly sell to institutional markets such as Jollibee Foods Corp. so they can earn more.
Farmer Ligaya Miras of Lamac Multipurpose Cooperative from Cebu can attest to this. "Before, we didn't have a market and we were having difficulties in selling our products because we had no control over the pricing. Now, we have both the market and the say on how we would price our produce."
"We deliver to Chowking daily, so it's really a big help. I am able to send my child to college because of this. Also, we get full payment on deliveries and we have savings now,"  Ligaya said.
The program has demonstrated that by combining the elements of market, finance, and agro-enterprise clustering, farmers can meet the volume, quality, and timeliness requirements of institutional buyers. It has also become an avenue for women farmers to share their knowledge and experience to other women farmers.
"This inspires me to help my fellow farmers as I get to share with them the knowledge I acquire from this program. I learn new things each day and for me that's very important," farmer Zenaida Millares said in Filipino.
To enable farmers to become entrepreneurs, JGF worked with like-minded institutions and developed FEP. JGF and its partners provided various forms of training such as production, cost recording, clustering and collective marketing, among others that are vital for the farmers to sustain the supply to institutional markets.
With this training, FEP farmers are not only more confident in what to plant, but also how to strategize and market their produce, as the program has also equipped them with the skills necessary to do business.
Between 2008 and 2017, FEP trained more than 2,000 farmers on how to access markets in addition to their traditional buyers. Twelve farmer groups now regularly supply JFC while 10 more are preparing to do the same. Since the program started, FEP farmers had already delivered more than 4,000 metric tons of vegetables to the food service company. In 2017 alone, the farmers' cumulative sales to JFC amounted to more than P55 million.
Farmer Lilia Cacbay of Pangasinan said: "FEP really helped us by connecting us to the big companies and providing training where we learned how to account for everything."
Women are naturally nurturing and detail oriented. With programs such as FEP, these values are all the more put to good use, as women farmers are given the right tools and resources to advance their practice, such as in executing logical farm plans and viable business plans.
This in hopes of yielding more opportunities for a sustainable livelihood and to fulfill the dreams of Filipino farmers.
As an FEP farmer who has been given the chance to develop her practice, Ligaya hopes "that the day will come when all farmers will have improved lives and will no longer be faced with poverty."
A dream that isn't impossible to reach, especially when more organizations and individuals will do their part in empowering our farmers—men and women alike.
(Story courtesy of the Farmers Entrpreneurship Program of the Jollibee Group Foundation)
Facebook Comments