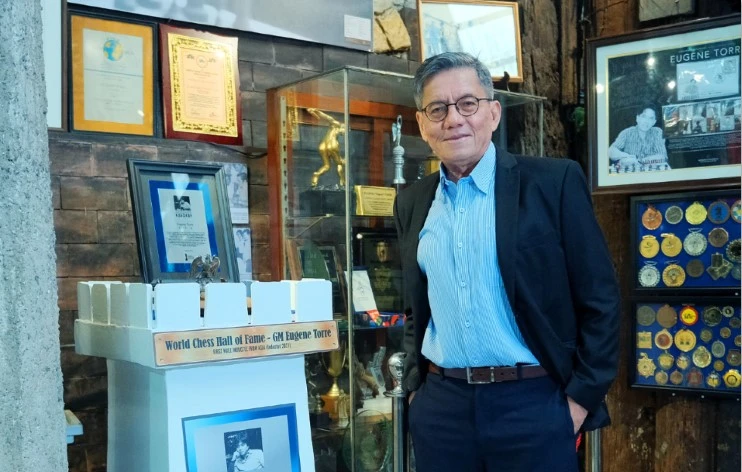 Filipino chess icon Eugenio "Eugene" Torre showcased his continuing mastery in the chess world by sweeping a flawless victory run at the International Chess Federation (FIDE)-rated Guam International Open Chess Tournament 2023.
The global event which drew 67 chess players from various skill levels witnessed not only Torre's legendary skills but his triumphant defense of his title at the tournament held from July 31 to August 4 at the Fort San Jose Dusit Beach Resort in Tumon, Guam.
One of the elite inductees to the World Chess Hall of Fame, GM Torre hoisted the Philippine flag under Guam's skies, clinching the championship in the 9-Round Open Swiss tournament hosted by the Guam Chess Federation. The games were played using FIDE's time control of 90 minutes with a 30-second increment per move.
Filipino GM Eugene Torre reigned supreme at the @FIDE_chess-rated 2023 Guam International Open Chess Tournament, sweeping all his matches to claim a repeat victory. Story follows on @GoodNewsPinas_ https://t.co/uk6jx4A54E

— Angie Quadra Balibay (@AngieQBalibay) August 9, 2023
The 71-year-old Grandmaster, who broke records by becoming the first Asian and Filipino Grandmaster at the youthful age of 22, replicated his previous 2015 triumph at the Guam tourney with elegance and precision. Torre's legendary prowess prevailed, sweeping all 9 matches to secure the top prize of $2,500, while Japan's Kohei Yonemitsu took second place and Guam's Rudolph Soriano placed third.
Torre's Path to Victory:
Round 1: Win against William Gunn (Guam)
Round 2: Win against Daniel Combs (Guam)
Round 3: Win against Cyle Sarmiento (Guam)
Round 4: Win against Rudolph P. Soriano (Guam)
Round 5: Win against Kohei Yonemitsu (Japan)
Round 6: Win against Daniel Doria (Guam)
Round 7: Win against CM Elmer Prudente (Guam)
Round 8: Win against Kyle Garrison (Guam)
Final Round 9: Win against CM Rogelio L. Orio (Guam)
The Asian Chess Federation extolled GM Torre's success, with the Filipino chess legend himself declaring after the game, "I would like to dedicate my victory to my countrymen." He further told the Guam Daily Post, "I'm the defending champion here… so happy to duplicate this achievement. Almost in all the games I had to be careful and not overconfident,… and, of course, my long experience has helped me and also I tried to discipline myself, healthy eating, no vices, all these things."
Eugene Torre's impressive history continues to be a source of pride for the Philippines. Earlier this year, he was honored with the nation's first official chess museum bearing his name. His illustrious achievements include being the first Asian to defeat reigning world champion Anatoly Karpov in 1976, serving as Bobby Fischer's official second in the 1992 rematch against Boris Spassky, and winning gold for the Philippines at various international tourneys, continental tilts, and regional championships.
This latest victory at the Guam International Open Chess Tournament 2023 adds another glowing chapter to the storied career of a man who has dedicated his life to his sport and his country. It's a testament to the Filipino spirit and a celebration of a legacy that continues to inspire chess enthusiasts around the world.
SEND CONGRATULATIONS in the comments below to Eugene Torre for successfully defending his title at the Guam International Open Chess Tournament!
Good News Pilipinas is a Lasallian Scholarum Awardee. TELL US your good news story tips by messaging GoodNewsPilipinas.com on Facebook, Twitter, or Instagram, or e-mailing editor@goodnewspilipinas.com
Facebook Comments