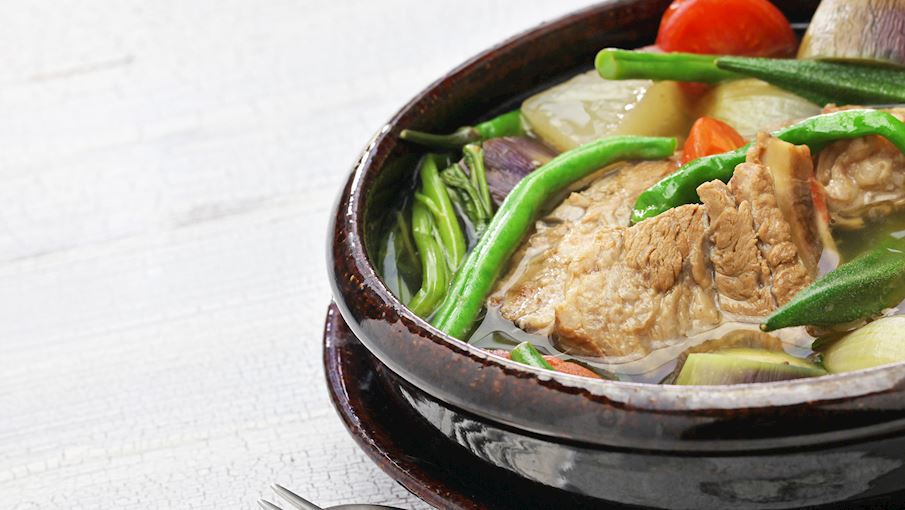 Sinigang, a sour soup native to the Philippines, has been named the World's No. 1 vegetable soup by the online food encyclopedia, Taste Atlas.
The popular Pinoy soup dish currently tops Taste Atlas' international database of vegetable soups in the Best rated category, with a score of 4.8 out of 5 stars from food critics and diners from all over the world.
Sinigang is the only soup on the list with a 4.8-star rating, outranking popular favorites Latvia's skābeņu zupa, Italy's fagiolata, and Nigeria's ogbono soup, all with 4.7 stars each.
The Taste Atlas website describes Sinigang as a sour Filipino soup "consisting of sampalok (fruits of the tamarind tree), water spinach, green pepper, cabbage, broccoli, eggplant, diced tomatoes, sliced onions, ginger, green beans, water, oil, and salt."
"The basic broth usually consists of rice washing, with the addition of a souring agent," Taste Atlas wrote.
Although the international food database did not specify which kind of Sinigang is the best, it notes that "ingredients such as pork, fish, milkfish, shrimp, chicken or beef may also be added to the soup."
"Sinigang is traditionally served hot and steaming as a main dish, with rice as its accompaniment. It is an often seen dish at special occasions such as birthdays or weddings, and over time, as the dish became more popular, there were new variations that used guava or raw mango instead of sampalok and each region developed their own version of the popular soup." Taste Atlas added.
Two other vegetable soups from the Philippines, Utan from Cebu City and the Dinengdeng from Ilocos, were included on the list but not given star ratings by Taste Atlas.
The encyclopedia of food on the internet known for its lists has previously spotlighted Filipino cuisine and has named the Pinoy dishes of Crispy Pata, Lechon, and Kare-kare in the Top 100 Most Popular Dishes in the World.
Pinoy desserts Halo-Halo and Leche Flan were named among the Most Popular Asian Desserts of Taste Atlas, while the all-time Filipino dish favorite, Adobo, has been featured as the national dish of the Philippines on the website.
TELL US in the comments below, how do you like your Sinigang?
Good News Pilipinas is celebrating its 15th Anniversary in 2021 by giving away prizes! Subscribe to our Good News Pilipinas! TV YouTube channel and enter the raffle by sending us an email to editor@goodnewspilipinas.com saying what you like about our site.
Facebook Comments