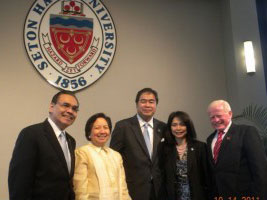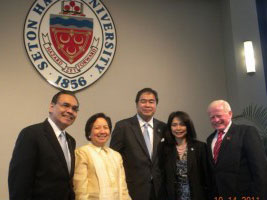 Two Filipino Americans, one a university president and the other a retired U.S. Army major general, were among the honored naturalized US citizens named as the "Great Immigrant" by Carnegie Corporation of New York. The tribute was part of its July 4th celebrations.
Seton Hall University President Dr. A. Gabriel Esteban and U.S. Army Major. Gen. Antonio Taguba (Ret) were cited for their contributions in US society.
Vartan Gregorian, president of the Carnegie Corporation, issued a statement saying the tribute to Esteban, Taguba and the other honorees is "simply a thank you" for their contributions which are "vital to the fabric of our nation and the strength of our democracy." "These individuals have helped advance and enlighten our society, culture, and economy," Gregorian stated.
Esteban, Seton Hall University's 20th President, was appointed in 2011 to head the private Roman Catholic university in New Jersey, the oldest and largest Catholic academic institution in the state. Esteban is an alumnus of the University of the Philippines.
Seton Hall University issued a statement quoting Esteban as saying, "The promise inherent in the American Dream, which has attracted immigrants to the United States for centuries, has been fulfilled in my life many times over. For that, I will be forever grateful to my adopted homeland.
At Seton Hall, I work to ensure that today's young Americans – many of whom come from immigrant families – receive an education that will allow them to realize their own hopes and aspirations."
Taguba is a veterans advocate who retired from the U.S. Army in 2007. He was the second naturalized American to be promoted general officer rank in the Army. He gained world attention when he exposed U.S. military abuses of detainees held at Abu Ghraib prison in Iraq.
Taguba was let go when he accused the Bush administration of committing war crimes, prisoner abuse and torture in American military prisons.
The retired Taguba then committed himself to the cause of Filipino World War II veterans by helping regain their rightful benefits that were taken away from them by the 1946 Rescission Acts. He is currently leading a nationwide campaign to secure the Congressional Gold Medal Award for these veterans.
"For over 70 years, the Filipino World War II soldiers have sought recognition for their courageous actions and selfless service in defending the United States and the Philippines," Taguba said at a recent press conference announcing the filing of the bill in Congress. "Despite having their benefits rescinded by the US Congress, they maintained their unwavering loyalty to the U.S."
Carnegie Corporation founder, Andrew Carnegie, is said to have came to America as the son of impoverished immigrants and grew up to become one of the greatest contributors to American industry and philanthropy, according to Gregorian. "His devotion to U.S. democracy stemmed from his conviction that the new infusion of talent that immigrants bring to our country keeps American society vibrant."
Facebook Comments