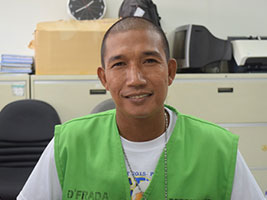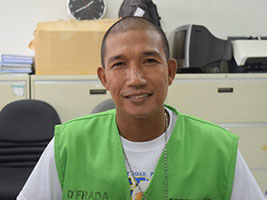 A pushcart retriever at the Ninoy Aquino International Airport (NAIA) shared his cash reward worth P10,000 to fellow workers after returning a cash pouch left behind by an arriving foreign passenger.
It was a Thursday night during peak hours of arrival of foreign airlines in NAIA when 42-year-old Porferio Lavado, Jr of Quezon province found a blue pouch with P120,000 cash, 20 ATMs and credit cards in the pushcart. He immediately asked for assistance at nearby outpost.
Based on the identification card found on the pouch, the owner was identified as a Chinese passenger named Xiren Wu. It was later returned to him after he was paged over a public address system.
Lavado said that Wu rewarded him with P10,000 reward. The porter then gave P7,000 to Airport Police 2 Pablito Seṅo who assisted him in surrendering the pouch to NAIA's lost and found section. Of the remaining P3,000 he shared P1,000 to his fellow workers who helped him find the owner. "For me that's enough. The money doesn't matter," Lavado told media.
"You might think people don't see you but in reality, God is always there watching you," Lavado told media.  "We should be content with what we have. God will repay us for that."
Lavado, who has worked for 12 years as an airport porter, said it was no surprise for him to see left items at the airport and return them to rightful owners. It has happened to him many times and said he would be willing to do it again in the future.
A recognition ceremony organized by Manila International Airport Authority General Manager Jose Honrado for outstanding airport personnel will be held next month where Lavado will also be awarded for his loyalty and honesty to his work. The MIAA regularly awards personnel for honest acts at work.
Facebook Comments