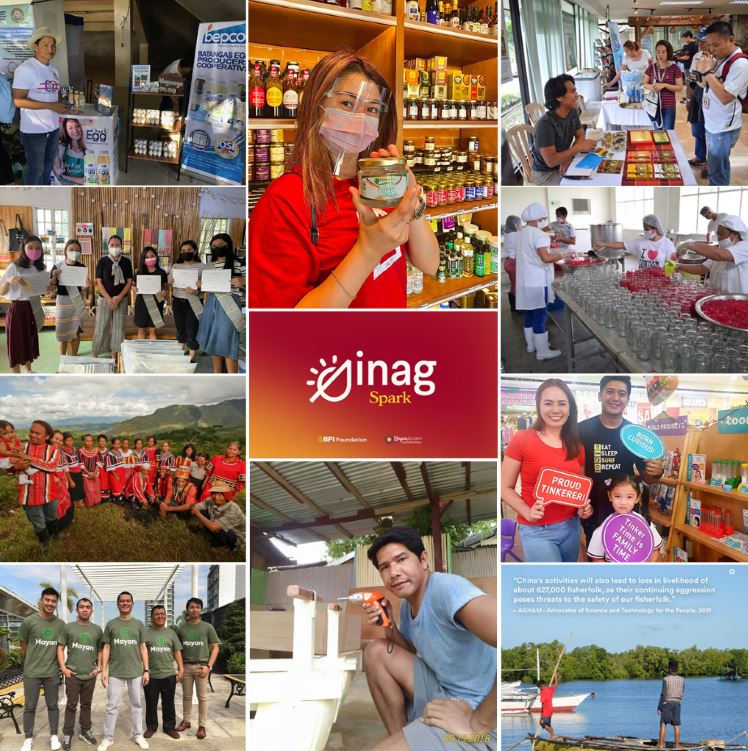 Ten social enterprises (SEs) have received cash grants, exclusive mentorship opportunities, and trophies at the recently held BPI Sinag Spark 2021 Awards, the flagship program of BPI Foundation which aims to champion Filipino SEs.
The top five winners are receiving cash grants worth PHP300,000 each, while the next five awardees are getting PHP100,000 each.
The SEs will also undergo a six-month mentorship program from the pioneering social enterprise incubator Bayan Academy for Social Entrepreneurship and Human Resource Development.
The ten winners were selected from a total of 124 SEs that joined the Sinag Spark business challenge this year. After going through months of deliberations and two intensive boot camps, the top 25 finalists were tasked to pitch their business plans to a panel of judges.
BPI Foundation's Sinag Spark awarded the following social enterprises to help them bounce back from the effects of the ongoing COVID-19 pandemic:
Batangas Egg Producers Multipurpose Cooperative
Ecoveritas Agriculture Technical Assistance Services (COSCAO Chocolate Manufacturing)
Likhang Maragondon Native Products Trading
Mayani
Tinker House
GreenLife Coconut Products Philippines
MagzWheel Furnitures & TireCycling
Peak Foods Processing
Tagolwanen Women Weavers Association
Tindagat.ph
Other social enterprises also received special awards:
Magzwheel Furnitures and TireCycling, a producer of furniture from recycled rubber, received a PHP20,000 cash grant from BPI Direct BanKo
Mayani, an impact-driven agri-technology startup, took home the Endeavor Mentorship Award with several mentorship sessions
Collaborative makers hub Creativly Studio and fresh fruit and vegetable distributor Green Habits Agri Trading obtained The Gift Mentorship Award with a one-on-one mentorship program from StartUp Village
Ecoveritas Agriculture Technical Assistance Services (COSCAO Chocolate Manufacturing), which offers healthy chocolate bars, and Mayani bagged the Investment Readiness Award and three months' worth of investment mentoring support from Villgro Philippines
The winners were chosen by a panel comprising of BPI Foundation Executive Director Owen Cammayo, Bayan Academy Chairman and President Prof. Francisco "Jay" Bernardo III, Villgro Philippines co-founder and CEO Priya Thachadi, and Coffee for Peace founder and CEO Joji Pantoja.
For seven years now, BPI Sinag has been empowering local SEs in uplifting Filipino communities and scaling their businesses while addressing the triple-bottom-line of people, planet, and profit through opportunities for technological, social, and market innovations.
"At BPI, our aspiration is to build a better Philippines, and we believe that supporting the growth of this sector is key to doing just that. We recognize the importance of SEs to our economy and society," said BPI President and CEO TG Limcaoco. "Through BPI Sinag, we are committed to nurture social entrepreneurs and help enable their growth, progress, and sustainability."
The trophies for the Sinag Spark 2021 Awards were designed and custom-crafted by 2018 Sinag Awardee, Willie Garcia of Junk Not Eco Creatives.
Through Ayala Land Inc.'s Alagang Ayala Land program, Sinag SEs can avail of free leasable space for three months to one year in any Ayala Malls. On top of that, BPI Foundation will cover maintenance fees for common areas for a maximum of 10 square meters for the first three months for the Top 10 awardees.
BPI Foundation Chairman Fernando Zobel de Ayala congratulated this year's awardees through a recorded video message. "We recognize that this year has certainly not been easy for businesses of all sizes, given the challenges brought about by COVID-19. I commend and salute your commitment to serving our fellow Filipinos and the planet while helping drive our country's economy during these difficult times," he said.
"Our efforts to support social enterprises do not stop here as this is a long-term commitment," said BPI Foundation Executive Director Owen Cammayo. "We will continue to build and refine the program scope and interventions based on prevailing market dynamics."
BPI Foundation will hold its very first Philippine SE Summit in November to present a National SE Strategy Paper and introduce its second Sinag book titled "How to Manage a Business That Does Good."
Since its launch in 2015, BPI Sinag has provided a total of PHP20.5 million cash grants and welcomed 238 SEs all over the country.
Good News Pilipinas is celebrating its 15th Anniversary in 2021 by giving away prizes! Subscribe to this website and  Good News Pilipinas! TV YouTube channel and enter the raffle by telling us what you like about our stories in an email to editor@goodnewspilipinas.com
Facebook Comments