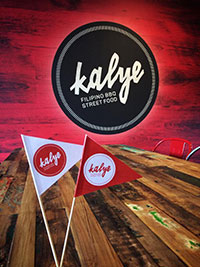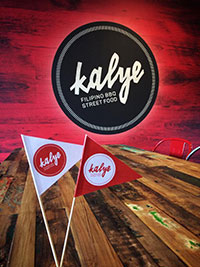 Can anyone ever forget the smell of the Pinoy "inihaw"? Luckily for Filipinos living overseas, Filipino food is being offered more frequently across the globe. In fact, a newly opened restaurant grill has taken Pinoy streetfood and barbecues to Adelaide, South Australia.
A Filipino-owned and aptly named establishment, "Kalye" (Filipino for street), serves all of the quintessential Pinoy's favorites: sisig, kwek kwek, tocilog, liempo, and many more.
"Kalye" opened in late April and all four of its owners spent time in the Philippines before starting the restaurant in Adelaide. "All of us grew up in the Philippines before we met in Australia, we used to reminisce about streetfood back home. These elements we put together at Kalye," Ria Mcavaney, one of the restaurant's four owners, tells GMA News Online.
With its understated décor and a "tatak Pinoy" menu comprised of inasal, chicken and pork BBQ with cassava and halo-halo for dessert, it has attracted notable personalities like Masterchef Australia's Jessie Spiby, local celebrity chef Dennis Leslie, the executive chef of Hill of Grace and as well as some local and national football players.
The café, jointly owned by Edralin Garcia, Joey Fernandez, Darlene Fernandez and Mcaveney, promises to take anyone on a gastronomic journey to the Philippines whether you're a curious Aussie up for something new or a Filipino who misses good ol' Pinoy food.
Facebook Comments