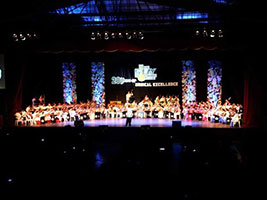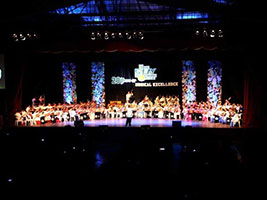 A group of Negros Occidental youth going by the name Kabataang Silay Rondalla Ensemble (KSE) has brought the Filipino rondalla skills to world attention.
The rondalla ensemble performed in Singapore during the country's 50th Independence anniversary, playing Filipino ditties and international hits to an appreciative audience composed of 4,000 people including Prime Minister Lee Hsien Loong who was the guest of honor.
The Philippine Embassy in Singapore reported that KSE was well-received by the audience with its rendition of local folk song Bahay Kubo, The Flight of the Bumblebee, Cuerdas II Visayan Medley – with dance interpretation by Kultura Performance Pte. Ltd. dancers led by Ms. Celia Diaz-Defato. The rondalla ensemble also performed Let It Go from the Walt Disney movie "Frozen", the Pirates of the Caribbean sound track, and the theme of NDP 1998, "Home", with vocals by Philippine soprano Stefanie Quintin.
KSE shared the stage with Marsiling Chinese Orchestra in a joint performance at the Star Theatre. The two performing groups performed a joint rendition of the Spanish Medley (La Bamba, Sway and Quizas) and Mother's Love Medley (Anak, Ibu and Mama Hao) and encore pieces including "Mambo No. 5".
The Silay performing group was founded in 1993 with 36 primary school students. Conductor Jegger C. Anjao has brought the rondalla ensemble through 20 years of winning regional and national music competitions, while representing the Philippines in international festivals.
Facebook Comments