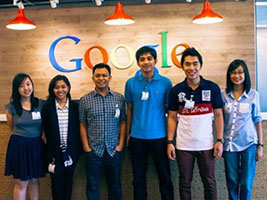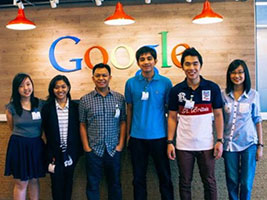 UP College of Business Administration students bested teams across Asia-Pacific to become champions at the 7th Google Online Marketing Challenge.
Fourth and 5th year UP College of Business Administration students Allen Calica, Hillary Joven, Telle Lao, Jade Teng, and Julian Yao displayed Filipino resourcefulness and talent to emerge as the Asia-Pacific champions in the Google competition.
The UP CBA team worked with a $250-Google AdWords advertising budget and a local Korean barbeque restaurant-pub.
The student team took a simple approach to the project by creating a formula based on the universal appeal of food and the Filipinos' love for deals and discounts.
In a span of three weeks, the team successfully increased sales and brand awareness for their chosen client, KPub BBQ in Bonifacio Global City (BGC) by creating ads targeting food blogs and people in search of BGC restaurants. The team also generated ads to promote the Korean BBQ pub and restaurant's meat-all-you-can buffet promotional discount.
The news spread quickly as more and more people started clicking the team's online campaign and increasing sales as customers found out about the discount.
The self-confessed Google AdWords amateurs bested graduate students and seasoned AdWords users to pass Google algorithms, the review of GOMC Global Academic Panel and Expert Googlers. In January 2015, the team were awarded gadgets and a trip to Singapore to tour the Google Singapore office.
Facebook Comments