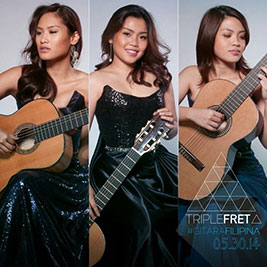 An all-female classical-contemporary guitar trio from the Philippines won first prize at the 27th Japan Guitar Ensemble Festival held in June.
"Triple Fret," composed of Marga Abejo, Jenny de Vera, and Iqui Vinculado bested other contestants performing at the Kyurian Hall in Shinagawa, Tokyo.
The Philippine Embassy in Tokyo reported the Filipina guitar trio also won the Japan Guitar Association Award, the Kohno Guitar Award and the Harumi Award for Best Performance of an Original Contemporary Composition for Guitar Ensemble.
"Triple Fret" members were trained in the University of the Philippines College of Music and the University of Santo Tomas Conservatory of Music.
The only all-female guitar trio in the country has been performing in various countries in Asia and Europe since 2011. Their repertoire includes Spanish guitar pieces, classical pieces, Filipino traditional music, tangos, and jazz standards.
On their website, "Triple Fret" describes their mission to share the "gift and love for guitar music with as many people as they can, to transcend barriers of social class, educational background, culture, creed and religion, to truly bring the joy of music to all. "
Facebook Comments