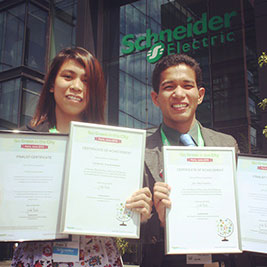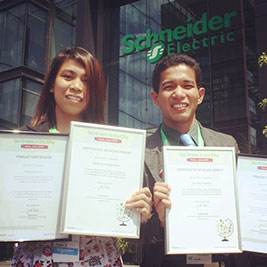 Two Polytechnic University of the Philippines' (PUP) students have once again brought pride to the country after winning a top 3 spot at Schneider Electric's Go Green in the City World Finals at Paris France.
Electronics Engineering students John Paul Santos and Christian Sta. Romana placed 3rd among twelve teams from around the world that competed in the June 2015 finals. The PUP team entered the finals after winning the East Asia regional finals in April.
The PUP duo bagged the win with their invention, the Electrifilter, a device that filters waste water and makes it good for general use. It also generates electricity that can be used to power up lampposts, light up sidewalks and roads, provide charging or energy stations, enable security systems, charge batteries and can divert the excess energy to the main power grid.
The device can also be useful in home sewage and industrial plants that diverts waste to creeks and rivers.
Another feature of the device is that it turns the waste that was separated from the water into natural fertilizer. The device is designed to be portable in order to provide electricity and clean water to remote areas in times of floods and typhoons.
In an earlier interview with GoodNewsPilipinas.com before they left for France, Santos revealed the inspiration for the Electrifilter as a symbol of hope to people in remote areas that are deprived of the basic needs that the invention provides.
India won first place this year, with Paris taking the second spot. Since 2011, Go Green in the City has been encouraging students across the globe in formulating and discovering environmentally-friendly and sustainable energy technologies.
PUP's Santos and Sta. Romana are not the first Filipinos to shine in Schneider Electrics Go Green in the City competition. Alyssa Tricia Eloise Vintola and Lorenz Ray Payonga from the Ateneo de Manila University became the world champions last 2013.
Facebook Comments