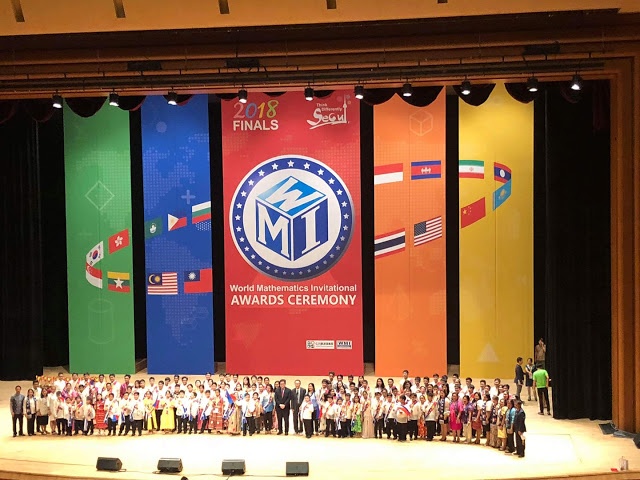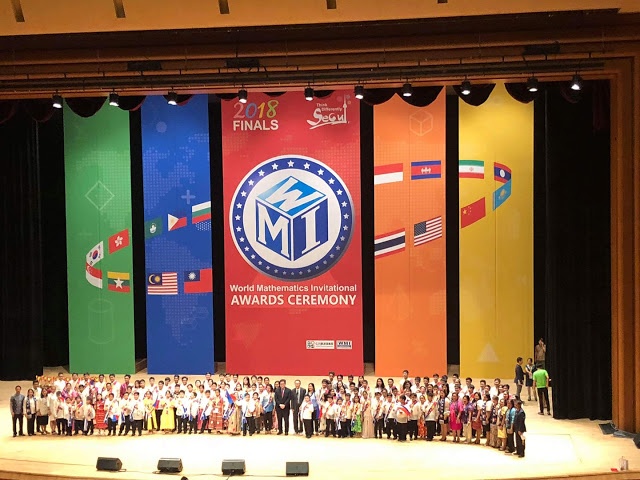 One hundred eleven grade school students from the Philippines performed as a powerhouse team, bringing home a total of 97 Medals and 14 Merit Awards from the the 2018 World Mathematics Invitational (WMI) held in Yonsei University, South Korea.
The Filipino students at the WMI Korea amassed a total of:
21 Gold medals
41 Silver Medals
35 Bronze Medals
14 Merit Awards
Asian MathSci League Inc. (AMSLI) published a report identifying the Top winners of the Philippine delegation.
Reiona Ckyle Mundala, (Grade 7, Lipa City Science Integrated National High School) won a Bronze Award and $100.00 US Dollars for her WMI Mini Math Creative Videoabout the Pythagorean Theorem.
Wesley Gavin Palomar(Grade 8, Philippine Science High School – Main Campus) was hailed one of the Stars of the World by being the overall Top Scorer in his Grade Level. He received the Star of the World Cup for this award.
When asked about the secret to his success, Palomar, a veteran in Math Competitions says, "I don't train and join Math Contests for the Gold medals. I train because I love to learn, and I want to be the best I can be at what I love to do. Being in a contest is about further learning, gaining experience, meeting new friends, making memories and improving yourself by being better than before. And for that, consistent hard work is necessary. My advice to other students is to choose what you love to do, focus, work hard and have fun!"
Bronze Medallist, Alison Chloe Tan (Grade 12, Ateneo de Manila Senior High School), says that this is her last year to join international math competitions because she will already be in College next year. Having represented the country 6 times in the past, Tan says, "There is so much sacrifice on the part of the student and the parents. Plane fare and accommodation are expensive. I had to miss school for this competition, but not everyone has the opportunity to represent the country. And for me, it has always been a privilege and an honor to carry the Philippine flag, and I always strive to do my best for the Lord."
Chairman Tsai Kun Lung commended AMSLI Founder and President Rechilda Villame for her "unwavering efforts in promoting mathematics in the Philippines and for her support to the WMI organization." Villame also serves as the Vice-Chairman of WMI Organizing Committee.
The 6th edition of WMI brought together a total of 1100 students from 20 countries namely South Korea, Bulgaria, Cambodia, China, Hong Kong, Indonesia, Iran, Kazakhstan, Macau, Malaysia, Myanmar, Nigeria, Singapore, Taiwan, Thailand, United Kingdom, United States, Vietnam, and the Philippines, who participated in the competition.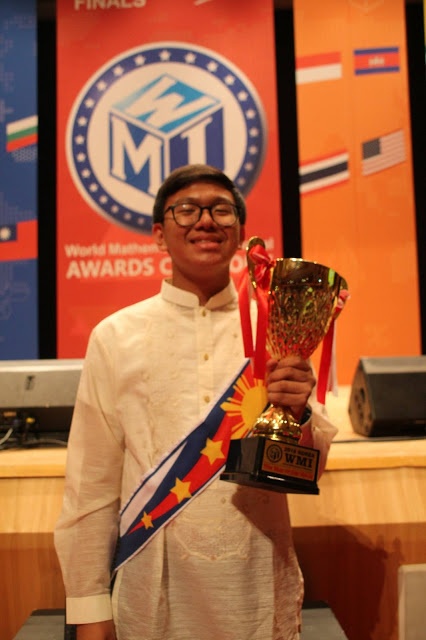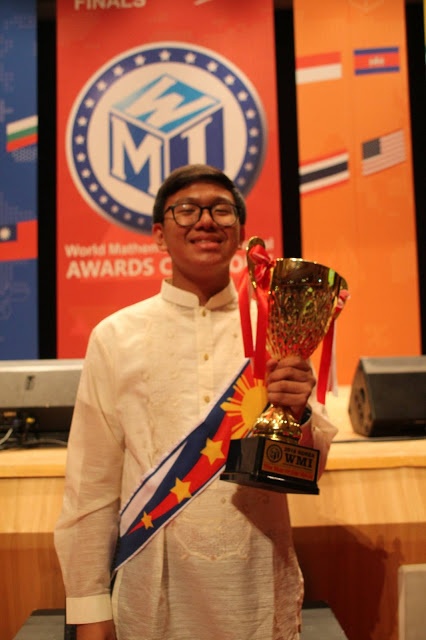 The competition is open to students in Kindergarten up to Senior High School. The written paper consists of two parts: a Logical Reasoning Test and an Applications Test, where the following abilities are assessed: Combination Ability, Number Theory Ability, Algebra Ability, Calculation Ability, Geometry Ability and Reasoning Ability. Another feature of the WMI is its Mini Math Creative competition which invites students from all over the world to do a research project regarding math.
Below is a complete list of all the Philippines' awardees at the 2018 WMI:
GOLD Awardees:
Perez, Harry Gerard (Grade 2, De La Salle Lipa Integrated School)
Tan, Angela Clare Lim (Grade 2, Tarlac Living Faith Academy)
Lomibao, Alexander Peter Benedict (Grade 3, Ateneo de Manila Grade School)
Cruz, Job Judiel (Grade 3, Pasig Catholic College)
Ababon, Iris Lexi Quimson (Grade 4, Colegio San Agustin – Makati)
Felix, Reuben Joseph (Grade 4, De La Salle Lipa Integrated School)
Neria, Nathan Gabriel (Grade 4, Grace Christian College)
Saludo, Kristner Sheyn (Grade 4, San Beda College, Alabang)
Wong, Jayce Preston (Grade 4, Saint Jude Catholic School)
Dalangin, Gadriel Symone (Grade 5, Stonyhurst Southville International
School – Malarayat Campus)
Galamay, Wilmarc Samuel (Grade 6, Diliman Preparatory School)
Kaw, Julianne Ycel (Grade 6, Stonyhurst Southville International
School – Malarayat Campus)
Pak, Mi Jung (Grade 7, Philippine Science High School – Main Campus)
Ilagan, Gerard Elmer (Grade 8, Philippine Science High School – Main Campus)
Narvasa, Jose Oliver (Grade 8, Philippine Science High School – Main Campus)
Palomar, Wesley Gavin (Grade 8, Philippine Science High School – Main Campus)
Dela Cruz, Brian Dominic (Grade 9, Ateneo de Manila Junior High School)
Tansiongkun, Matthew Shawn (Grade 9, Xavier School)
Tropicales, Bert Joseph (Grade 10, Philippine Science High School – Main)
Ko, Lance Adrian (Grade 11, St. Stephen's High School)
Pua, Gabriel Joseph (Grade 11, St. Stephen's High School)
Facebook Comments