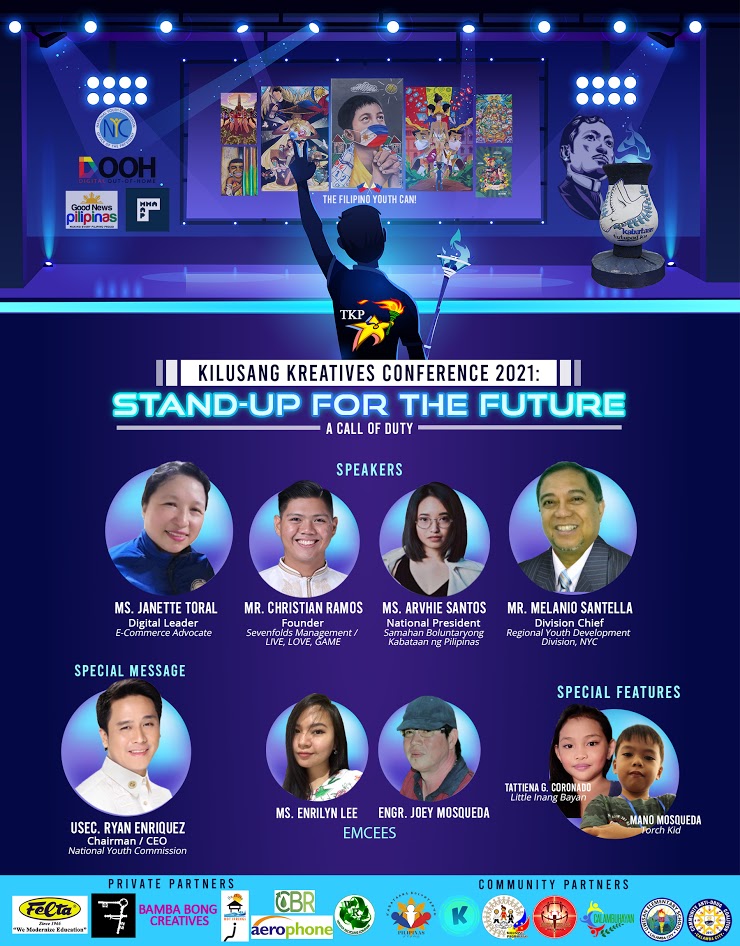 Kilusang Kreatives is offering a free conference online to mark Jose Rizal's 160th birth anniversary.
After its successful run of the Jose Rizal-inspired Nationwide Artwork Youth Competition, the group is staging the "Kilusang Kreatives 2021: Stand-up for the Future" Zoom Conference on June 18, 2021.
"In the spirit of heroism and love for the country, the non-profit organization once again attempts to revive the stagnant patriotism in the hearts of our country's people," wrote Kilusang Kreatives in its announcement.
The Free Conference is to be hosted along with the 19th year of the symbolic "lamp-lighting" on the eve of the Filipino national hero's birth anniversary on June 19.
This year the ceremonial lighting will be led by the Little Inang Bayan represented by Tattiena Coronado together with the Torch Kid Mano Mosqueda. Animation work is directed by EJ Dalman and Melyn Brillo.
The symbolic gesture has been done through the years in various communities led by the founder of TKP-Kilusang Kreatives Engr. Joey Mosqueda. The event is staged "to ignite the hearts of our youth for the sake of love for the country", Mosqueda says.
"We have to do something out of the box in the mindset of our youth, we have to be creative in instilling patriotism" according to Engr. Mosqueda.
The organization says it believes that the youth and their various talents in arts can be of inspiration to the whole country.
The group invites those who believe in the same advocacy of Jose Rizal that "Ang Kabataan ang Pag-asa ng Bayan" to gather online to talk about issues that concern the youth and how to use their talents for the common good.
The free conference is co-organized and promoted with FELTA LEGO Education, Sevenfolds Management, Bamba Bong Creatives, Sa Dulo Resort, Samahan ng Kabataang Boluntaryo ng Pilipinas, Komikazé Underground Philippines, CALAMBUHAYAN Marketing Cooperative, Kilusang Pagbabago Region 4A, Uwisan Elementary School Calamba, Christian Crusaders Pilipinas, Magna Kultura, WINDER Recycling Company, KAFFE Arcade and The Multi-Media Arts Association of the Philippines.
Media partners include Digital-out-of-Home Philippines, who made a deep impact on the streets of EDSA highway by featuring the artworks of Kilusang Kreatives' young artists, and of course, Good News Pilipinas, who has been delivering the best stories on the good works done by Filipinos for already 15 years.
The following speakers will be featured in the free conference:
1. Janette Toral (Social Media Specialist)
Topic: "Leading Creatively in Social Media"
2. Mel Santella (Division Chief, Regional Youth Development
Division, NATIONAL YOUTH COMMISSION)
Topic: "The Importance of Youth's Participation in Sports to Boost
the Immune System"
3. Arvhie Santos (National President, Samahang ng Kabataan
Boluntaryo ng Pilipinas)
Topic: "Patriotism through Art and Creativity"
4. Christian Ramos (Community Consultant, Kilusang Kreatives)
Topic: "The Youth, the Art and the Light"
Special messages will be delivered by the following:
1. Charlene Lucas (Psychologist, Top 100 Filipinos & Rising 70
Personalities on LinkedIn 2020)
Topic: "Creativity, it's Significance to Mental Health"
2. Usec.Ryan Enriquez (Chairman/CEO, National Youth Commission)
3. Alex Romero (Mentor / Owner of Sa Dulo Resort)
The free conference will be held on June 18, 2021, Friday, 2:00PM to 5:30PM. Register ONLINE for this FREE Conference by clicking on the link below:
tinyurl.com/KKConference
Good News Pilipinas is celebrating its 15th Anniversary in 2021 by giving away prizes! Subscribe to our Good News Pilipinas! TV YouTube channel and enter the raffle by sending us an email to editor@goodnewspilipinas.com
Facebook Comments