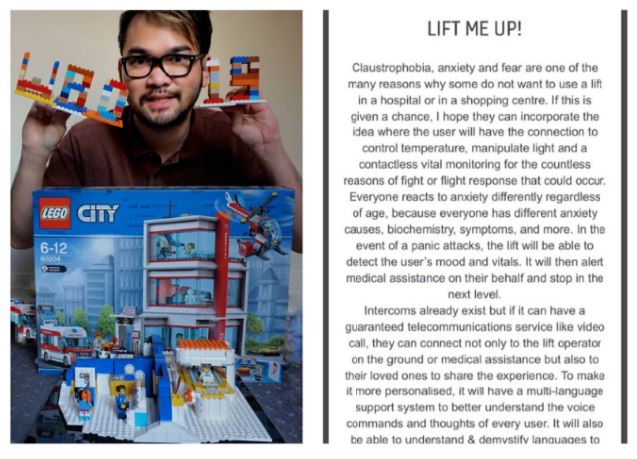 United Kingdom-based radiographer Apollo Exconde has come out with a new idea to help people with claustrophobia ride elevators.
Exconde, a Lead Magnetic Resonance Imaging (MRI) Radiographer, had previously designed the LEGO Open MRI to help first-timer, young, plus-sized, anxious patients prepare for the experience of MRI scanning with the use of LEGO bricks. The LEGO Idea reached its milestone 10,000 votes last year and is currently undergoing review for creation as an actual LEGO Toy model.
The London Croydon Health Services NHS Trust service awardee is back again to seek support for votes to his new idea for a Kone DX Class elevator to be more ride-friendly to people who experience anxiety when using elevators or lifts in hospitals and other buildings. More votes would give Exconde better chances for DX to actually work with the idea.
Apollo Exconde's idea is called "LIFT ME UP!", an idea for an elevator to be fitted with contactless vital monitoring to detect the user's condition and send out an alert for medical assistance and inform the family in the event of a panic attack.
"I hope they can incorporate the idea where the user will have the connection to control temperature, manipulate light, and a contactless vital monitoring for the countless reasons of fight or flight response that could occur. Everyone reacts to anxiety differently regardless of age, because everyone has different anxiety causes, biochemistry, symptoms, and more," explains Exconde in his DX Experiments entry.
"To make it more personalised, it will have a multi-language support system to better understand the voice commands and thoughts of every user. It will also be able to understand & demystify languages to cut down barriers, make them feel at home & make it truly global! Now, all you need to do is step in, relax, talk in any language you like, and it will lift you up!"
As of this writing, Apollo Exconde's idea is at #1 and needs to maintain the lead by the time voting ends on February 19, 2021. To VOTE for the LIFT ME UP! idea with no sign-up needed, go here: https://dxexperiments.kone.com/idea/lift-me-up/
VOTE and SEND CHEERS in the comments below to Apollo Exconde for his new idea of a DX Class Elevator to help people with claustrophobia.
Are you a Proud Filipino? Get more good news stories on Filipino Pride! Subscribe to GoodNewsPilipinas.com and our YouTube channel: Good News Pilipinas! TV
Facebook Comments