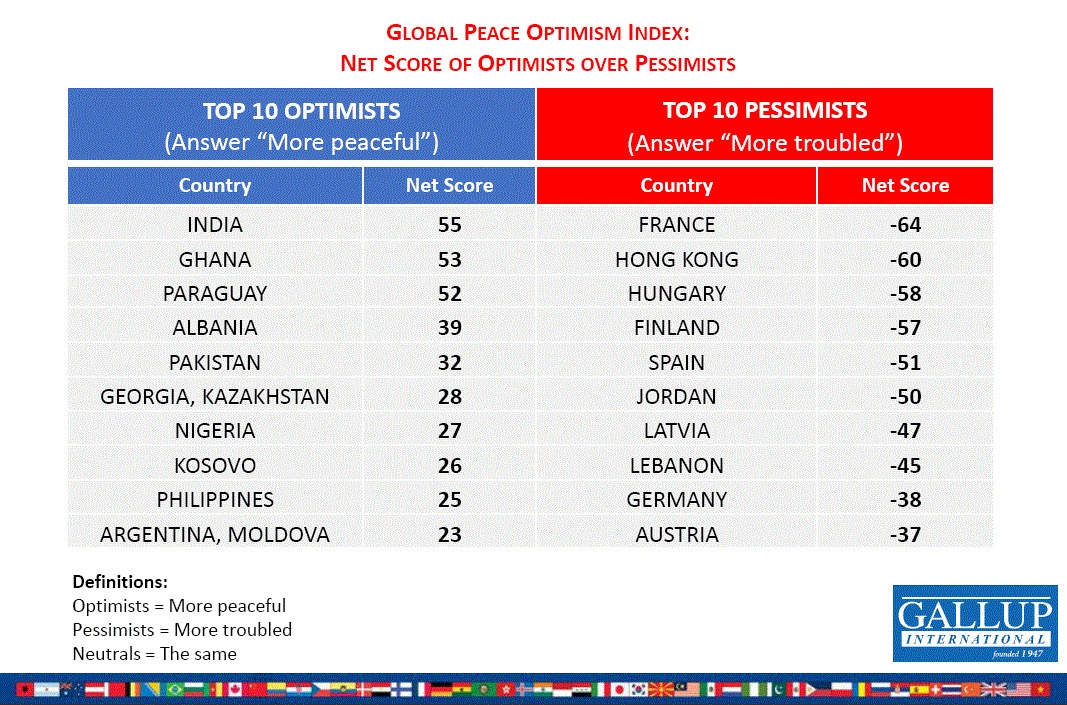 Gallup International says Filipinos are staying positive this 2019, ranking in the top 10 nations expecting a more peaceful world.
The Gallup International's 42nd Annual Global End of Year Survey conducted in October-December 2018 revealed that the people of the Philippines are still hopeful and optimistic about the prospect of world peace despite increasing pessimism around the world.
In 2017 the Philippines ranked 3rd happiest and 10th most hopeful nation in the Gallup International yearend poll about expectations for 2018. A local survey in the Philippines from the Social Weather Stations confirmed the new year positive mindset of Filipinos, revealing 9 out of every 10 Filipinos welcome the new year with hope.
Filipinos received a net score of +25 in the 2018 Gallup International yearend survey which asked "Do you expect the coming 2019 to be for the world a more peaceful one, a more troubled one or the same?"
The worldwide survey of 51 countries noted the results indicating "now for the first time in this century a growing number of West Europeans expect fear a less peaceful year… West European nations are concerned about what will come next but also whether they will have a say in as power shifts further to the East."
Kancho Stoychev, President GIA, says of the survey results, "For decades the End of the Year global poll is registering a paradox: people living in wealthier countries tend to be more pessimistic about the coming New Year. And vice versa. It seems that the fear of losing what you have is bigger than the fear not to have."
The Philippines has been ranking high on the Gallup International End of Year Survey, an annual tradition initiated by and designed under the chairmanship of Dr. George Gallup in 1977. The 2018 edition surveyed a total of 49 270 persons who were interviewed globally. In each country a representative sample of around 1000 adult men and women was interviewed either face to face (28 countries; n=28578), via telephone (7 countries; n=5922) or online (16 countries; n=14760). The field work was conducted during October- December 2018. The margin of error for the survey is between +3-5% at 95% confidence level.
Facebook Comments