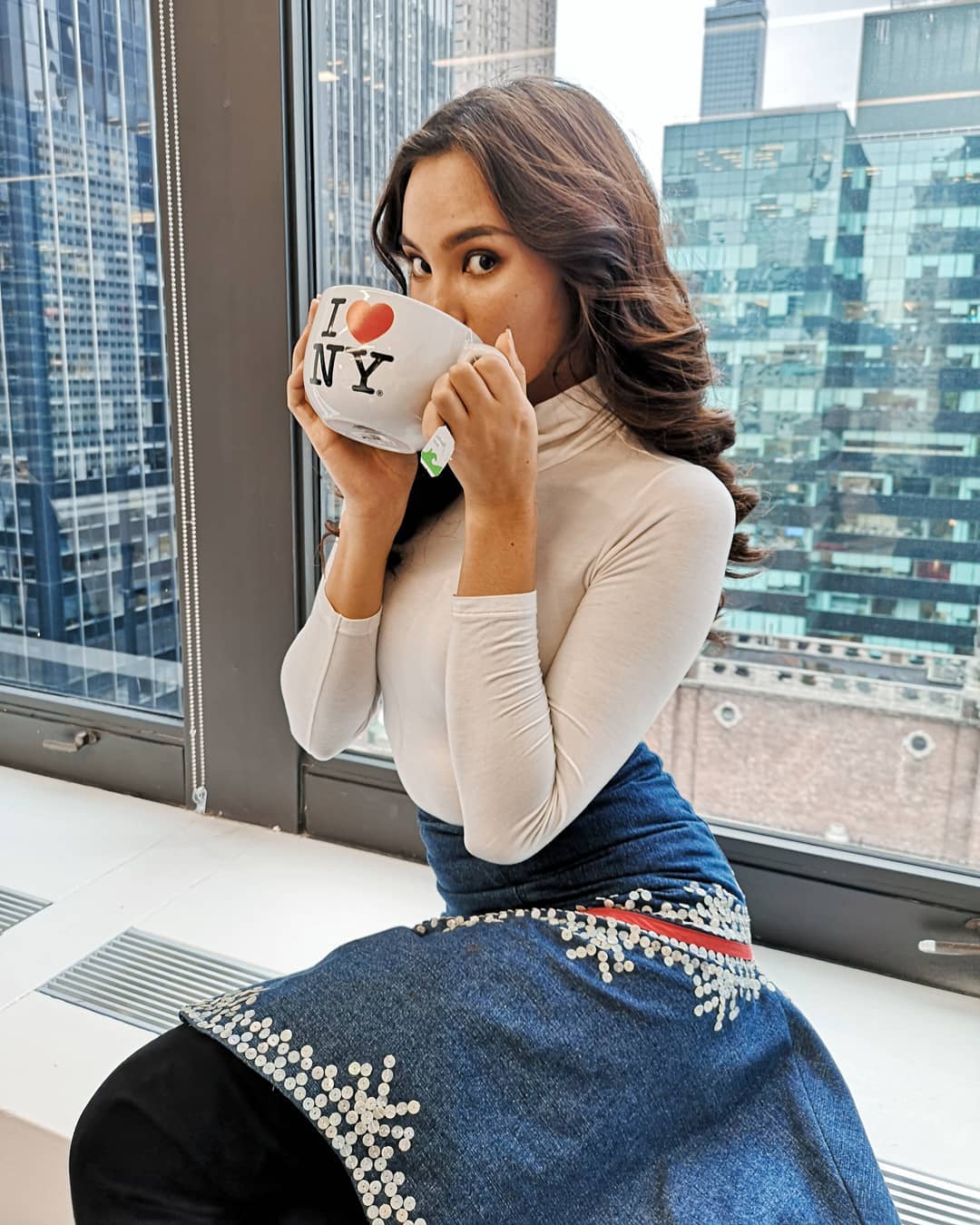 Miss Universe Catriona Gray continues to showcase Filipino heritage and art in her fashion, this time with a skirt inspired from the art of Tagakaolo group in Mindanao.
In her Instagram post during a visit to the Miss Universe headquarters, the 2018 GNP Filipino Pride Icon wore a Nino Franco denim skirt hand-embellished with mother-of-pearl done by the artisans belonging to the Tagakaolo ethnic group.
Gray captioned the photo of drinking coffee upon arrival at the Miss Universe HQ, mentioning her skirt, its designer, and its inspiration:
"Dropped by the @missuniverse headquarters today. Super jetlagged but giant cups of tea and coffee are getting me through! In a denim skirt hand-embellished with mother of pearl by the Tagakaolo tribe. @ninofranco.ph @ton_lao"
Nino Franco is a clothing line that uses native fabrics and pattern into its contemporary fashion collection.
The Tagakaolo are lumads from Mindanao which, according to the National Commission for Culture and the Arts, belong to the Kalagan group associated to the Mandaya/Mansaka group. At present, their communities can be found in the coast of Davao and at the coastal areas of Malita, Lais, and Talaguton Rivers, hence their name Tagakaolo, meaning "inhabitants of headwater (olo sa tubig) or sources of rivers and streams."
The Filipina beauty queen who turned 25 on January 6, has now relocated to New York City to fulfill her duties as Miss Universe.
Catriona Gray's ambassadorial task as Miss Universe officially begins with a TV guesting on January 7 at ABC's morning show "Live with Kelly and Ryan." The Monday episode is already reported to be sold out.
Catriona Gray won the fourth Miss Universe title for the Philippines, after Pia Wurtzbach in 2015, Margie Moran in 1973, and Gloria Diaz in 1969.
Facebook Comments