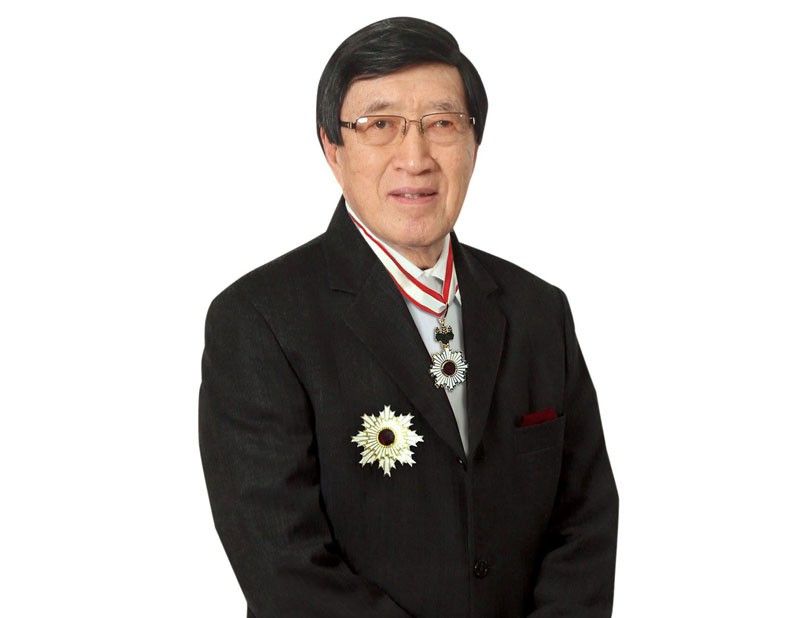 Ty imposed discipline and love on his children and achieved a feat that most parents can only dream of — that of children surpassing the accomplishments of their successful parents.
One of the Philippines' most generous philanthropists and top business leaders, the late Metrobank Group and GT Capital Holdings chairman emeritus George S. K. Ty passed away on Nov. 23 at age 86 after battling pancreatic cancer for nine months.
George Ty exemplified discipline, strength of character, entrepreneurial courage and uncommon dedication and love for his work. Apart from shying away from parties, he ensured all his company events started early at 6 p.m. and ended by about 8:30 p.m. Top executives revealed to me that two weeks before he died, the hardworking yet ailing banker still went to the office.
Leader in Philanthropy & foremost art patron
Ty was outstanding and unique as a preeminent philanthropist due to the sheer diversity of and numerous socio-civic, cultural, education and community causes that he and his Metrobank Foundation undertook. The civic causes he supported ranged from numerous scholarships to medical and calamity relief, annual awards for outstanding teachers to police and soldiers, plus his most sought-after annual awards for the Philippines' young artists and designers.
George Ty believed in the importance of arts and culture in nation-building. An art patron, Ty had an office which was like a museum with works by top Philippine masters Fernando Amorsolo, Botong Francisco, Ang Kiu Kok, Anita Magsaysay Ho, Victorio Edades, etc. I also saw a horse painting by the legendary Chinese painter Xu Beihong and I heard he was one of the world's top collectors of contemporary Chinese art starting in the 1960s.
Although media-shy, George S. K. Ty granted me an exclusive interview for the Philippine STAR. I will not forget our many conversations, like when he once invited me to join his lunch at Shangri-La Makati with his various business unit heads as the only non-Metrobank executive in that round table, or at his annual thanksgiving party at his Makati residence when we'd chat inside a private room.
I regret not taking up his personal invitation to travel with him to Nanjing City to see his Metrobank and realty ventures there, plus his donation of a Catholic church.
Among the events in his life that I witnessed were his receiving an honorary doctorate degree from his alma mater, University of Santo Tomas (UST), on Aug. 7, 2014; his opening of Metrobank's branch in ancient Quanzhou City (which has jurisdiction over his ancestral village of Kiap-Tse (pronounced "Jia-Ji" in Mandarin) in Yongchun county, Fujian province in south China; his opening of the Toyota Motor Philippines School of Technology Inc. (TMP Tech) in Sta. Rosa in Laguna.
Filial son to Norberto Ty & Victoria Ty Tan, strict father
Dr. George S.K. Ty achieved a feat that most parents dream of — that of children surpassing the accomplishments of their successful parents.
Ty was young when he, his parents Norberto Ty and Victoria Ty Tan, migrated to the Philippines. Although his father Norberto became a successful self-made textile and flour mill industrialist, George was never spoiled, but rather he grew up with a tremendous work ethic and discipline. He managed the family's flour mill at age 19, then led Metrobank when he was only 29.
Under his visionary leadership, Metropolitan Bank & Trust Co. (Metrobank) achieved phenomenal growth and became a diversified conglomerate, which now includes Toyota Philippines, AXA Philippines, Federal Land, Philippine Savings Bank (PS Bank), Grand Hyatt Hotel, Marco Polo Plaza Hotel Cebu, and many other enterprises.
He was an immigrant who became an exemplary Filipino business and civic leader, proof that one can be a patriotic citizen of the Philippines and also cherish one's ancestral heritage.
Success as strict father in raising capable, obedient successors
One proud accomplishment of George S.K. Ty, which even his peers and competitors admire, was how he and his wife Mary successfully raised and trained good, obedient children.
His son Alfred recounted that he was 11 and elder brother Arthur was 13 when they were already made to work during summer vacations. Alfred recalled that his dad would make him dial the telephone to call up people in the office and he had to keep dialing when the numbers were busy in order to teach him perseverance. As a young boy, Alfred said his father taught him to clean up his dog's poo, to teach him humility and to kneel down if needed.
The brothers Arthur and Alfred had to report to work in the offices daily at 7:30 a.m., because meetings would start at 8 a.m. Today, they're known to work and go home later than other executives and staff at night.
Dr. Ty once said, "I educate my children. I'm a very strict father. I told my children, 'You have to start to be able to support yourselves first, and then you go up. Don't depend on your parents.' So in my opinion, if you don't go through those hardships the money will not stay with you."
GT Capital Holdings and Metrobank chairman Arthur Ty shares his dad's teachings: "Our father's philosophy was this — I'll give you a good education, I'll give you a good start but everything after that is up to you and that is the same thing that I tell my children. Second, don't expect that everything in life is going to be a success, there will always be disappointments but in his philosophy that he taught us, these disappointments sometimes are actually good for you. Because they make you work harder."
Federal Land and Lexus Manila chairman, GT Capital co-vice chairman and Toyota Philippines vice-chairman Alfred Ty describes his dad: "My father was disciplined and focused, also very creative and he thought out of the box. He did it all with hard work and perseverance."
Arthur Ty added, "He had self-discipline."Alfred Ty also continued, "But at the same time, our father was open-minded. He allowed us to study abroad at quite an early age. That, I think, had a lot of impact on how we are today. He was open to the world. He believed that there's so much more than what we have and what we see around us, and maybe that's also the reason for the conscious effort to have global tie-ups with many multinational brands. He was very exposed and he thought big. I've always said that he wanted us to think big."
The greatest legacy of George S.K. Ty, according to his children
Alfred Ty replied, "To me, the most important is the good name of George Ty. Very good reputation, the name of the family that he has built and nurtured carefully through the years."
Arthur Ty said,"For me, it's really the value system and the philosophy. He's very concerned not so much about his children but (about) his grandchildren…We have passed on to them a lot of things that we learned from him. So I don't know if there's a bigger legacy than that."
Daughter Anjanette "Anjie" Ty Dy-Buncio, GT Capital treasurer and Metrobank Card Corp. vice-chairman, said, "Since we were young, we were taught not be complacent. That's one thing I think that dad really came across clearly with us. We have to do more than what is expected. Even growing up, during summertime, once we reached nine or 10 years old, we started working in the bank. I think all of us started out as messengers. In my case, from being a messenger I graduated to releasing payroll slips to employees in the bank, so I got to know people that way. Every summer, he made sure that we did something. And we were able to pass this tradition to the younger generation — we make them work somehow during the summer. It's not about resting on your laurels."
Daughter Alesandra Ty, GT Capital and AXA Philippines treasurer, said, "Lighter moments usually happened when we were traveling abroad. And he was in a more relaxed mood, I guess. Sometimes I would be sharing a room with him and my mom, then he'd wake up really early to have one-on-one talks. He said, 'You must think that your dad is really a strict man, well I'm not your friend you know, you're probably afraid of me. You know, that was a conscious decision, because I decided that I didn't want to be friends with my children, I wanted to be a parent, and that's the way I wanted to raise you guys. I didn't want you to be spoiled — and look at the outcome."
Alesandra Ty continued, "Dad started the bank when he was just 29, then he managed to build his conglomerate to what it is today, and that's such a huge accomplishment. On the personal side, he lived a healthy life. He swam every day, very disciplined. He didn't spend unnecessarily, he'd rather give it to his civic causes and help improve the society as a whole. He had a good heart, I guess that's what I'm most proud of about our father."
Arthur Ty also said, "It was a question of when he had an opportunity to share what he thought because he was not the type to explain. But I noticed that as we got older, he started to take time and sit down with us and in his own way explained his philosophy. What is there not to be proud of? He started something from scratch, which ended up to be one of the most successful, one of the biggest, one of the most admired conglomerates in the entire country. And you add to that this whole idea of really wanting to help the people and to contribute to nation-building. Our father was one of the most accomplished businessmen — a businessman with a heart."
Wilson Lee Flores' writings appear with permission on GoodNewsPilipinas.com Mondays.
(Wilson Lee Flores is a multiple award-winning writer, journalist, Kamuning Bakery artisanal breads savior, and Pandesal Forum moderator. This column was previously posted on his Bull Market Bull Sheet column on the Philippine Star. His "KuwentongPanadero" inspiring stories are found on Pilipino STAR Ngayon. Follow @wilsonleeflores on Instagram, Twitter, and Facebook.)
Facebook Comments