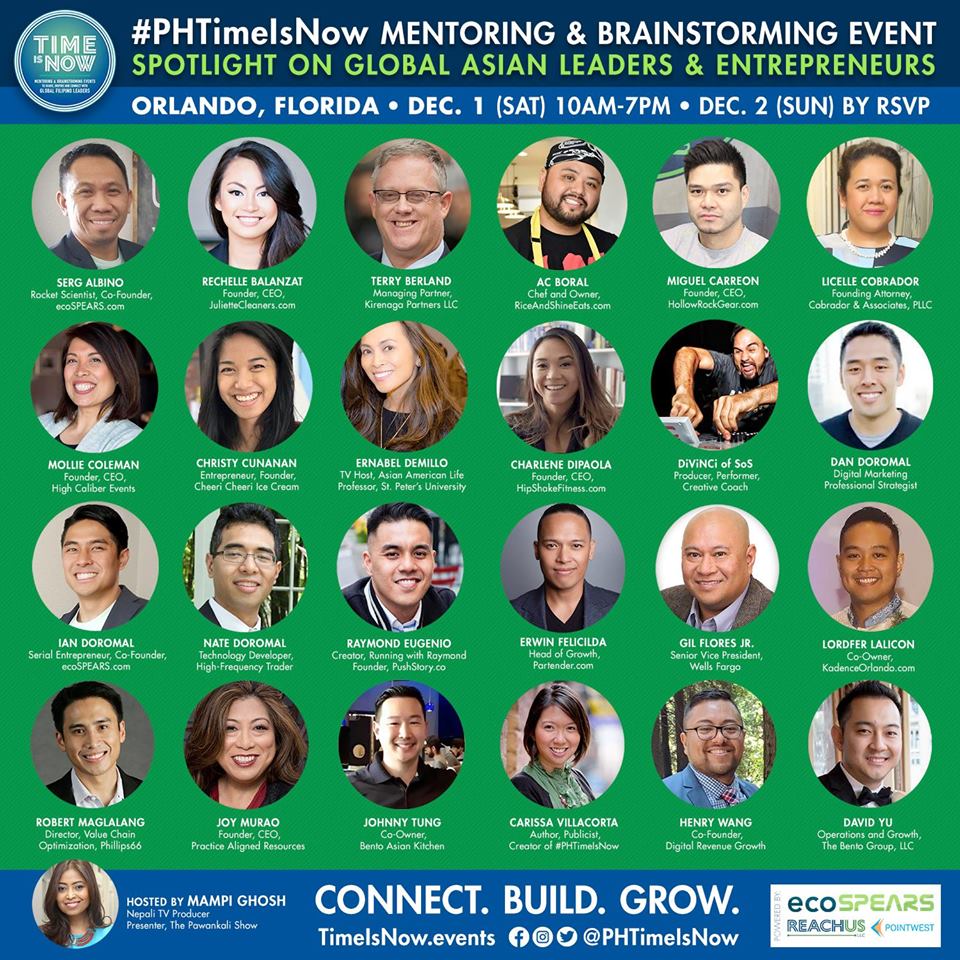 The third PH Time Is Now held December 1 and 2 in Orlando, Florida capped the winning year for the all-Filipino mentoring summit which was akin to the local "bayanihan," bringing together Filipinos from all over the world to inspire and mentor each other towards global leadership.
PH Time Is Now Orlando featured global Asian leaders and entrepreneurs in a weekend that also celebrated the unique Pinoy Christmas touch at the scenic headquarters of ecoSPEARS, a Cleantech company founded by Filipinos Ian Doromal and Serg Albino that is providing America's polluted waterways a second chance at life through the commercial deployment of NASA-developed, transformative technology.
The Orlando event is an offshoot of the inaugural 1st PH Time Is Now New York held in June 2018 with global Filipino industry leaders where Doromal also spoke to participants, sharing personal stories of learning, growth and success to aid the next generation in their personal and professional lives.
Before Orlando, PH Time Is Now Toronto was staged in July hosted by banker-by-day and specialty-dessert-diva-at-other-times Rechie Aileen Valdez of Chietopia and Filipino Fusion Desserts who also participated in the New York event.
On December 1 PH Time Is Now Orlando had 24 innovators, facilitated by award-winning New York broadcaster and university professor Ernabel Demillo, share insights with participants about various concerns that matter to entrepreneurs including:
INVESTMENTS. ecoSPEARS investor Terry Berland talked about what prompted him to invest in the Filipino tech company and the different types of startup capital and what professional investors look for in startups. Berland also gave an overview of the current venture capital landscape and when an entrepreneur should "boot strap" versus raise professional capital.
STARTUPS. A panel of startup successes shared lessons and tips for businesses who are about to launch.
DIGITAL MARKETING. Advancements in digital technology was the focus of another panel of speakers who discussed how to elevate the customer experience, generate more sales, build brands and further professional careers.
HERITAGE. Restaurateurs shared their individual journeys and how culture, identity and representation play into what they put on their plates and what food they serve to other people.
ROCKET SCIENCE. Froom aerospace and thermal engineering to corporate life, Serg Albino shared his journey to entrepreneurship with ecoSPEARS.
REPRESENTATION. Filipino representation across industries was explored and advocated in a session that allowed attendees to share their thoughts and ideas in what they can do to help the community move forward.
DEALMAKING. Negotiation and communication skills were the focus of another session that encouraged participants to enhance their business communication.
LIFE LESSONS. Ian Doromal took the Orlando participants through his journey of being a professional poker player in college to a serial entrepreneur, citing life lessons for business.
BEST LIFE. Participants were guided with unique perspectives for goal-setting, overcoming adversity and accomplishing dreams.
PH Time Is Now founder and organizer Carissa Villacorta talked about why the Orlando event focused on entrepreneurship after the New York event tackled many trailblazer industries.
"One of the highlights (of New York event) was definitely the Reginald F. Lewis Entrepreneurship Panel. It resonated with a lot of the audience members because it tackled both the emotional and practical aspects of starting and sustaining a business."
"When you think about it, Filipinos are naturally inclined to turn to entrepreneurship given the current landscape because they're creative, resilient and resourceful," Villacorta added.
The magic of Orlando went through the PH Time Is Now gathering on December 2, giving the feel of a Filipino Christmas as mentors and mentees were treated to a post-event 7-course Filipino brunch created by the collaboration of famous L.A. Fil-Am Chef AC Boral and Cheeri Cheeri Filipino vegan ice cream at the Kadence Orlando.
Watch the PH Time Is Now journey here
GoodNewsPilipinas is a media partner of PH Time Is Now.
Facebook Comments