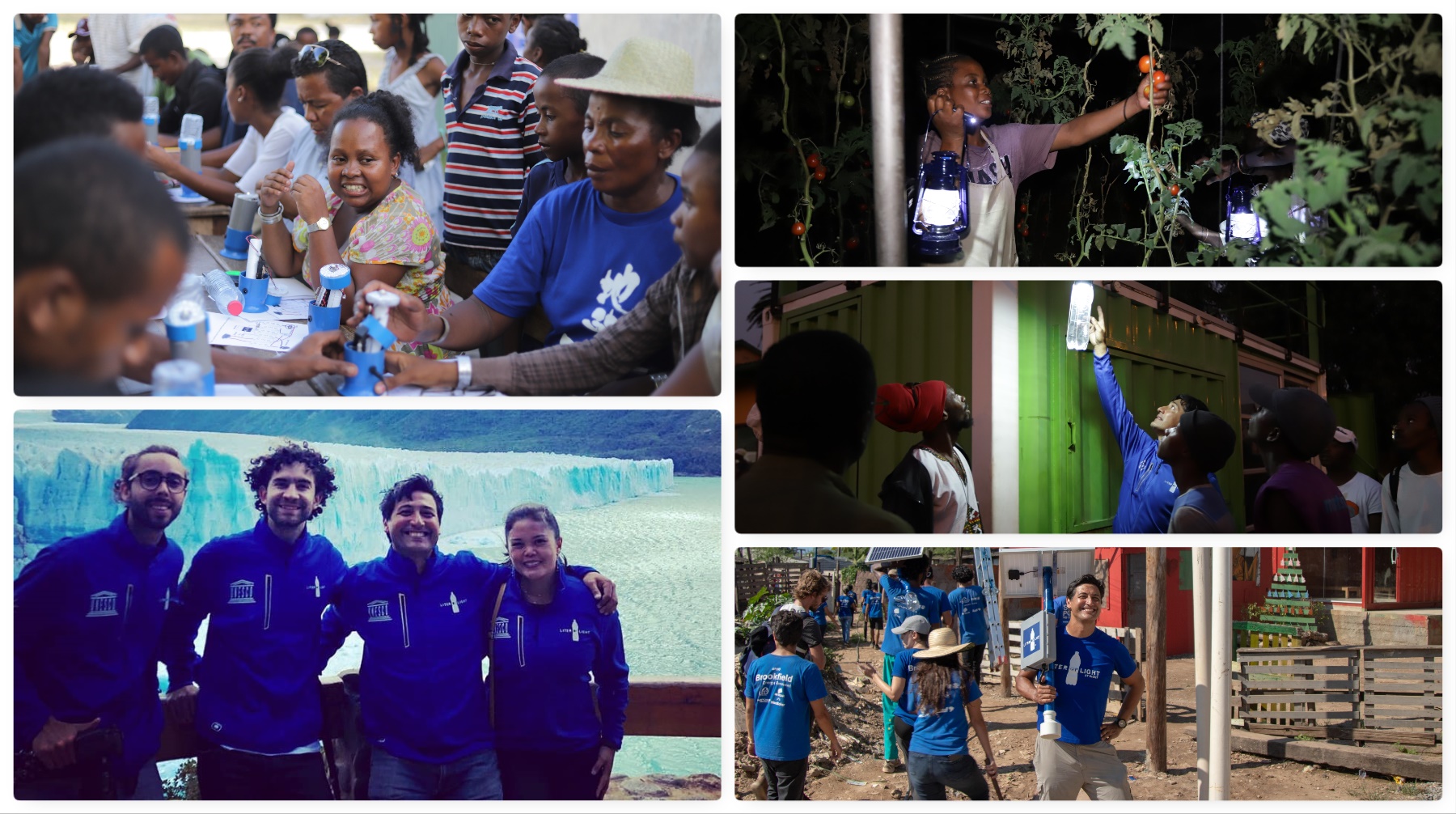 Halfway on his journey around the world in 100 days, Illac Diaz and his Liter of Light (1LL) team has earned the attention of the UNESCO for their groundbreaking – and seafaring – solar lighting tour to remote communities.
In the beginning of February, the international educational and cultural agency of the United Nations included the 1LL Voyage of Light on the Peace Boat in its official calendar for the International Day of Light 2019.
The UN body also published on February 15 an article featuring the Filipino NGO's partnership with the Japanese Peace Boat to circumnavigate the world while teaching cruise guests how to create inexpensive solar lamps for donation to communities at their 19 ports where the ship docks.
Here's the Good News Pilipinas Exclusive Update on the Voyage of Light progress:
SOUTH AFRICA, January 23-27
The Voyage of Light on Peace Boat docked at Port Elizabeth and went to Agulhas where volunteers from the community learned how to build solar lights.
At the southernmost tip of the Africa, the 1LL team reports: "… we found a lighthouse situated where the Indian and the Atlantic Oceans meet, a beautiful reminder how important light is."
The Filipino-led team of volunteers went to Capetown's IKhaya Le Langa (Home of the Sun) to conduct another workshop attended by ambassadors of the community. The lamps were made for the dark alleyways of the township of Langa.
WATCH this Video for the full story:
NAMIBIA, January 28
The Liter of Light team on the Peace Boat next docked at Walvis Bay, proceeding to Windhoek where they met poet and musician, Nunu Namises who showed them the conditions of the village and how the Liter of Light Program can help in the area.
The Filipino-led volunteers partnered with a community based organisation that teaches sustainable ways of growing food, showing them how solar charged lights can help in harvesting when the sun is down so that the vegetables remained fresh when they go to market.
WATCH this Video for the full story:
BRAZIL, February 9
1LL's Ami Valdemoro writes:
Brazil. Land of samba, caipirinhas, and joga bonito. It's hard to escape its magic, especially in its crown jewel of Rio de Janeiro, the seat of imperial power and the capital of Portugal (yes, Portugal.)
But there is another side to this magic the further away you get from the golden beaches of Leblon, Ipanema, and Copacabana. It is in these places, where everyday folks live without access to electricity, that Liter of Light is bringing light and hope.
Places like Jardim Gramacho, which is just outside of the city of Rio, in Duque de Caxias. It is here that Liter of Light and its advocates are making magic of their own.
When Voyage of Light landed in Rio, we went straight to Jardim, where we met up with the local team of volunteers, led by its captains Guilherme, Saulo and Luna; and Camila, our Liter of Light advocate from Jardim.
Camila has an infectious positive spirit; she was so happy to meet us and to tell us how much joy she has gotten from working with Liter of Light. On that day, we were to install 10 solar street lights to complete the 24 that have been built and installed in the community since December of last year.
Camila was like the mayor of Jardim; every time one of the residents would come out of their home, they would greet her warmly with laughter, hugs, and an occasional hi five.
Camila said that when Liter of Light Brazil first started its work in Jardim, people were a bit confused by these posts being put up around their houses. Then, as the street lights would light up at night, providing safe passage for women, children, and the elderly, people became excited and asked when a "poste" would be put in front of their house.
Camila was happy to be of service, which is even more remarkable when we heard her own story.
We learned during the day that Camila had recently lost her two teenage sons to violence in her neighborhood. After suffering from a depression that no one should ever have to experience, she found Liter of Light through her work as a volunteer for other service projects. She said that "Litro [de Luz]" has given her a new purpose and hope, and that she has enjoyed working to empower others in her community.
In the afternoon, we saw this spirit of hope as our team taught locals how to build and assemble our street lights, which we then installed around Jardim. Their faces lit up when they discovered that they could build something so simple and useful with their own two hands. A few even remarked that they might start a business with their new skills.
It was a remarkable day, and seeing our 30-strong Litro de Luz volunteer team lead a project breathed new life into our Voyage of Light team. To know that there are 700 volunteers across Brazil who are engaging in this important work is powering us to continue the rest of our 100-day trip strong.
From here, we will proceed to Uruguay, then Argentina, cross the Straights of Magellan all the way to Valparaiso, Chile, our last stop on continental South America before heading towards the islands of the Pacific.
URUGUAY, February 13
Liter of Light's Chief Strategy Officer Ami Valdemoro conducted a briefing for Uruguayan Vice President Lucia Topolansky about their work on the Voyage of Light to teach and train communities along the Voyage of Light's Peace Boat route on how to build simple, affordable and repairable solar lighting technologies.
The Uruguayan VP reminded 1LL of why this work is so important: "To work on things beyond yourself and to work in service to others brings a great sense of fulfillment and happiness."
WATCH this video for the interaction:
In this video exclusive Illac Diaz's 1LL team sends greetings from Uruguay and calls for everyone to follow his journey on Good News Pilipinas. Thanks Illac and 1LL!
ARGENTINA, February 16
The Liter of Light sent greetings from the Voyage of Light Team from the Perito Moreno Glacier, El Calafate, Patagonia, Argentina.
Diaz and the Liter of Light, a non-government organization which first lit up Typhoon-Haiyan-stricken communities in the Philippines with homemade solar lamps, is now on a Voyage of Light around the world to bring the Filipino technology to the world's power-deprived communities – showcasing the "Filipino as a giver of light."
Diaz's 3-member team on the Peace Boat has now grown to over 200 volunteer cruise travelers who are being taught how to make the open source technology and inexpensive lamps which last 5 years using recycled bottles and parts easily found for donation to communities at every stop.
When the Peace Boat docks the A Liter of Light volunteers teach marginalized communities how to use recycled plastic bottles and locally sourced materials to illuminate their homes, businesses, and streets.
Subscribe to the notifications and email newsletters of GoodNewsPilipinas.com for more of our Exclusive Coverage of how Filipinos are leading the 100 Days of the Voyage Of Light to gift the world's communities with cheap renewable solar energy.
Like, Follow, Subscribe to GoodNewsPilipinas.com Facebook, Twitter, Instagram, Good News Pilipinas! TV on YouTube, new story notifications and e-mail newsletters for updates on more Filipino Pride stories.
Facebook Comments