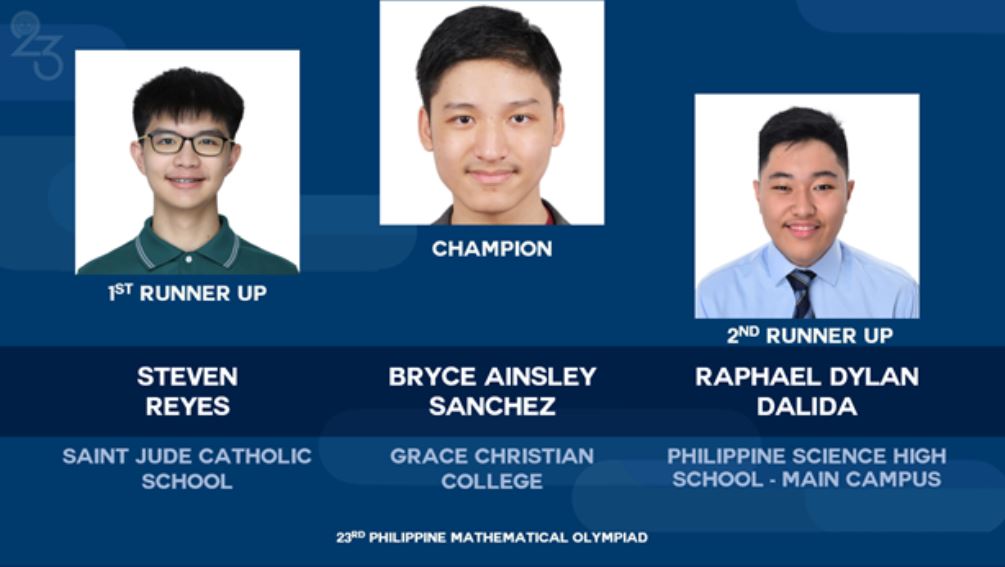 Grace Christian College (GCC) has claimed a 3-peat win at the 23rd Philippine Mathematical Olympiad (PMO).
GCC Grade 12 student Bryce Ainsley Sanchez prevailed over two dozen other finalists at the 2021 PMO) held online last March, earning the top title for the third year in a row.
Sanchez bested the first runner-up winner, Steven Reyes of Saint Jude Catholic School, also a Grade 12 student and a consistent national finalist in previous PMOs as well as a silver medalist in the International Physics Olympiad in 2018 and 2019.
The second runner-up, Grade 10 student Raphael Dylan Dalida of Philippine Science High School – Main Campus, was the first runner-up in last year's PMO as well as a bronze medalist alongside Sanchez at the International Mathematical Olympiad (IMO) the same year.
"Bryce's achievement is all the more notable and exemplary given the challenges that everyone—most especially students like him and his fellow competitors—have had to face over the past year," said DOST Science Education Institute Director Josette T. Biyo. "They all truly deserve to be called Filipino Olympians," she added.
"Mathematics truly knows no bounds and our students and competitors are a living testament to this," enjoined Mathematical Society of the Philippines (MSP) president Emmanuel Cabral.
The PMO is a long-standing tradition for the MSP, which has been organizing the Olympiad as an annual proving ground for some of the country's brightest young minds for almost four decades. The competition is the Philippines' most prestigious nationwide mathematics competition for secondary school students who compete for the honor of representing the country at the annual IMO.
SEND CONGRATULATIONS in the comments below to Grace Christian College for claiming its 3-peat win at the Philippine Math Olympiad!
Good News Pilipinas is celebrating its 15th Anniversary in 2021 by giving away prizes! Subscribe to our Good News Pilipinas! TV YouTube channel and enter the raffle by sending us an email to editor@goodnewspilipinas.com
Facebook Comments