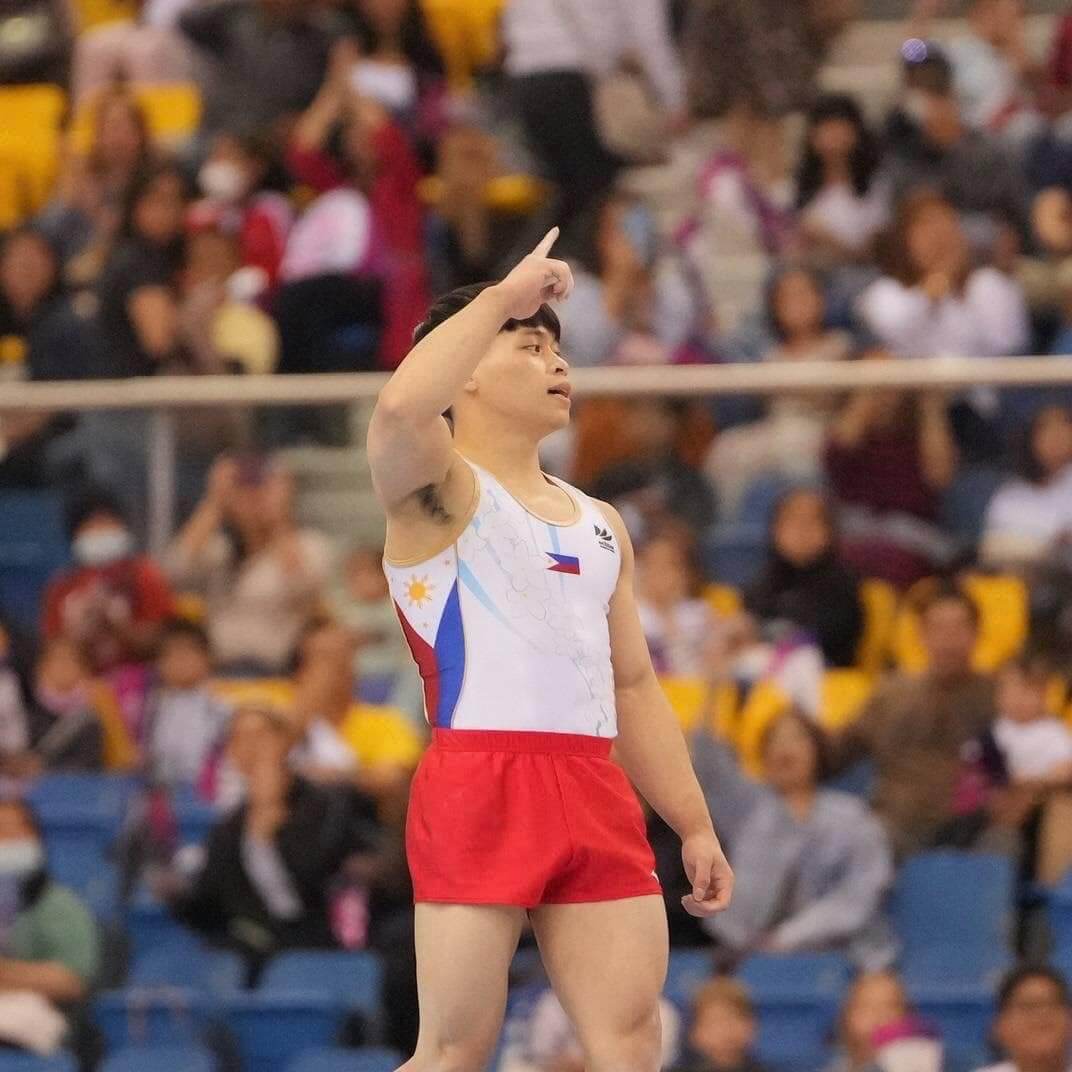 Filipino champion gymnast Carlos Yulo is advancing to the finals of the Artistic Gymnastics Apparatus World Cup in Baku city of Azerbaijan and is aiming to raise his medal haul to six after picking up the gold, a silver, and two bronzes in the first two meetings of the International Gymnastics Federation (FIG) series.
Yulo qualified for the World Cup Baku finals in the Still Rings and Parallel Bars events on the first day of the 3rd leg of the FIG series which runs from March 9 to 12, 2023. The 23-year-old athlete is going for another finals berth today in the vault apparatus event to be held inside Baku's National Gymnastics Arena where more than 150 gymnasts from 48 nations are participating.
The star athlete from the Philippines made the cut in the parallel bars final with a score of 15.333 points, placing 2nd among 8 finalists, and qualified for the rings event final with a score of 14.166 points, placing him in 5th rank.
The Philippines' champion Carlos Yulo @c_edrielzxs made the cut for the @gymnastics #WorldCupBaku2023 final events for Still Rings and Parallel Bars FULL STORY on @GoodNewsPinas_ https://t.co/jWnj8osBsC

— Angie Quadra-Balibay (@AngieQBalibay) March 10, 2023
The FIG Worlds champion will attempt to better his World Cup Doha silver and World Cup Cottbus bronze in Parallel Bars, improve his World Cup Cottbus bronze in Vault, and vie for his first medal in Still Rings after failing to advance in the Baku men's floor exercise final – the apparatus he dominated in Qatar.
"Pop star vibes for Carlos Yulo: There's no getting away from it, Philippines' Carlos Yulo is a crowd favourite. Banners in Doha dotted with hearts surrounding his name in giant letters plus screaming fans gave a touch of Yulo-mania to the proceedings. But the 23-year-old floor exercise and vault world champion, from 2019 and 2021 respectively, held his nerve to secure four medals in the 2023 World Cup series so far, including gold on floor last time out in Doha. He'll be looking to add more to his tally this weekend," the Olympics site reported in its feature article on the day of the World Cup Baku opening.
FIG World Cup Series Journey
World Gymnastics Champion Carlos Yulo @c_edrielzxs of the Philippines has so far picked up 4 medals – a gold, a silver, and 2 bronzes – in the first two meetings of the @gymnastics World Cup Series STORY on @GoodNewsPinas_ #FIGWorldCup #WorldArtisticGymnastics pic.twitter.com/5Czkm4XTnD

— Angie Quadra-Balibay (@AngieQBalibay) March 10, 2023
WORLD CUP DOHA
The 23-year-old picked up his first gold medal of the 2023 World Cup Series with the best performance in the Men's Floor Exercise in Doha, Qatar, last March 3, where the Filipino gymnast scored 14.833 points, way ahead of silver winner Japanese Kazuki Minami's 14.200 pts. and bronze finisher British Luke Whitehouse's 13.966 pts.
FIG social media described the Filipino athlete's winning performance:
"Carlos Yulo 🇵🇭 turned in a phenomenal exercise, scoring 14.833 for the lead! He began with a 2.5 twist to front double pike. There was also a triple full side pass, 1.5 twist to Randi, and a 3.5 twist to close. Terrific execution throughout. Fabulous"
https://twitter.com/gymnastics/status/1631648599166660609
Yulo then went on to win the silver in Parallel Bars, scoring 14.933 points, behind winner Illia Kovtun of Ukraine (14.966) and ahead of Ferhat Arican of Turkiye (14.733).
"Carlos Yulo 🇵🇭 is so smooth and emphasizes each element on Parallel Bars so well that by the end of his routine each skill is eliciting its own round of applause. That's the star power of Yulo. Brilliant routine with stuck double front half out dismount. 14.933," posted FIG social media after the event.
The Filipino gymnast won the bronze in Vault with 14.883 points, behind first placer Artur Davtyan of Armenia (15.083) and 2nd placer Igor Radivilov of Armenia (14.899).
"Carlos Yulo 🇵🇭 shows gorgeous form in the air on his Blanik (handspring front double pike) to score 14.966 (9.366 E). His second vault is a Kasamatsu double twist, which Yulo underrotates slightly, and has to take a step back as a result. 14.8 for 14.883 average," FIG tweeted.
WORLD CUP COTTBUS
Carlos Yulo's first medal of the series is bronze in Parallel Bars from the first leg of the FIG World Cup in Cottbus, Germany, on February 26. The gymnastics athlete earned 15.166 points in 3rd place, behind 1st placer Illia Kovtun of Ukraine (15.366) and 2nd placer Matteo Levantesi of Italy (15.266).
Carlos Yulo is hailed as a world champion and a fan favorite after achieving status as the first Filipino and Southeast Asian to win the FIG Worlds men's floor exercise back in 2019 and following it up with another gold in the vault apparatus in 2021.
The Filipino athlete competes in the World Cup Baku finals in Baku's National Gymnastics Arena this weekend before going to World Cup Cairo in Egypt for the fourth and final leg of the FIG series to be held from April 27-30.
Carlos Yulo of the Philippines is working his way toward the Paris 2024 Olympics, aiming to get the second gold medal for the country.
After the FIG World Cup Series, Yulo is expected to compete in the 31st Cambodia SEA Games from May 5-17 and the 52nd FIG Artistic Gymnastics World Championships in Antwerp, Belgium starting September 30.
SEND CONGRATULATIONS & GOOD WISHES in the comments below for Carlos Yulo of the Philippines as he aims to extend his winning streak at the ongoing FIG World Cup Series in Baku!
Good News Pilipinas is a Lasallian Scholarum Awardee. TELL US your good news story tips by messaging GoodNewsPilipinas.com on Facebook, Twitter, Instagram, or e-mail editor@goodnewspilipinas.com and WATCH Good News Pilipinas TV YouTube & Good News Pilipinas TikTok for more Filipino Pride stories!
Facebook Comments