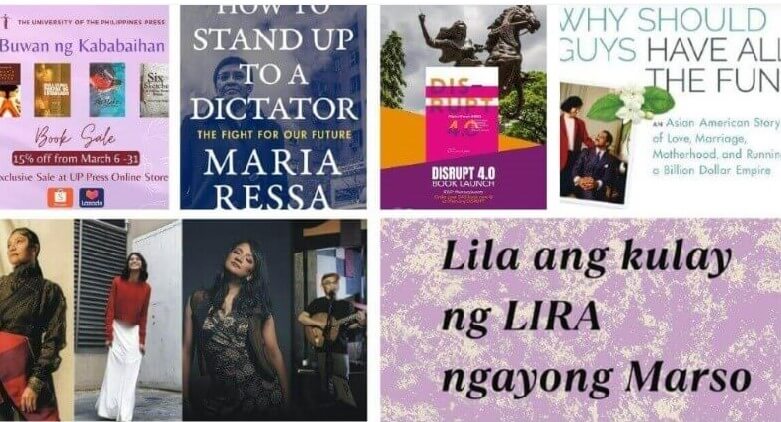 Here is a list of music offerings, poetry reading, and books that celebrate the strengths and achievements of Filipinas this International Women's Day and Month.
Women's Day is observed around the world on March 8 to highlight the successes of women in various fields and roles in society despite the challenge of multiple burdens unique to the gender. The date is calendared by the United Nations for discussion of civil and human rights and equality concerns for women.
Live at The 70's Bistro, March 8
Cooky Chua, Bayang Barrios, Faye Yupano, Gary Granada
Filipina musicians Cooky Chua, Bayang Barrios, and Faye Yupano jam again with prolific songwriter Gary Granada reminiscent of their Pancitan Live Online Onstage concert series last year, in a special show this Women's Day on Wednesday night at the iconic 70's Bistro in Anonas, Quezon City. The show is a hybrid offering with the live gig complemented by an online viewing that raises funds for human rights work.
Reserve seats here:
Sariwang Hangin Streaming on Spotify, Starting March 8
Bayang Barrios new album 
The Philippines' Lumad diva and indigenous people champion Bayang Barrios today released her newest album, "Sariwang Hangin", a collection of her recordings throughout the pandemic featuring 12 tracks, 6 of which are written in her native tongue, Bisaya, including her version of the classic lullaby "Ili Ili", 5 tracks in Tagalog including a cover of Gary Granada's "Huwag Kang Masanay" and collaborations with husband Mike Villegas, and a bonus cut.
Find the album here:
Performance Poetry, Tribute, Book Launch by LIRA, March 17, 21, 31
Linangan sa Imahen, Retorika, at Anyo (LIRA) presents poets performing their pieces at the Asian Institute of Management on March 17.
The LIRA tribute to the first woman senator of the Philippines, Geronima Pecson is scheduled on March 21.
LIRA launches the 2nd anthology by women poets on March 31.
Check the LIRA FB page for upcoming details and updates:
Book Sale at UP Press, until March 31
The University of the Philippines Press is having a month-long book sale of women-themed books at 15% off available on the UP Press Lazada and Shopee stores. Among the titles offered on discount until March 31 are:
Mula sa Pakpak ng Entablado: Poetika ng Dulang Kababaihan by Joi Barrios, a study of women stage playwriters
Women's Common Destiny, the first ever book-length study of maternal representations in Cebuano literature, authored by Hope Sabanpan-Yu
Abi Nako, or So I Thought, a collection of essays written by Jhoanna Lynn B. Cruz in her first ten years in Davao City, where she moved after her heterosexual marriage had failed
Six Sketches of Filipino Women Writers: Merlie Alunan, Sylvia Mayuga, Marra PL. Lanot, Elsa Martinez Coscolluela, and Rosario Cruz Lucero, authored by Cristina Pantoja-Hidalgo
Get the UP Press Lazada and Shopee links here:
Why Should Guys Have All the Fun? by Loida Lewis, recently launched
"Why Should Guys Have All the Fun?: An Asian American Story of Love, Marriage, Motherhood, and Running a Billion Dollar Empire" authored by Filipina immigration lawyer and activist Loida Nicolas-Lewis and Blair S. Walker was launched in February and is available on Amazon.
Get the Amazon link here:
Disrupt 4.0 Filipina Women: Being
Disrupt 4.0 is the 4th book on leadership by the Foundation for Filipina Women Network edited by US-based educator Maria Africa Beebe. The book features stories in the Filipino diaspora by the 31 Most Influential Filipina Women in the World awardees from 7 countries. There's a book launching today in San Francisco.
Find out how to attend the launch or buy the book here:
How to Stand Up to a Dictator by Maria Ressa
How to Stand Up to a Dictator: The Fight for Our Future by the first Filipino Nobel Peace Prize laureate and press freedom fighter Maria Ressa is available both in book form and in audio format. The book narrates how Ressa and her Rappler news organization have been fighting to survive amid state-sanctioned threats and online trolling.
The hardbound book and audiobook are found here:
Good News Pilipinas is a Lasallian Scholarum Awardee. TELL US your good news story tips by messaging GoodNewsPilipinas.com on Facebook, Twitter, Instagram, or e-mail editor@goodnewspilipinas.com and WATCH Good News Pilipinas TV YouTube & Good News Pilipinas TikTok for more Filipino Pride stories!
Facebook Comments