Twenty-four years ago, Helen Zava was a housewife content to stay home and take care of her family. While she felt fulfilled, Zava found another kind of satisfaction when she became a weaver for Hacienda Crafts, a manufacturer and exporter of Philippine handicraft.
Hacienda Crafts makes and sells unique and useful handicraft, including furniture, home accessories, lamp shades and the like. Operated by couple Joey and Ina Gaston, it is based in Negros Occidental.
Hacienda Crafts showcases the communities where the materials for its unique handicrafts are sourced
Zava's husband was a worker on the Gastons' sugar farm. "At the time, the women had no jobs, only the men were working," she said.
For Joey Gaston, the hiring of the wives came about because doing so would augment the farm families' income. He and Ina were newly married then and Ina happened to enjoy making crafts. They agreed to introduce the womenfolk to the crafts.
Ina said that, initially, there were only five women and they began by making little things—mats, coasters, trays and nets. Later they moved up to lamps made of capiz, coconut and buri.
"These take more time to make because they're hand made," said Ina.
The products are inspired by the native skills of the weavers, according to Ina. "I design with that in mind. I take from what they are able to do."
The handicrafts are also influenced by the cultures and traditions in various parts of the country.
By 1994, Hacienda Crafts had become a full-fledged business operating out of a hacienda (sugar plantation) in Negros Occidental.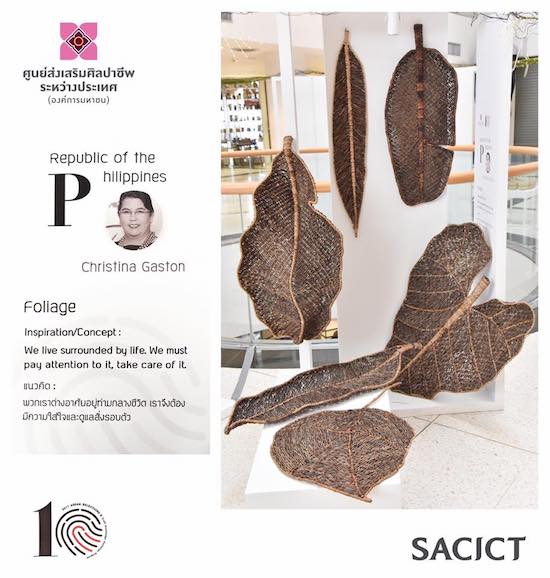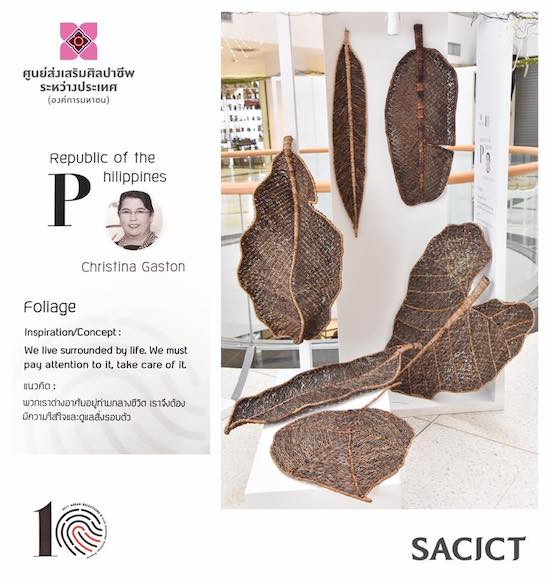 "Where before our workers earned only from the fields, now they also earn from the workshop," Ina said.
Hacienda Crafts gives the women the materials and teaches them how to make the products. The weavers take the materials home, work on the products and return to the factory with the finished products as scheduled. Checking for quality control follows. At week's end, the weavers get paid.
Ina said this helps the mothers since they can make extra money while looking after their children at home.
Hacienda Crafts also has a program to help the young children of its workers obtain educational scholarships. Older children are taught farming skills and other trades, such as welding.
"It's nice to see the children growing," Ina said.
"The design part values Filipino culture and heritage," Christina Gaston says. "We want to preserve them because we're starting to lose them."
Hacienda Crafts has tied up with various skilled groups—welders, for instance, who makes farm implements—who serve as its suppliers.
It also works with two cooperatives of T'boli weavers who make t'nalak , an indigenous woven fabric incorporated in its products.
In the beginning, the company was using raw materials available on the farm, Ina said, but soon enough they had to start looking for resources from neighboring towns. By doing so, the company has helped the communities around the farm generate more income.
Hacienda Crafts products showcase the communities where the materials are sourced, according to Ina. The company's role is to design and market the products.
"The design part values Filipino culture and heritage," she said. "We want to preserve them because we're starting to lose them."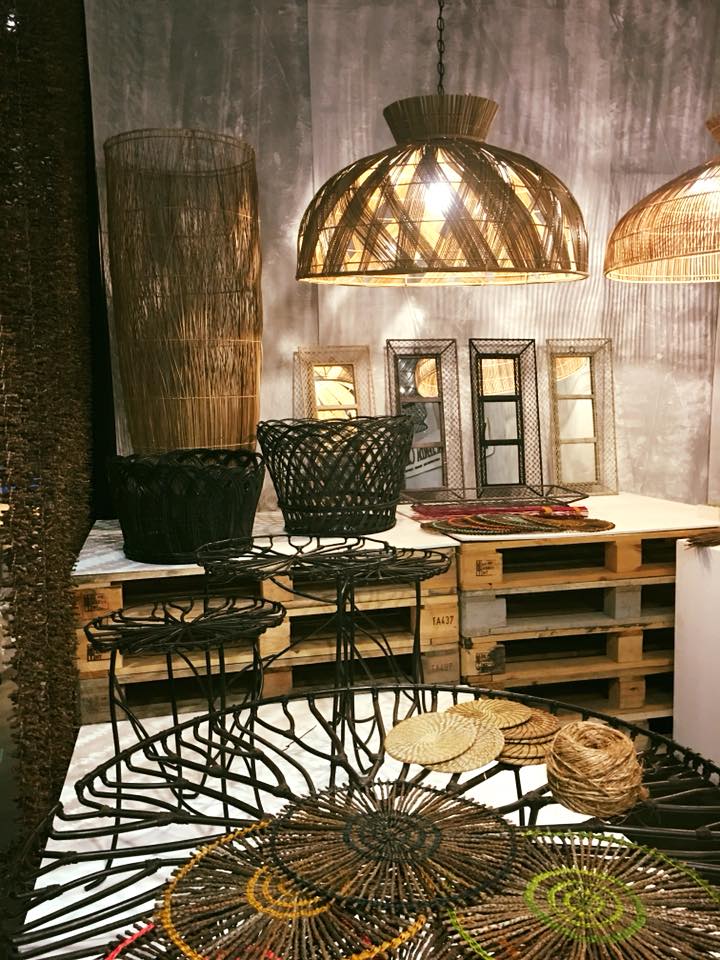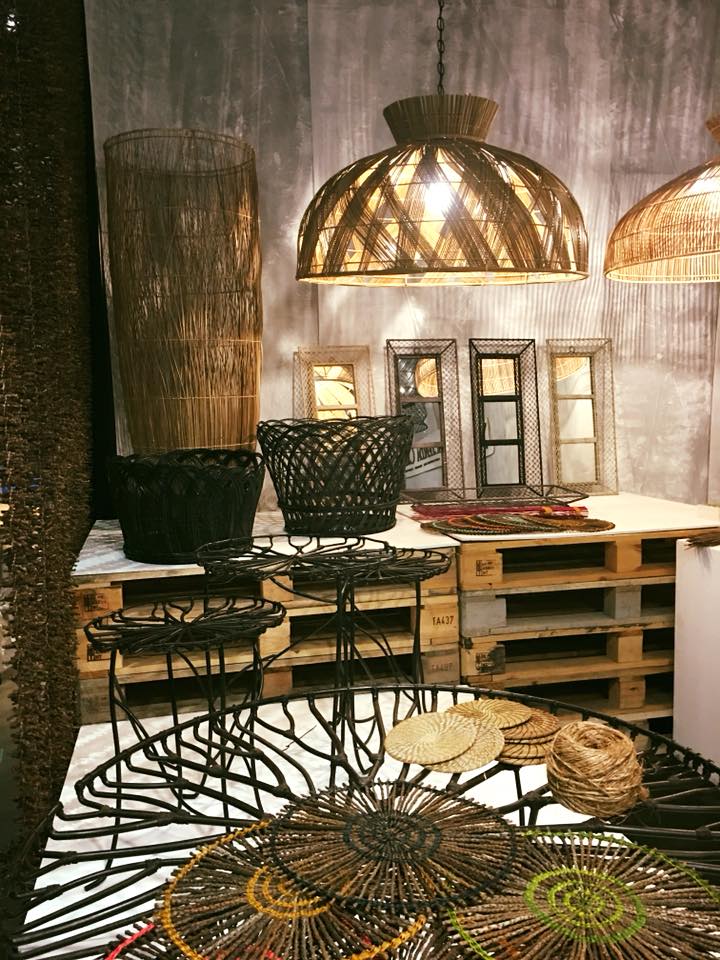 The brand also works with foreign designers with Filipino roots.
"We love working with people from different cultures," Ina said. "We want our products to transcend geographical boundaries. If we design a bag, for example, we want it to come from two different cultures."
To grow the business, Joey said, they were also focusing on connecting the workers and materials to the market. They are working hard to increase the demand for their handicrafts.
The young firm early on joined the Negros Trade Fair, which opened the world of export to them. From then on, Hacienda Crafts has been a fixture at major trade events like the Philippines International Furniture Show and the annual Manila FAME.
Ina is looking to distribute their handicrafts in the international market and at the same time not lose sight of their core values that prioritize the social, environmental and design aspects of a product.
Zava hopes that Hacienda Crafts attracts more buyers so they can create more products and continue her employment, for which she is grateful.
"Nakatulong sa pang-financial ang pagtrabaho ko sa Hacienda Crafts (My work at Hacienda Crafts has helped us financially)," Zava said. "Nadagdagan din ang kaalaman ko (It has also taught me some things I didn't know before)."
A mother of seven, Zava has four children in high school and one in college. She hopes her children who have stopped schooling would find jobs in the meantime. Her goal, she said, is to have all her children graduate from school
This story is part of a series of articles written by GO NEGOSYO writers being published by GoodNewsPilipinas.com as part of our support to Philippine businesses.
Facebook Comments