A Hope Summit of Yellow Boat volunteers begins today – the first time "Hope paddlers" for Filipino schoolchildren from all over the Philippines and the United States will gather in one place.
The Hope paddlers are volunteers who build school boats to ferry children who previously had to swim to school in remote communities in the Philippines. The first project of Yellow Boat of Hope Foundation co-founders Dr. Anton Mari Lim and Jay Jaboneta was in a mangrove community in Zamboanga City.
Nearly a decade after the first yellow boat project, hundreds of Hope paddlers from over 200 Yellow Boat communities, close to 5,000 yellow boats, classrooms, dorms, among others, are gathering to inspire each other, share stories of their communities and learn best practices of their initiatives.
Good News Pilipinas interviewed Forbes Asia's Philanthropy Hero, Dr. Anton Mari Lim, to talk about his role in what the Yellow Boat of Hope Foundation aims to do with the Hope Summit.
Good News Pilipinas (GNP): Please tell us why and how you put together a Hope Summit.
Dr. Anton Mari Lim (AML): Dream yan namin ng co-founder ko si Jay Jaboneta to let all our volunteers meet under one roof. We have yellow boat communities nationwide. Kahit ako hindi ko pa nakita lahat ng implementers namin.
But it took us winning the Facebook Community Leadership Program applied by Jay Jaboneta to make it possible. The grant from Facebook paid for everything.
Those attending are all our volunteers whom we call hope paddlers, our partner orgs and donors. (We hope) to share best practices and empower each community to do more.
GNP: Yellow Boat has grown a lot from being a single project in 2010.
AML: We now have over 200 yellow boat communities, close to 5000 yellow boats, classrooms, dorms. We are a 100% volunteer organization and we practice Holocracy. Kaya important to empower everyone to do more. Our pride is mentoring budding changemakers and turn them into leaders to inspire more to do more for their community. We have a lot of "ordinary" people who are now nationally awarded leaders.
SEE: How Yellow Boat of Hope Foundation helps bring School-in-a-Bag technology to remote classrooms
GNP: What were significant challenges to making Yellow Boat a growing movement of volunteers?
AML: Being a 100% volunteer and Holocratic organization, funding is really the problem. We hope to get more unrestricted funds and recurring donation that can empower us to have a full-time staff and an office space to be able to create and track our impact. We don't have a problem of volunteers and things to do but we do have a problem with funding to be able to respond to needs immediately. A lot of times, it takes months to raise yellow boats for a community na kailangan na talaga.
How we overcome? Through hard work, passion, and deep faith that God will provide!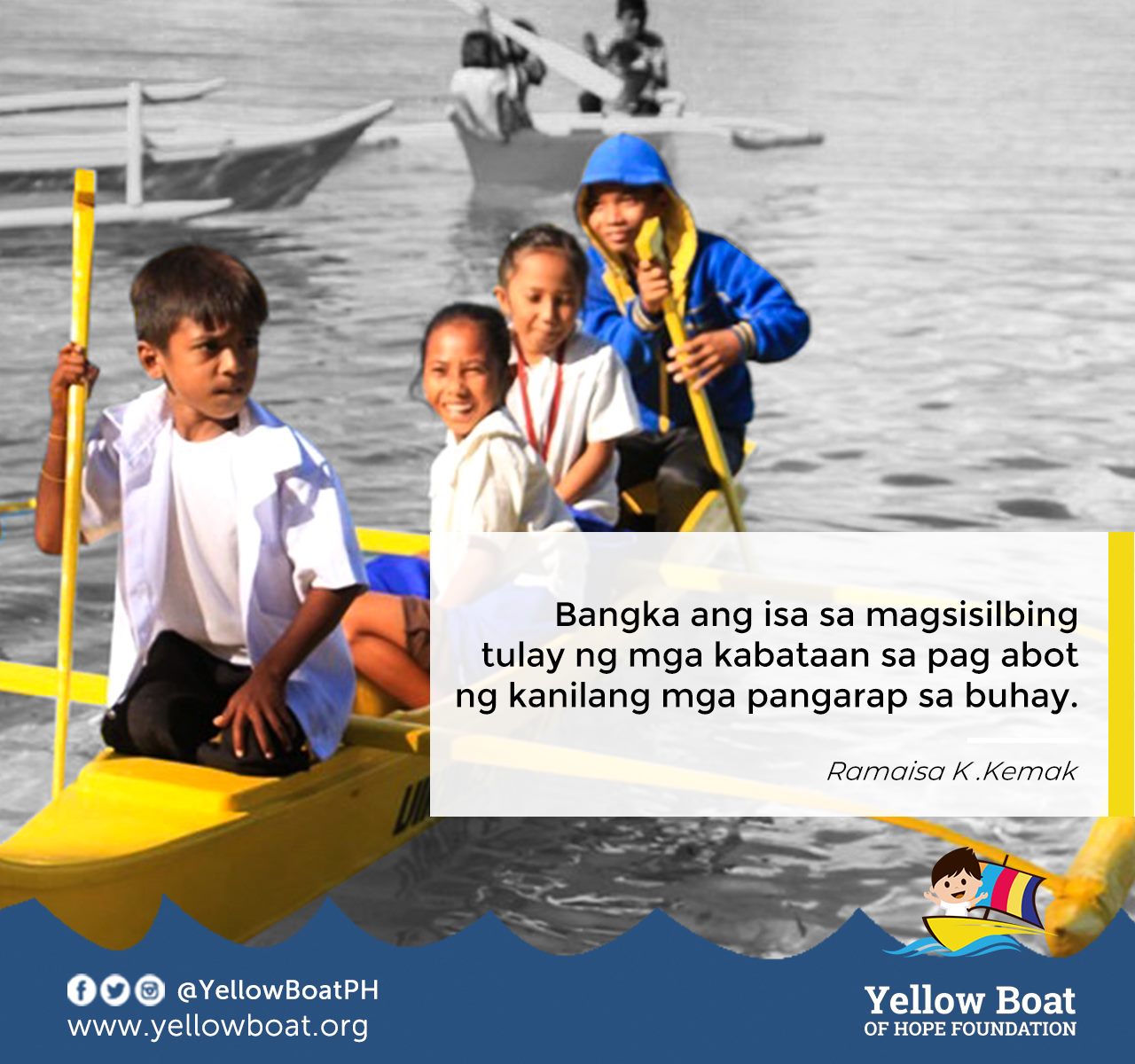 GNP: To what do you credit this expansion of your community work?
AML: Social Media plays and played a very big part of our success. We create a lot of noise online but most of the work happens offline!
GNP: How did you manage to spread the advocacy without fulltime staff and office?
AML: We hoped that the hope paddlers will be inspired and empowered to do more for their communities and be the beacon of light and inspire more people to be the change they want to see in our country! Alam ninyo, the hardest thing to see is hope when you are surrounded by darkness, but because of that hope is easiest to give. A pin of light (hope) can be easily seen and felt!
READ: Dr. Anton Mari Lim receives Forbes Asia's commendation as a philantropy hero
GNP: How has your life been changed by your work with Yellow Boat?
AML: It made me live a life of gratitude. Looking at how our small efforts impact the lives of kids is very humbling. Kids from our first community in Layag Layag, Zamboanga City are now college graduates and employed and helping their communities and families. They are the first in their communities to graduate college.
Truly education is the only way out of poverty. Education gives them more opportunities in life. My personal philosophy in life is that instead of building higher walls to protect our family, we should build longer tables and give the opportunity to more people. All that needs to happen to change the world is for one person to care.
It helped that my wife shares the same passion and never stopped me. God is really amazing for letting me meet the right people we need at the right moment! Kaya we owe it to God to do the best in His name.
My late father always tells his friends that I am his poorest son because I give, give, and give. In exasperation, sabi niya, ako na lang daw ang gift ng family to the world (hahahaha). He told us that money is not everything. How many sacks of rice can you consume in a month? If we take less there will be enough for everyone. Yun lang nga my UP education changed my definition of family. Every child is a family.
The Hope Summit of Yellow Boat of Hope Foundation convenes from June 19-21, 2019 at Hotel Benilde Maison, De La Salle Manila.
WATCH this short video of the Yellow Boat of Hope Foundation and TELL US in the comments below your ideas on how to help Filipino schoolchildren in remote communities!
Like, Follow, Subscribe to GoodNewsPilipinas.com Facebook, Twitter, Instagram, Good News Pilipinas! TV on YouTube, new story notifications and e-mail newsletters for updates on more Filipino Pride stories.
Facebook Comments