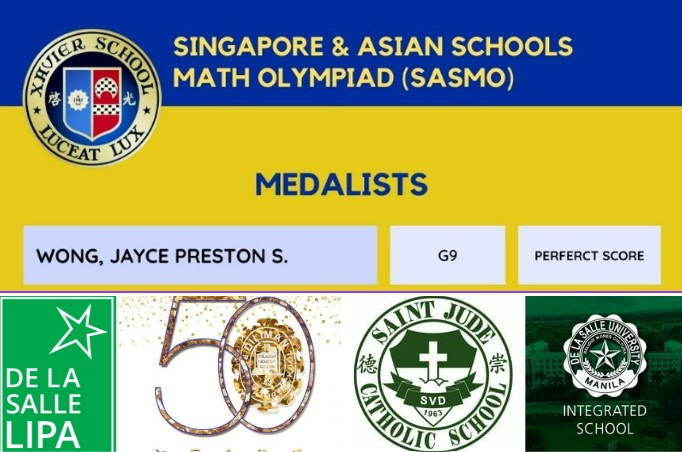 The Filipino spirit of resilience, combined with an exceptional aptitude for mathematics, has once again manifested itself on the global stage. Team Philippines has impressively clinched a staggering 430 awards including a perfect score at the Singapore and Asian Schools Math Olympiad (SASMO 2023)
This year's Olympiad held on April 1st and carried out online amidst ongoing COVID-19 challenges, was attended by a staggering 44,639 elite math students from across 39 countries and territories. Team Philippines, composed of 785 brilliant minds, stood their ground in this formidable battlefield of numbers and emerged victorious, bringing home 430 awards – 1 perfect score, 79 gold, 96 silver, 151 bronze, and 103 honorable mentions.
Among the triumphs, the story of Jayce Preston Sia Wong, a Grade 9 student from Xavier School – San Juan, is particularly noteworthy. Wong joined the elite ranks of 69 perfect scorers across eight countries in this year's Olympiad, bringing the total number of perfect scorers since SASMO's inception in 2006 to 180.
The impressive success of Team Philippines is credited to the efforts of the Asian MathSci League, Inc. (AMSLI), a nonstock, nonprofit organization that spearheaded the Filipino delegation. Their unwavering commitment to enhancing mathematical competence among Filipino students has contributed significantly to the nation's proud record of success in SASMO and other international mathematics competitions.
SASMO is an international competition that seeks to unearth and nurture the latent potential of students while fostering a sense of mathematical confidence. Known for its high focus on nonroutine problems, SASMO strives to boost students' competence in school mathematics and stimulate the development of higher-order thinking skills (HOTS).
The triumph at SASMO 2023 is more than just an impressive display of mathematical prowess. It also serves as an inspiring testament to the Filipinos' mental toughness and unwavering determination, qualities that continue to drive their successes on the global stage. Indeed, the triumphant return of Team Philippines reaffirms the nation's standing as a powerhouse in international mathematics competitions and a beacon of hope for aspiring young mathematicians in the country.
Here is the summary list of Filipino students who brought home awards from the SASMO 2023:
The FULL RESULTS of SASMO 23 is found here:
Young Filipino mathematicians are competing at the 64th International Mathematical Olympiad to be held in Chiba, Japan in July 2023.
SEND CONGRATULATIONS in the comments below to Filipino students winning honors at the SASMO 2023!
Good News Pilipinas is a Lasallian Scholarum Awardee. TELL US your good news story tips by messaging GoodNewsPilipinas.com on Facebook, Twitter, Instagram, or e-mail editor@goodnewspilipinas.com and WATCH Good News Pilipinas TV YouTube & Good News Pilipinas TikTok for more Filipino Pride stories!
Facebook Comments