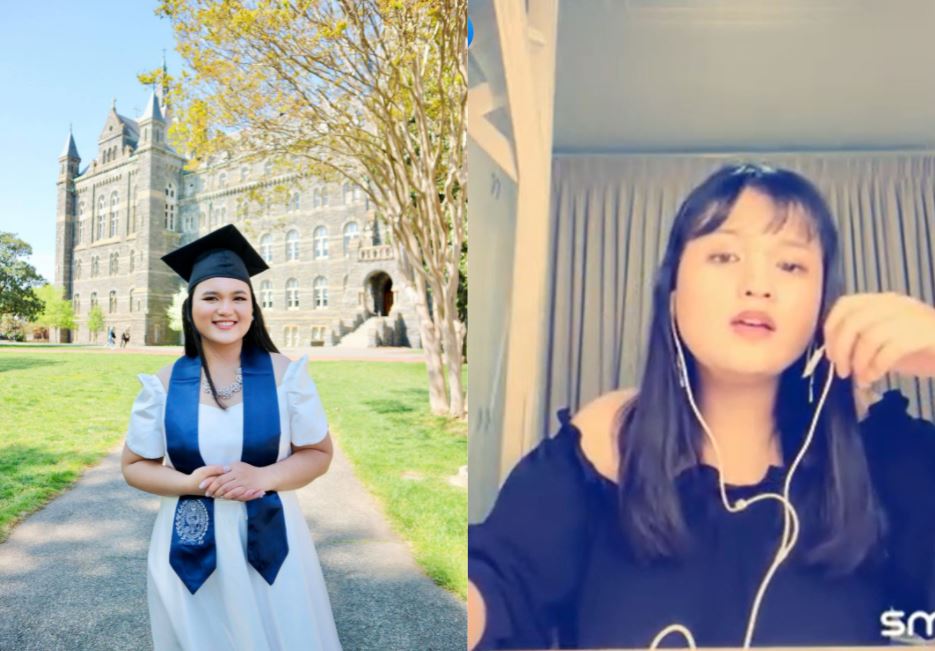 Georgetown University scholar Trish Victoria became the singing champion of the 2021 NHK Nodo Jiman in Japan in a situation she refers to as "accidental".
Patricia Margaret Victoria, a McDonough Scholar and Cohort Chair at the McDonough School of Business in Georgetown University Class of 2021, has been focused on building up her academic credentials after graduating with a Psychology degree from De La Salle University Manila.
Prior to her studies in Georgetown, Victoria had also graduated with honors from the Science, Technology and Medicine Summer Program offered for the first time by Stanford Anesthesia Summer Institute (SASI) at Stanford University, the lone Filipino in the 30-member class of 2017.
Trish Victoria was all set for her master's studies in the United States when the Covid-19 pandemic struck in 2020. Her vision of walking around the Georgetown University campus in the United States was replaced by studying from home. She attended classes from 1 to 8 in the morning during typhoon season in the Philippines, attending class despite a power outage and her computer battery quickly draining while writing an essay.
"Instead of meeting new friends, all my interactions were on zoom and the closest thing I had to a conversation was on zoom chat or groupme. In a class of 67, I was the farthest out with a 13hr time difference and it scared me. I thought people wouldn't want to work with the girl who's operating in a flipped timezone from the other side of the world," Victoria wrote in her graduation post.
Responding to a Facebook Ad
Trish Victoria had just come home to the Philippines after graduating from Georgetown and was feeling sad while quarantining as a Covid-19 pandemic protocol when she found a Facebook advertisement calling for a cover of a Japanese song.
She readily recorded Snow Flower / Yuki no Hana, with her background showing a room with an unmade bed and luggage that hasn't been unpacked, as her contest entry.
"I don't speak Japanese and I only really knew one Japanese song to sing and so I submitted my song and then forgot about it. A week later, I got called in by NHK and they asked to feature my song and then the rest is history!" shared Victoria with GoodNewsPilipinas.com.
It turned out that the contest was the NHK Nodo Jiman which was expanded to an international virtual edition for 2021.
"I accidentally entered one of Japan's longest and largest singing competitions (over 70 yrs!)," said Victoria.
Trish Victoria was declared the 1st International winner of the NHK Nodo Jiman during the NHK TV airing on July 18.
"Winning the championship came in as a surprise to be honest, it wasn't planned at all! And quite a funny story at best," Victoria adds.
Music training
Trish Victoria actually grew up being trained in the arts. She trained in pop singing and jazz for 7 years and also acted in theater. She even trained in figure skating and learned languages.
"I guess I was just raised by my parents to grab opportunities and pursue things that I enjoy and I enjoy a lot of different things," Victoria recalls.
Asked if she would now consider focusing on singing after winning a championship, Victoria said: "I think I'll always have music in my life along with my other career pursuits so I'm always open to wherever the opportunities take me".
Trish Victoria appears on the NHK Nodo Jiman World English edition on August 28.
SEND CONGRATULATIONS in the comment below to Filipino scholar Trish Victoria for accidentally becoming Japan's singing champion and WATCH her winning performance in the video below:
Good News Pilipinas is celebrating its 15th Anniversary in 2021 by giving away prizes! Subscribe to our Good News Pilipinas! TV YouTube channel and enter the raffle by sending us an email to editor@goodnewspilipinas.com
Facebook Comments