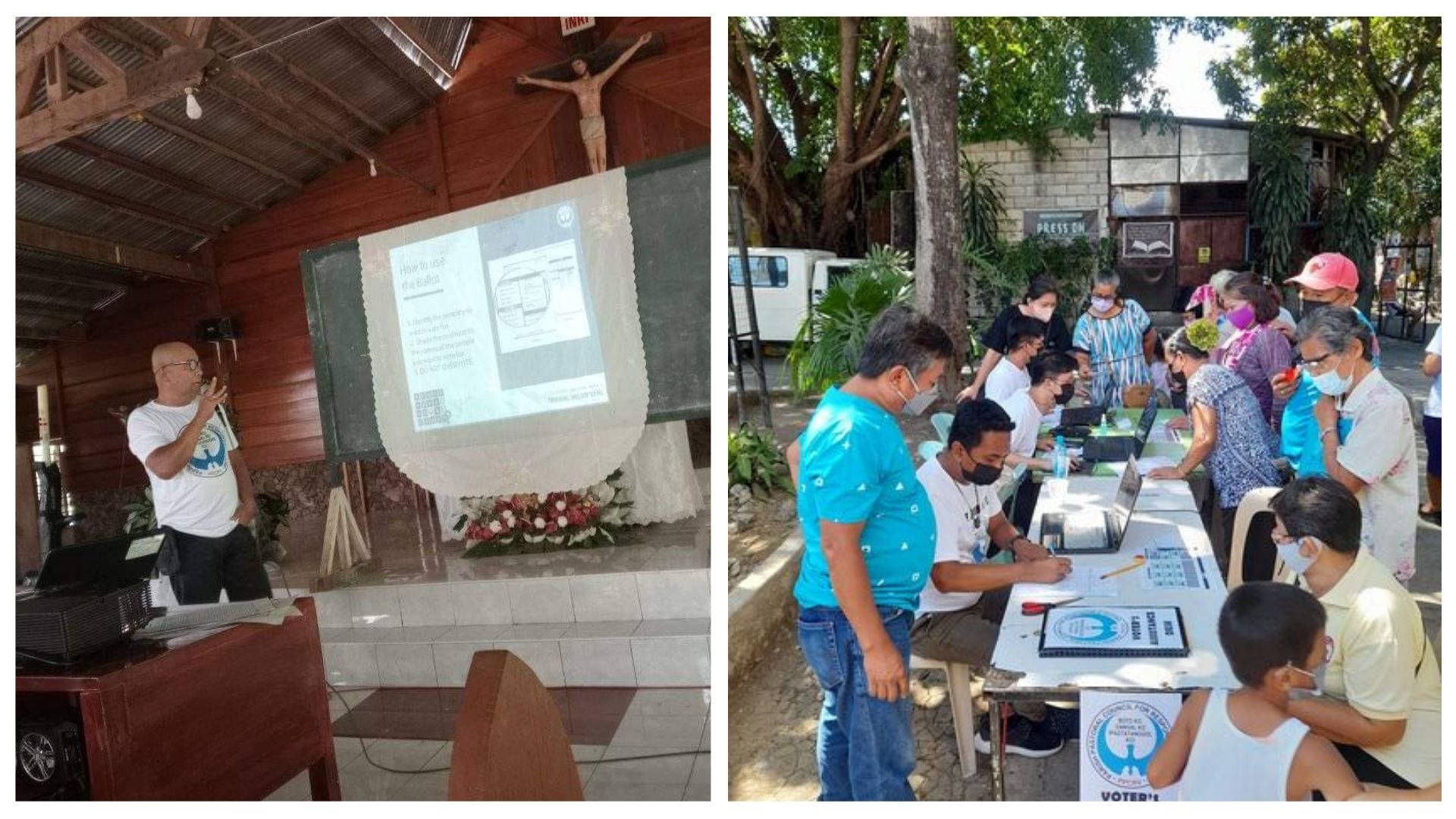 As the 2022 Philippine Elections draw near, here's how first-time and previously registered Filipinos can get help from the Parish Pastoral Council for Responsible Voting (PPRCV) to exercise their right to vote, and how to vote responsibly.
The PPCRV is a national parish-based political, but non-partisan, lay movement that conducts voters' education based on values enshrined in the 1987 Philippine Constitution, to ensure clean, honest, accurate, meaningful, and peaceful elections this May 9.
During this election period, PPCRV volunteers are setting up regular Voters' Assistance Desks in churchyards, parish buildings, or premises to allow both churchgoers and locals in the community to get answers for voting-related inquiries such as:
Dos and Don'ts for voters
Automated voting process
Active or Inactive Voter Status
Finding your polling precinct
Values to observe when casting your votes
Conduct of unofficial parallel count
People with voting-related inquiries are encouraged to visit their local parishes and directly communicate with the PPRCV volunteers.
In cases when the PPCRV team is unavailable in the area, people may visit the organization's website at pprcv.org, where pre-recorded voters' education seminars are available.
The YouTube channel of the PPRCV is also accessible to everyone looking for various viewer-friendly audio-visual presentations that teach voters how to choose the right leaders in the coming 2022 polls.
In their video campaign, PPRCV advocates for the voting of candidates who represent the "MakaPilipinas" 16 values for moral voting derived from the 1987 Philippine Constitution:
Makakasama ang lahat, hindi nang-iiwan (Encourages inclusivity)
Makakatwiran at patas makisama (Righteous and fair to all)
Makabatas (Follows the law)
Makabayan (Patriotic)
Makapagtaguyod ng kabutihang panlahat (Serves the public interest)
Makakalikasan (Cares for the environment)
Makakapayapaan (Peace-loving)
Makalinga, maalalahanin (Nurturing, Considerate)
Makadiyos (God-fearing)
Masigasig tumulong Makaahon ang bawat isa (Ready to assist public)
Makakalayaan (Freedom-loving)
Makatarungan (Pursues justice)
Makatotoo (Truth-seeker)
Malinaw ang pananaw sa Makabagong Bukas (Clear vision for the future)
Makatao: May respeto sa buhay at pamilya (Humanitarian, respects life and family)
Makabuluhan at matino ang pamumuhay (Unblemished personal life)
WATCH the PPCRV Maka-Pilipinas video here:
Apart from boosting their efforts to educate the voters both online and onsite, the PPRCV conducts its own preparations as one of the official partners of the Commission on Elections (COMELEC) in the upcoming national polls.
The organization volunteers undergo training and seminars on the essential role of PPRCV as an election committee. Over the last week, more Poll Watching forums and Voters Assistance Desk volunteers training were held in various churches across the country even while Voters Assistance Desks have opened.
Banking on the volunteerism spirit from dedicated individuals all over the nation, the PPRCV is also calling for more volunteers to dedicate their time and effort to ensure the safeguarding of this year's national and local elections. Check out if PPCRV volunteers are needed in your area in this PPCRV volunteers site.
CHECK YOUR Voter Status using the precinct finder here.
HERE'S HOW TO USE the Vote Kodigo before casting your vote.
WATCH PPCRV volunteers dance to the Maka-Pilipinas theme and SHARE THIS STORY to help Filipinos vote responsibly in this Philippine national and local election!
Good News Pilipinas is a Lasallian Scholarum Awardee. TELL US your good news story tips by messaging GoodNewsPilipinas.com on Facebook, Twitter, Instagram, or e-mail editor@goodnewspilipinas.com and WATCH Good News Pilipinas TV YouTube & Good News Pilipinas TikTok for more Filipino Pride stories!
Facebook Comments