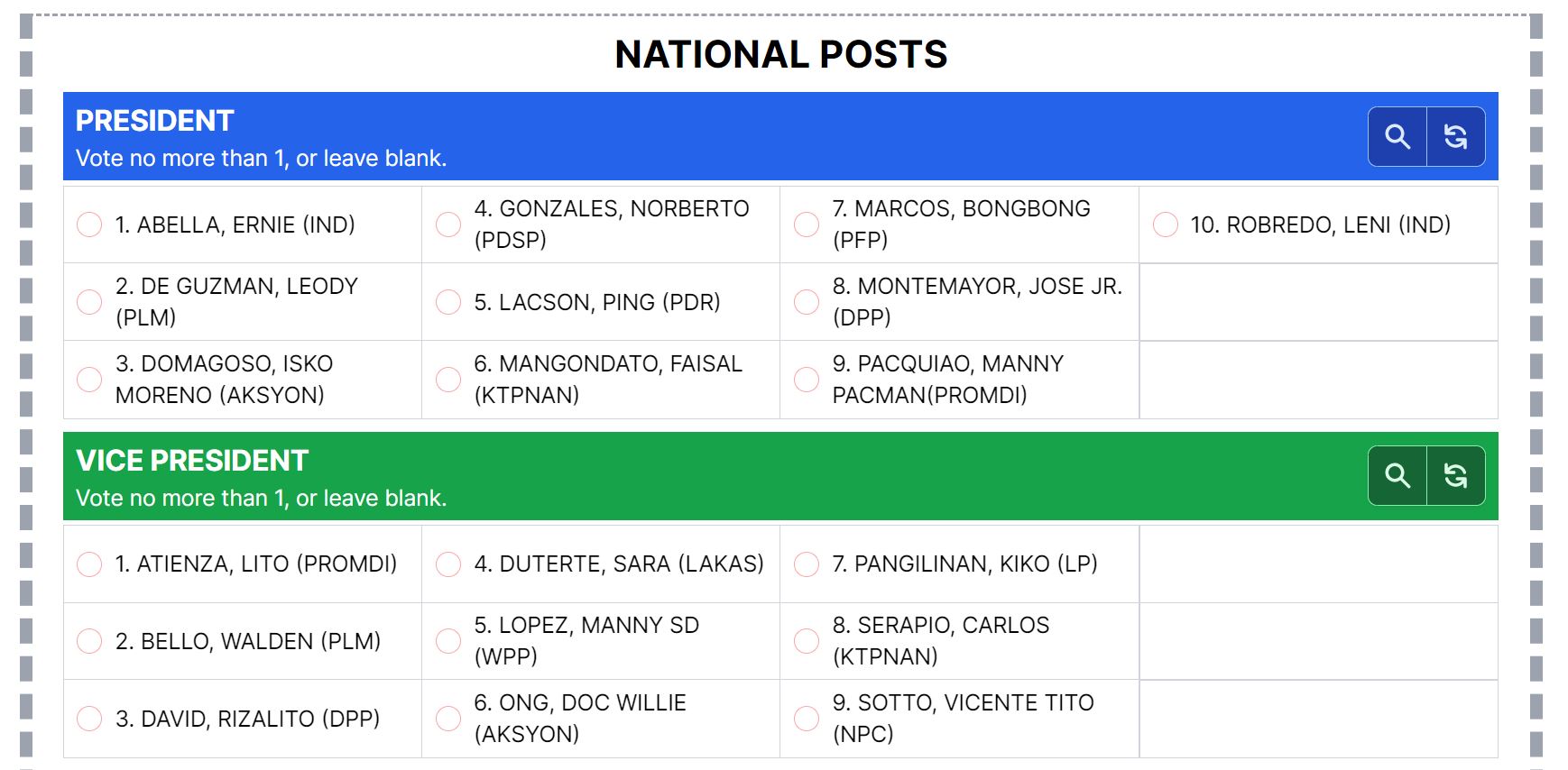 Here's how to prepare a list of your preferred candidates or vote "kodigo" for the May 2022 general elections in the Philippines.
With the national and local elections fast approaching, it's vital for both first-time voters and previously registered voters to be ready and know whom to vote for on or before election day on May 9.
Ahead of the election day, you should check your Voter Status if your registration is valid and therefore you can actually vote. You can do this by using the Commission on Elections (COMELEC) Precinct Finder.
Here's How to Check Your Voter Status
If you have already confirmed your Active Voter Status it is best that before going to the polling place you already have a list of the candidates you want to vote for written or printed on a "kodigo" for your own convenience. Bringing your own personal list is allowed by the COMELEC.
Preparing your own list of preferred candidates will allow you to cast your vote easily for the leaders whose good platforms for government and track records in public service you have decided would best serve the interest of the Filipino nation.
Overseas-based Filipino voters can also use the kodigo generator for national candidates. Here's a Voting Guide for Overseas Filipinos.
To assist registered voters in the country, the kodigo.me website was launched as a new tool that generates a list of your preferred national and local candidates for the upcoming elections.
The kodigo.me site is a free online service created by Charles Josh, a product manager who wanted to help fellow Filipino voters prepare for election day. Josh built the site in his spare time shortly before launching it publicly on April 26, 2022.
"This is more of a personal passion project. No big corporation or entity is backing the creation of this tool," kodigo.me creator Charles Josh told GoodNewsPilipinas.com in an interview.
The creator of kodigo.me decided to build a similar tool to that of GMA's MyKodigo site, to allow voters to get the full list of national and local candidates running for office and help them save time when voting at the polls.
Unlike the other platform, kodigo.me allows users to come back and freely edit on the site at any time without needing to reselect all their previous votes. Users of the site are also provided the option to easily share their kodigo with friends and the people they trust through social networking and messaging apps.
"GMA's MyKodigo has been up for at least three election cycles now. For the most part, the intentions and the service is the same, however, kodigo.me gives you a way to: come back to revise your kodigo without reselecting all your previous votes, and easily share your kodigo with people you trust," the new website's creator explains.
"I believe that this year's elections is one of a kind, and that personal influence plays a big role in our choices. With that said, I think that kodigo.me gives everyone an easier way to spark conversations and thought starters amongst family and friends," he adds.
The kodigo.me website uses a layout design with blue and green headers more similar to that of the actual ballot released by the COMELEC, to allow voters to be more familiar with the ballot and make it easier for voters to find their chosen candidates on the actual ballot.
The kodigo.me website contains the official list of the national candidates for President, Vice President, Senators, and Party Lists, and the local candidates for Congress, Governor, Vice Governor, Provincial, Board Members, Mayor, Vice Mayor, and City/Municipal Council, obtained from the final ballot face released by the national poll body.
CHECK OUT the List of Official National Candidates in the Philippine 2022 General Elections
Below are 3 easy steps to follow when generating your own vote list using the kodigo.me website:
Browse the kodigo.
Browse and scroll through the kodigo.me website to choose your preferred candidates.
The layout is similar to the actual ballot released by the COMELEC to help familiarize voters with the voting paraphernalia on election day.
The national candidates are shown first. At the end of the page, you only need to select your province and city/municipality to generate the list of local candidates in your area.
2. Click the button next to the name of your selected candidates.
Select your preferred candidates on the ballot provided by the website by clicking the button next to the name of your choice.
Users can also click on the Search icon to look for their desired candidate/s.
You may choose to leave some spaces blank (abstain or undervote). Don't overvote as when you select more than the required number of candidates, your vote is invalidated.
3. Save for later, print, or share your kodigo!
Save your accomplished ballot. A QR code will also be generated for you to give you the option to come back and edit your kodigo again when you decide to switch votes.
Make sure to print your kodigo, as some polling precincts may prohibit the use of mobile phones.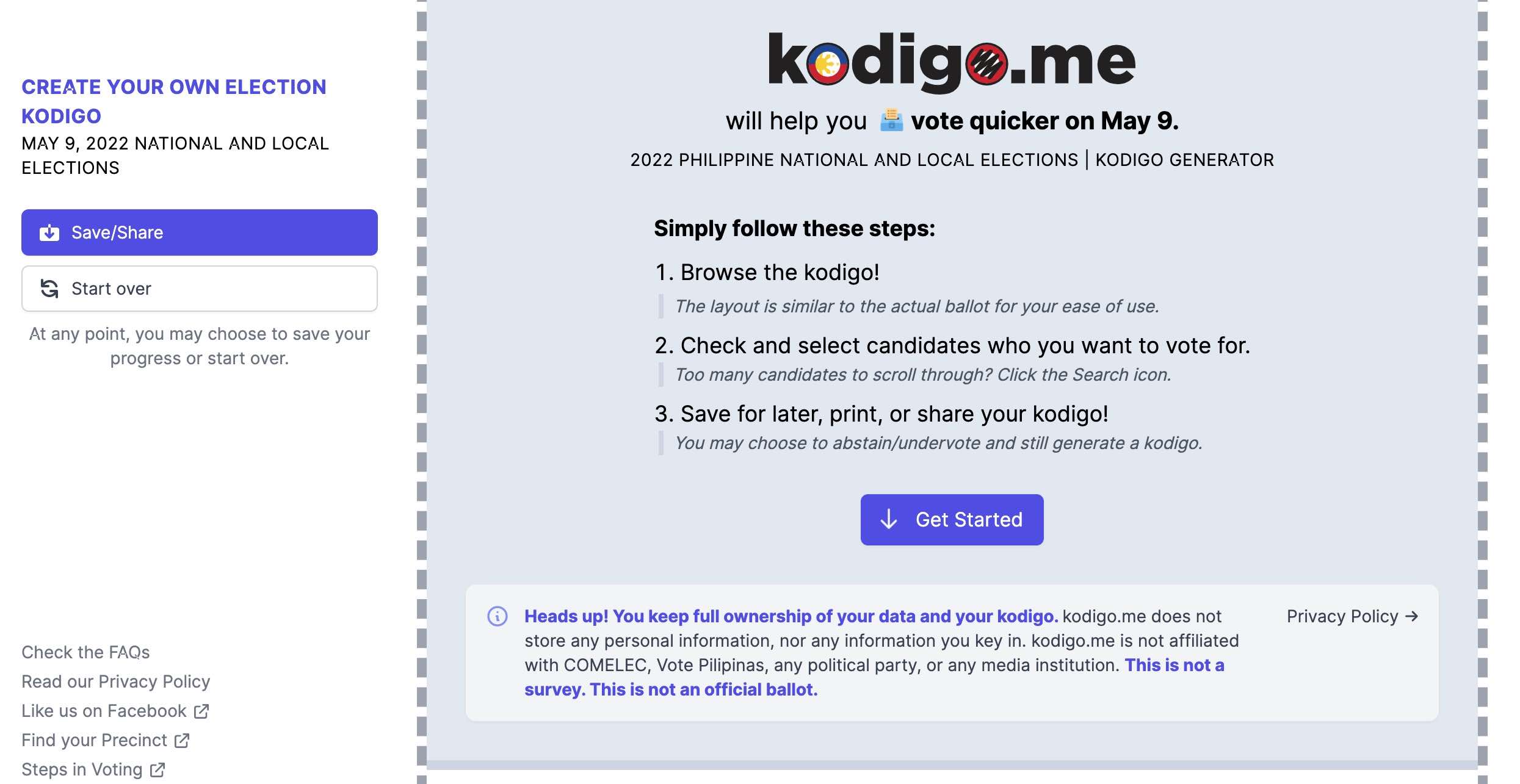 The kodigo.me website will not store any personal or voting information. It is not affiliated with COMELEC, Vote Pilipinas, any political party, or any media institution.
You can access the kodigo.me website through this link.
SHARE this article on the Vote Kodigo to help more Filipinos be prepared for the May 2022 general elections in the Philippines. WATCH THIS VIDEO SHORT with easy-to-follow steps:
Good News Pilipinas is a Lasallian Scholarum Awardee. TELL US your good news story tips by messaging GoodNewsPilipinas.com on Facebook, Twitter, Instagram, or e-mail editor@goodnewspilipinas.com and WATCH Good News Pilipinas TV YouTube & Good News Pilipinas TikTok for more Filipino Pride stories!
Facebook Comments