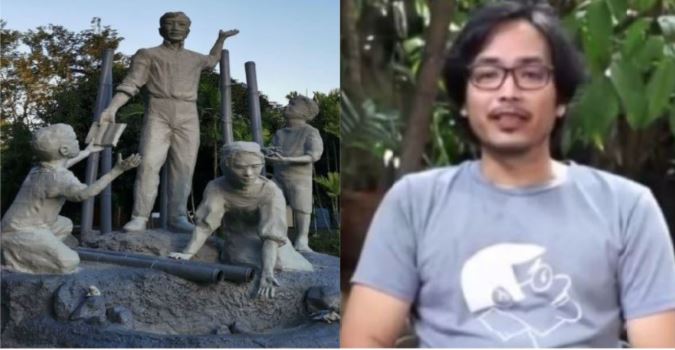 The Instagrammable Jose Rizal 3D-printed monument unveiled during the hero's 125th martyrdom anniversary was designed by University of the Philippines College of Fine Arts professor and sculptor Jose Manuel "Manolo" Sicat to depict the human side of the national hero.
Unlike most statues of Dr. Jose P. Rizal which often depict him as static, Rizal's latest monument which stands on the grounds of the Department of Science and Technology (DOST) in Taguig City depicts the historic figure as having some interaction with children, in an artistic creation ideal for an Instagram post.
"Sa aking bersyon ni Jose Rizal nais kong ipakita ang kanyang mas 'human side," Sicat tells in a video interview shown during the Rizal, The Filipino Scientist virtual presser.
Sicat explained that in his sculpture, Rizal was not limited to a static pose as most often the case in his traditional sculptures. In the latest monument, Rizal is depicted as very much in touch with his environment, and he's surrounded by children with whom he's extending his left hand, symbolizing him handing over his contribution to the next generation. His right hand was facing an empty space to show the possibilities where science and technology can be used.
"Ang kabuuan ng sculpture na ito ay hindi lamang nagpapatampok sa mga naging ambag ni Dr. Jose Rizal sa syensya at teknolohiya, kung di nais din nitong ipahayag na ang syensya at teknolohiya na ating ginagawa, tinutuklas, ay dapat din ipinamamahagi para sa mga mamamayan," Sicat added.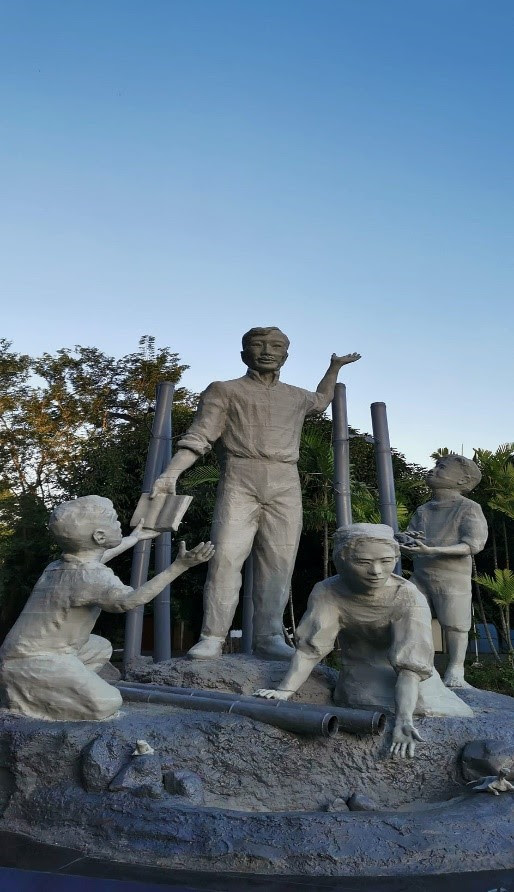 The development and design of the "Rizal, The Filipino Scientist" monument involved experts from arts, history, and science. During the conceptualization stage, DOST, through the National Research Council of the Philippines (NRCP), gathered national scientist Angel Alcala, known historian and Rizal expert Professor Ambeth Ocampo, Dr. Arvin Diesmos of the National Museum, and other scientists and experts.
"So, hindi po isang tao lang ang nag-decide ng kung ano yung gagawin. Pati yung may babae, may bata, pati yung kasama yun sa diskusyon nung ating maliit na committee," Dr. Rowena Cristina L. Guevara, DOST Undersecretary for Research and Development, said.
Guevara noted that also incorporated in the design is the Instagram-able element of the monument, wherein those who will take selfies can actually find a good angle that can give them their best shot with the monument.
Guevara said that what DOST wants to show with the monument is just the beginning of what can be done, and there's more that can be done given the R&D activities at the Advanced Manufacturing Center (AMCen) of the DOST's Metals Industry Research and Development Center (DOST-MIRDC). Aside from the 3D print, AMCen's R&D aims to come up with lighter materials that are durable and even stronger than what previous structures were made of.
"Through our facilities at AMCEN and through our engineers, designers and scientists, our country is now capable of building faster, stronger, more beautiful structures, at a lower cost. The strength of the monument outlines the DOST's capability to produce sturdy structures through 3D printing technology that can withstand typhoons and wind velocity of up to 330 kilometers per hour, an earthquake of magnitude 7.0. This is how the output of R&D enables the harmony of science and arts," Guevara said.
To keep Rizal's legacy alive, there are five Rizal webinars to be hosted by the four research councils of the DOST which will run until March 2022.
These webinars that are intended to honor and feature Rizal as a Filipino scientist and naturalist aim to heighten the awareness of the youth and the general public about his journey as well as his contributions to nation-building, and the promotion of a science culture in the country as early as the 19th century. Interested parties can visit the Facebook page NRCP's Research Pod for announcements.
The public can see the monument for themselves inside the DOST plaza in Bicutan, Taguig, given that they observe the necessary health protocols and visitation guidelines.
Dr. Jose P. Rizal, The Filipino Scientist monument, which can be seen on the grounds of the Department of Science and Technology (DOST), is a product of the Advanced Manufacturing Center of the DOST-Metals Industry Research and Development Center (DOST-MIRDC).
The Rizal 3D-printed monument is made of Acrylonitrile Styrene Acrylate (ASA), a material known for its high mechanical properties that can withstand impact and high temperature, UV exposure, and has chemical resistant quality. The structure is further reinforced using a steel structure to withstand winds of 330 kph and a 7.0 magnitude earthquake.
SHARE your good news story tips to GoodNewsPilipinas.com on Facebook, Twitter, Instagram, or e-mail editor@goodnewspilipinas.com and subscribe to Good News Pilipinas TV YouTube for more Filipino Pride stories!
Facebook Comments