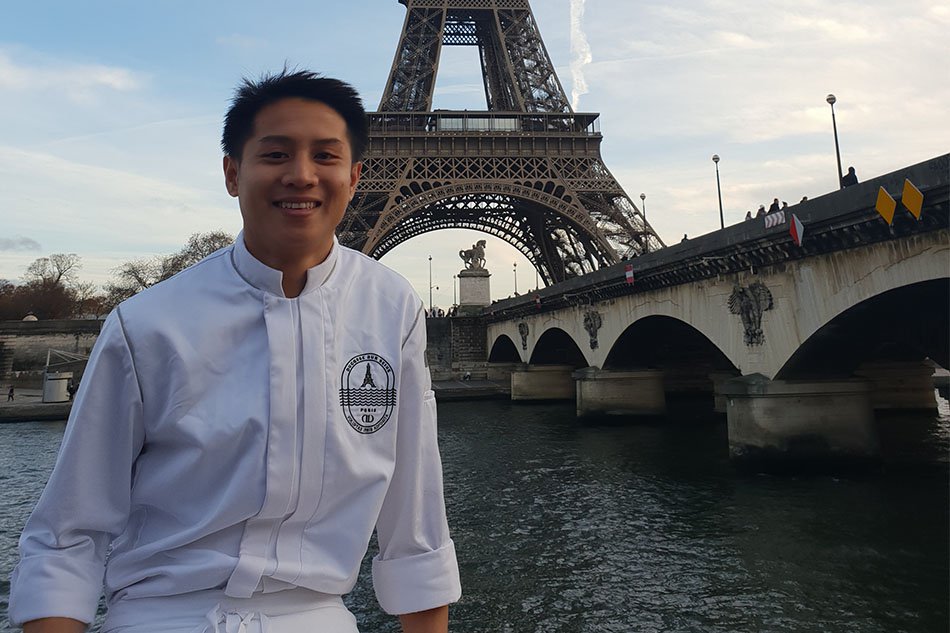 Meet James Diño, a young Filipino chef in France who is thanking his lucky stars for having a wonderful experience in the City of Lights working for one of the world's greatest French chefs.
James was personally chosen by Chef Alain Ducasse to work for the famous Le Jules Verne restaurant in Paris.
James' story is actually quite an interesting journey as it started when he was barely a teenager whose father had died, leaving him an orphan at age 13. Fortunately, he came to Tuloy Foundation that was founded by Fr. Marciano "Rocky" Evangelista of the Salesians of Don Bosco. Tuloy Foundation provided James and other youth with scholarship programs, and gave a home for street children and abused children, educating them and teaching them skills.
James was among the kids that was taught basic pastry and breadmaking, and a French instructor introduced him to French cuisine. When Enderun College, Alain Ducasse's culinary school in the Philippines, became part of the Youth with a Future Scholarship Program it opened an unbelievable opportunity to an orphan in the Philippines.
He was among the first ten kids that was given further scholarship studies at Enderun College. James became top of the class, finished the course and received his Culinary Arts Diploma.
He immediately got a job at the Four Seasons Dubai and worked there for 3 years but when opportunity came to work for Monsieur Alain Ducasse and work in France. Who would say no at working for the best kitchen in Paris inside the iconic Eiffel Tower? Certainly not Chef James Diño – the Filipino chef who overcome poverty and is now a rising kitchen artist in France.
Facebook Comments