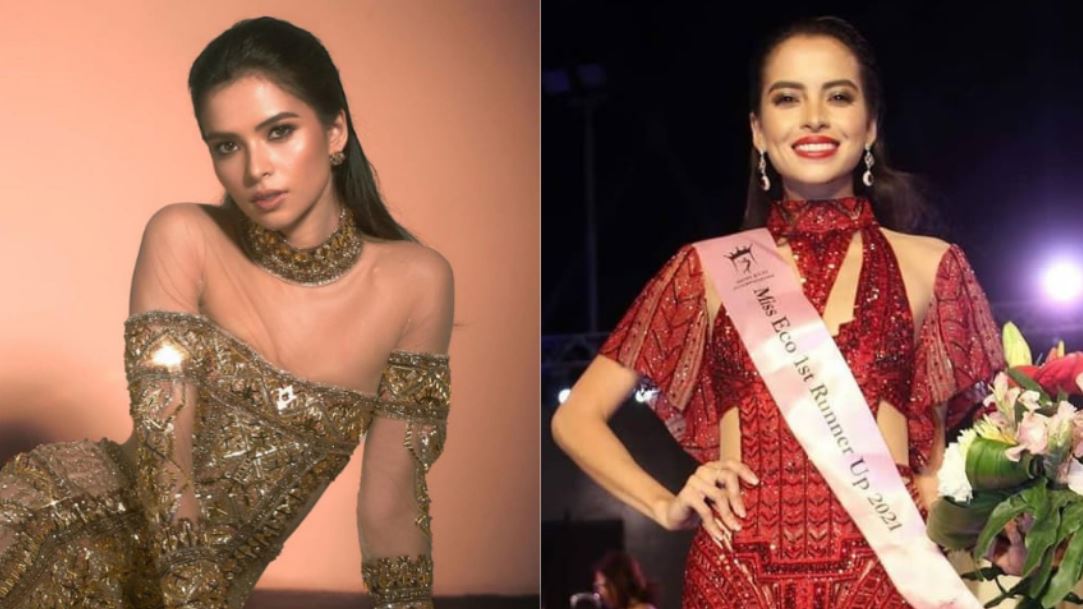 Kelley Day has given the Philippines back-to-back wins in Miss Eco International after she was crowned 1st Runner-Up in the 2021 edition of the Egypt-based pageant.
The beauty pageant queen's Top 2 finish follows the success of her predecessor Maureen Montagne who also won first runner-up during the 2019 pageant.
This is also the third consecutive year that the country's pageant queens made it to the Top 5 of Miss Eco International after beauty queen-turned-actress Cynthia Thomalla won the crown in 2018.
The country's bet wowed the judges with her stunning performance during the grand coronation on April 4, 2021, held at the Baron Resort Sharm El Sheikh in Cairo.
During the Eco Dress competition, the Filipina-British beauty queen showcased her white and gray terno made from plastic rubbers created by Louie Pangilinan, the same designer who made her award-winning modern Maria Clara dress which bagged the Best National Costume award in the preliminary competition held on April 3, 2021.
Day also aced the evening gown competition with her beaded and bejeweled gold gown designed by Ezra Santos.
In the top 10 elimination round, the actress-turned-beauty queen was asked to discuss the topic of gender equality.
"The Philippines stands very strong with gender equality, actually," Kelley answered. "Women tend to get jobs as equally as men and payment is… tends to be the same, as well.
"So, from my experience working in the Philippines for the past five years, I've been very, very blessed to have gender equality in my line of work in my country," she added. "But that doesn't mean that it doesn't happen around the world and I'm aware of that.
"And hopefully, with the Miss Eco International crown, I can share how the Philippines is successful in gender equality with the rest of the world. Thank you," Kelley concluded.
During the top 5 Question and Answer segment, the Pinay pageant frontrunner was asked: "Recently, we had more violence in schools, how do you think we can make a better way to promote safety in our schools?"
Kelley responded, "This is a really serious topic and I'm very passionate about looking after our generations to come because they are the most important, they're the ones who are gonna fix the mess that we have made in the environment and with violence, too.
"So when [children go] to school they're supposed to feel safe, protected when they're away from their family," she continued. "And I can't imagine it if I went to school feeling scared and I've actually seen live footages of what has been happening in schools, and it just really, truly breaks my heart.
"Unfortunately," Miss Eco Philippines went on, "as the world is going through a lot of changes right now, there is violence.
"And the best thing that we can do right now is just to improve the security of the school<" she suggested. "There has to be things like security checks and maybe like metal detectors because that's really all we can do right now, and just share the word.
"As I'm standing here on this stage, I have the opportunity to tell anyone that is planning to do something to children to stop. Look after our generation, please. Thank you," Kelley concluded.
Here are the winners of Miss Eco International 2020 edition:
Miss Eco International 2020 – Gizzelle Uys, South Africa
First Runner-up – Kelley Day, Philippines
Second Runner-up – Alexandria Kelly, U.S.A.
Third Runner-up – Stefania Rodriguez, Venezuela
Fourth Runner-up – Kristell Ruiz, Costa Rica
SEND CONGRATULATIONS in the comments below to Kelley Day as she gives the Philippines back-to-back 1st Runner-Up wins in Miss Eco International!
Good News Pilipinas is celebrating its 15th Anniversary in 2021 by giving away prizes! Subscribe to our Good News Pilipinas! TV YouTube channel and enter the raffle by sending us an email to editor@goodnewspilipinas.com
Facebook Comments