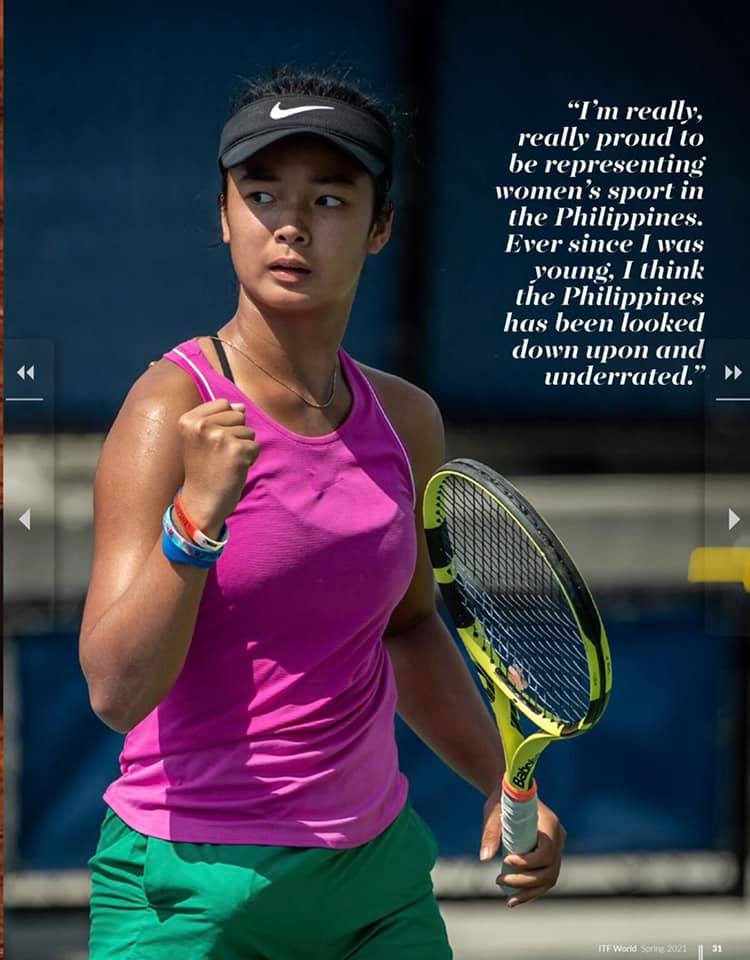 The Philippines' teen tennis champion Alexandra "Alex" Eala has moved up 22 notches on the World Tennis Association (WTA) Pro Women's Rankings ahead of her upcoming debut on the W60 Bellinzona tournament in Switzerland.
The 15-year-old Eala is now ranked at the 715th spot in the WTA Rankings released on April 5, 2021. The reigning Australian Open Junior Doubles champion went up 22 notches from the 737th spot in March.
The Filipino tennis champion previously ranked 763rd in the WTA Rankings released February 22, 2021, zooming up from her 942nd spot as she entered the Top 1000 list on February 1st, following her W15 Manacor Championship win in January, the rookie's first professional title since she turned pro in 2020.
Eala is set to debut in the main draw at the ITF Women's World Tour W60 Bellinzona this week and will play her first match after the qualifying events for other players. She entered the event through the Junior Exempt program as the World No. 3 ITF Junior Player.
Eala also debuted at the prestigious Miami Open in March.
SEND CHEERS to the Philippines' Alex Eala for moving up on the WTA Pro Women's Rankings ahead of her W60 Bellinzona debut in Switzerland this week!
Good News Pilipinas is celebrating its 15th Anniversary in 2021 by giving away prizes! Subscribe to our Good News Pilipinas! TV YouTube channel and enter the raffle by sending us an email to editor@goodnewspilipinas.com
Facebook Comments