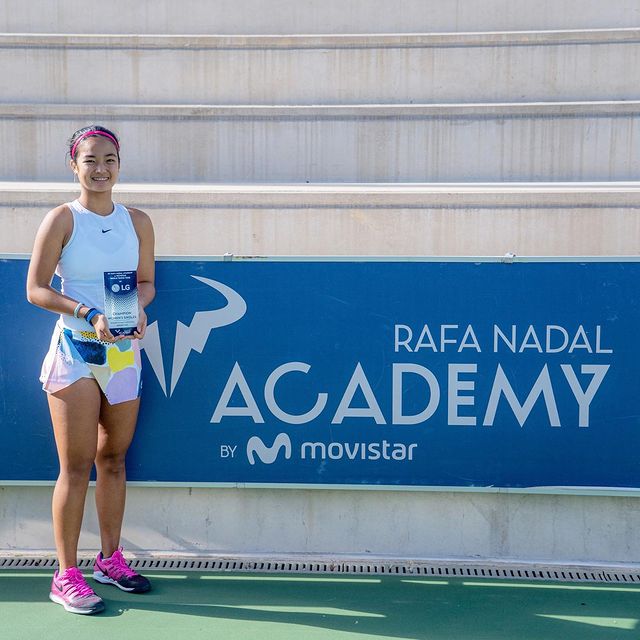 BREAKING NEWS TODAY. Alexandra "Alex" Eala raised the Philippines' colors over Spain as the teen tennis world champion won her very first professional tennis championship title at the International Tennis Federation's (ITF) Women's World Tennis Tour.
The country's new world champion claimed a come-from-behind victory over Spain's multi-titled pro champion, Yvonne Cavelle-Reimers, in the W15 Manacor Women's Singles Finals which wrapped up Sunday, January 24, 2021.
The 15-year-old Alex Eala defeated the 28-year-old Cavelle-Reimers on Spanish soil, delivering a blow to the hometown bet after 3 sets, 5-7, 6-1, 6-2.
The Spaniard took the lead in the first set with the Filipino trailing by two. The Philippines' pride afterward showed her Filipino grit and determination as she took over the hardcourt at Rafa Nadal Academy by Movistar to dominate the next two sets and seal the victory.
The new ITF World Women's Singles tennis champion challenged and won against top-seeded and top-world-ranking ace players at the January 2021 tournament in Spain.
Finals: Philippines victorious over Spain
January 24
5-7, 6-1, 6-2
Alex Eala, a tourney Junior Reserved Player, faced off the Direct Acceptance Yvonne Cavalle-Reimers, ITF's 132nd ranked player and WTA's 490th.
The Filipino tennis prodigy extended her 4-game winning streak to 5 games to bag her first Pro Tennis Championship after she turned professional in 2020. Eala takes home the prize pot of $15,000.
Semis: Philippines Emerges as Asia's Best Against Hong Kong
January 23
6-3, 6-4
Eala earned her first-ever professional finals appearance after coming off a 6-3, 6-4 victory over tourney Qualifier Adithya Karunarante of Hong Kong during the semifinals on January 23.
Her second historic appearance in W15 Manacor pitted the two Asians against each other with the Filipino eventually winning.
Quarterfinals: Philippines Come-From-Behind Win Against France
January 22
6-7, 7-6, 6-4
Eala booked her historic first professional semifinals appearance after overcoming a 3-hour battle against 19-year-old Top 5 seeded and ITF Singles World No. 14 Carole Monnet of France in the quarterfinals on January 22.
The Filipino teen tennis champion executed a come-from-behind win and eventually emerged victor against the tour's Direct Acceptance player, 6-7, 7-6, 6-4, propelling her to the semis.
Round 2: Historic Philippines Victory vs Australia
January 21
6-4, 6-1
The Philippines' tennis champion delivered an upset to the top-seeded and ITF Singles No. 2 ranked Seone Mendez of Australia in her Round 2 match on January 21 to reach her first-ever quarterfinals spot in an ITF tour.
The junior tennis sensation won against the 21-year-old Seone Mendez, 6-4, 6-1, in her Round 2 match at the Rafa Nadal Academy by Movistar court.
Round 1: Philippines Dominates Italy
January 19
6-1, 6-2
The Rafa Nadal Academy scholar opened her 2021 season campaign with a strong routing of tour Wildcard entry and fellow RNA player Anna Paradisi of Italy, 6-1, 6-2, in the Round 1 match of the Main Draw Singles held on January 19.
Alex Eala entered the ITF Manacor tournament that ran from January 18-24 as the Main Draw Junior Reserved player by virtue of her being the current World No. 3 Junior Girls player. She hit her career-high No. 2 ranking after her semifinals finish at the French Open Singles in 2020.
Eala's top performance at the ITF Women's World Tennis Tour in Spain is expected to improve her January 18 ranking as 1651st on ITF Singles and 1187th in the WTA Singles.
Filipino pride
It was also in January last year when Alex Eala made a historic finals entry and eventual Grand Slam title to become the reigning Australian Open Doubles Champion, together with Indonesian partner Priska Nugroho. Eala became the first Filipino to win a Junior Grand Slam title since Francis Casey Alcantara won the 2009 Australian Open Doubles Boys Championship with Chinese Taipei's Hsieh Chen-peng.
She also ruled the Toni Nadal Heliocare tournament held in Mallorca, Spain in August 2020.
Eala's ITF interview after her successful Australian Open campaign, reveals why she continues to represent the Philippines.
"You don't see a lot of Filipino players out there and to be one of them, representing the country and doing well, I feel that reflects well on the nation and shows how hard we work. The Filipinos are very underrated, so to be able to add to their status is good," Eala told ITFtennis.com.
"I am so proud to be a Filipino," said Eala. "As I say, there aren't many Filipinos that are playing at a high level, that's why I hope that people see this win as a big triumph and a big step for tennis in the Philippines.
"It was such an honour to be able to represent my country in such a prestigious and well-known event. I feel like this is my way of giving something back and doing my part," the teen tennis champion said.
SEND CONGRATULATIONS in the comments below to the Philippines' Alex Eala for her victory over Spain's ace and claiming her 1st pro tennis title!
Are you a Proud Filipino? Get more good news stories on Filipino Pride! Subscribe to GoodNewsPilipinas.com and our YouTube channel: Good News Pilipinas! TV
Facebook Comments