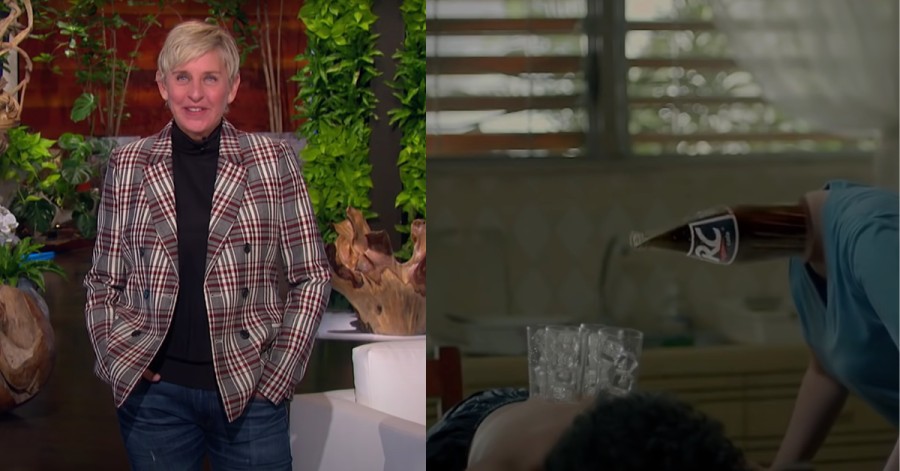 The viral soft drink television advertisement from RC Cola Philippines that shocked audiences across the country has made its way to American TV's The Ellen Show.
Talk show host Ellen DeGeneres together with DJ and hip hop dancer Stephen "tWitch" Boss reacted to the two-minute video advert for RC Cola which earlier made rounds online amongst Filipino netizens for its shock value and portrayal of a mother and child who are hiding huge family secrets.
In The Ellen Show's January 23, 2021, episode hosts Ellen DeGeneres and tWitch had to try and guess the outcome of strange television commercials around the world, including the local Filipino ad, in a nearly unpredictable game of "Ellen and Twitch Guess What's Going to Happen Next in This Crazy Commercial" segment.
The Kafkaesque RC Cola ad starts like a seemingly normal Filipino commercial that follows a boy who struggles with his identity and thoughts that he is actually adopted. It revolves around a mother and child family drama which quickly turns bizarre when the kid reveals he was born with four drinking glasses on his back.
"I mean, what is that commercial?" Ellen asks.
"What's it for, do we know?" she hilariously adds, which was followed by laughter from the show's cast members and co-host tWitch.
Ellen DeGeneres and tWitch both guessed incorrectly in the "What Happens Next?" game featuring the Philippine TV commercial by the local soda brand, RC Cola.
The boy in the soft drink commercial's startling revelation to viewers is topped by another surprise when his mother reveals she has been hiding a bottle of RC Cola in her head all along. The family drama gets resolved when the whole family gets together to drink soda from the boy's back, using straws.
The Ellen Show's hosts were left scratching their heads after watching the viral Filipino soda commercial written by Gigil associate creative director Dionie Tañada who said he wanted to make the ad as unique as possible.
"I was wondering how they were going to drink it, and that's how," Ellen remarks, clearly surprised with the way the video ended.
The Ellen Show's co-producer tWitch was equally stunned by the local soft drink commercial.
Ellen and tWitch saw other oddball commercials in the show's segment, but RC Cola Philippines' visually strange ad seemed to have taken the cake.
"That was quite a surprise with the RC Cola," Ellen later adds.
RC Cola has received props for the eccentric ad's creativity and visuals as well as criticism for getting social media netizens confused with the television commercial's choice of storyline and message.
American TV's Ellen DeGeneres has invited many Filipino personalities on her show, including Filipino singer Marcelito Pomoy, the Philippines' Blind Balladeer Carlmalone Montecido, and internationally renowned Filipino vocalist Arnel Pineda from the iconic band Journey, among many others.
Ellen DeGeneres also honored Filipino-American nurse Flor Maylyn Roz with a brand-new car as a token of appreciation for her work as a medical frontliner.
SEND CHEERS in the comments below to American television host Ellen DeGeneres for featuring a Filipino commercial from RC Cola in The Ellen Show and WATCH the full segment of "Ellen & tWitch Guess What's Going to Happen Next in This Crazy Commercial" here.
Are you a Proud Filipino? Get more good news stories on Filipino Pride! Subscribe to GoodNewsPilipinas.com and our YouTube channel: Good News Pilipinas! TV
Facebook Comments