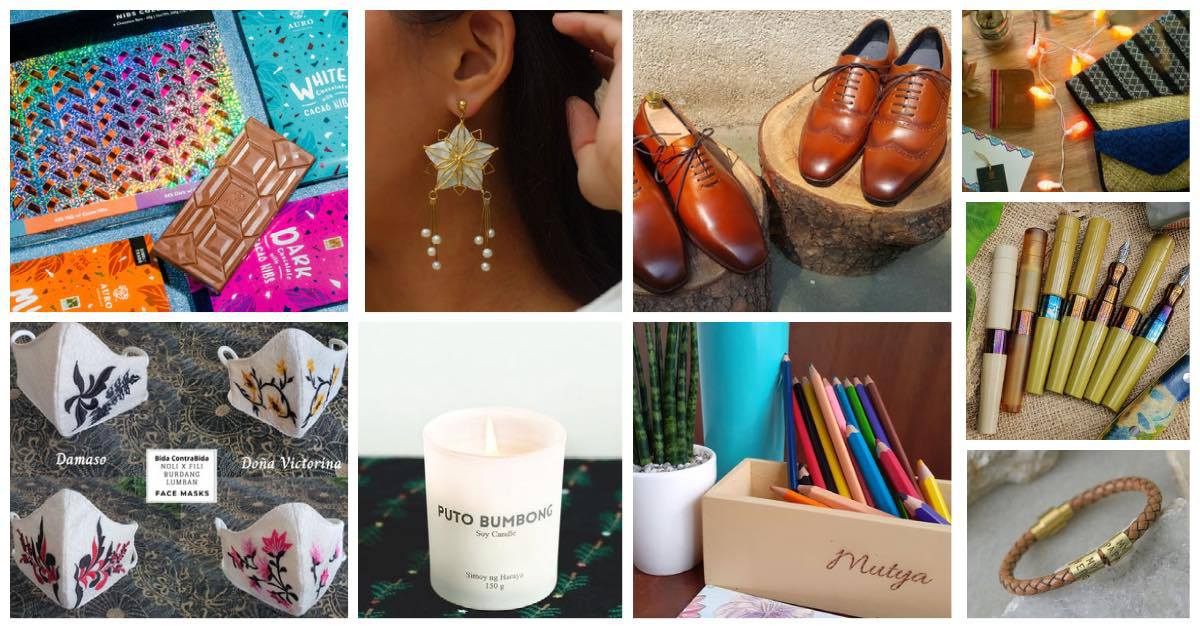 Check out these unique and proudly Filipino-made products that will make great gifts for your loved ones this Christmas while supporting small businesses and local artisans in the Philippines.
The holidays are here, and it's time to enjoy the spirit of gift-giving as we welcome a merrier season filled with festive traditions and customs that have made the Philippines known for having the longest celebration of Christmas in the world.
This year, you can make your gifts to friends and family mean much more by patronizing homegrown and independent brands that have continued to innovate and serve Filipinos amid the COVID-19 pandemic.
Here's a list of gift ideas to help you get something for everyone on your list:
Artisanal Chocolate: Auro Chocolate
Auro Chocolate is a premium bean-to-bar chocolate company that supports Filipino farming communities while also promoting sustainability and the Philippine cacao industry.
The brand has won numerous international accolades, including five gold awards in the International Chocolate Awards (ICA) Asia-Pacific competition last year and the prestigious Academy of Chocolate in London.
You can shop for Auro Chocolate's products online or check out their website for stores near you.
Scented Candles: Simoy ng Haraya
Simoy ng Haraya (whiff of imagination) is a local brand that boasts an impressive variety of scented candles, including ones that are inspired by all-time favorite Pinoy desserts.
Available in variants such as Puto Bumbong and Buko Pandan, the holiday candles also come in Benguet Market and Himig, which is reminiscent of festive citrus scents to get you in a merry mood.
The Puto Bumbong candle promises to perfume the air with a blend of coconut, milk, and brown sugar, while the Buko Pandan variant has notes of coconut, pandan, milk, vanilla, and cream.
The candles also come in refillable glass bottles as part of the brand's personal commitment to sustainability.
You may purchase the candles through the Simoy ng Haraya website.
Face Masks
Show your loved ones that you care by gifting them these handmade face masks that will keep them safe and stylish.
Herencia
Characters from national hero Jose Rizal's Spanish-time Philippine novels have inspired this line of face masks showcasing Philippine embroidery from Laguna under the Burdang Lumban collection.
The first pair of face masks are named Isagani and Paulita, the lovers in Rizal's novel El Filibusterismo while the second pair are named after Ibarra and Maria Clara, the ill-fated lovers from Noli Me Tangere.
Herencia has since then released more pieces under the Burdang Lumban collection named the Bida ContraBida Face Masks.
Contact Herencia for orders on Facebook.
Check out this complete list of Philippine-made reusable face masks here.
Pens: Kasama Pens
Kasama is a small pen company in the Philippines. Check out Kasama's fountain pens which are proudly designed and made by Filipinos.
You may inquire about prices and orders through KasamaPH on Instagram.
Jewelry and Accessories: AMAMI
Amami celebrates Filipino heritage jewelry while providing sustainable livelihoods to empower local artisans in the Philippines.
Check out these new limited-edition Golden Parol Capiz Earrings from Amami, a statement piece that incorporates natural materials such as authentic capiz shells (windowpane oysters) and freshwater pearls.
Istorya Creations is another local brand that specializes in creating handmade, customizable jewelry and accessories.
Make your gifts extra special and thoughtful this Christmas by having them personalized by Istorya Creations.
For orders, check out Istorya Creations on Facebook.
Handwoven bags and wallets: Woven.PH
Looking for Filipino handicrafts? Check out Woven.PH which offers banig mats and products from Bulsa cardholders to handmade laptop sleeves and bags.
The crafts company designs hand-in-hand with Filipino artisans and offers high-quality and handmade products that would make excellent gifts for your stylish friends and family who have an eye for beautiful patterns and designs.
Check out Woven.PH's creations on their website.
Shoes: Marikina shoes
Let's support the Marikina shoe industry that has been struggling to thrive due to the COVID-19 pandemic by buying goods from local sapateros this Christmas.
Check out local footwear brands SapaTorres Marikina on Facebook and Checkpoint Shoes on Shoppe and Lazada.
Smartphone Cases: Coast
Filipino brand Coast has created plant-based biodegradable phone cases that can be composted after use to reduce plastic pollution.
The brand came up with the eco-friendly concept to provide Filipinos an alternative to traditional smartphone cases made of plastic materials which contribute daily to the non-biodegradable waste in landfills and oceans.
You can buy the Filipino-made 100% biodegradable tech cases on https://coastph.com/
Personalized Organizers: BalaiKamay
For personalized items, reach out to BalaiKamay which will provide all your design and engraving needs, as well as handcrafted products such as organizers, coasters, tokens and souvenirs, and more.
Each BalaiKamay product is a Filipino creation handcrafted by local communities of displaced workers, underprivileged highly-skilled carpenters, and people with disabilities.
The brand also uses sustainable raw materials, like repurposed wood, and non-timber forest products, like bamboo, to help conserve natural resources.
Contact BalaiKamay on their website here.
You can also get into the Christmas spirit of gift-giving by donating to these non-profit organizations and charities that are making the holidays more meaningful for needy Filipino children and their families.
SHARE this article to your friends to help support small businesses and local artisans in the Philippines this holiday season.
Good News Pilipinas is celebrating its 15th Anniversary in 2021 by giving away prizes! Subscribe to this website and  Good News Pilipinas! TV YouTube channel and enter the raffle by telling us what you like about our stories in an email to editor@goodnewspilipinas.com
Facebook Comments