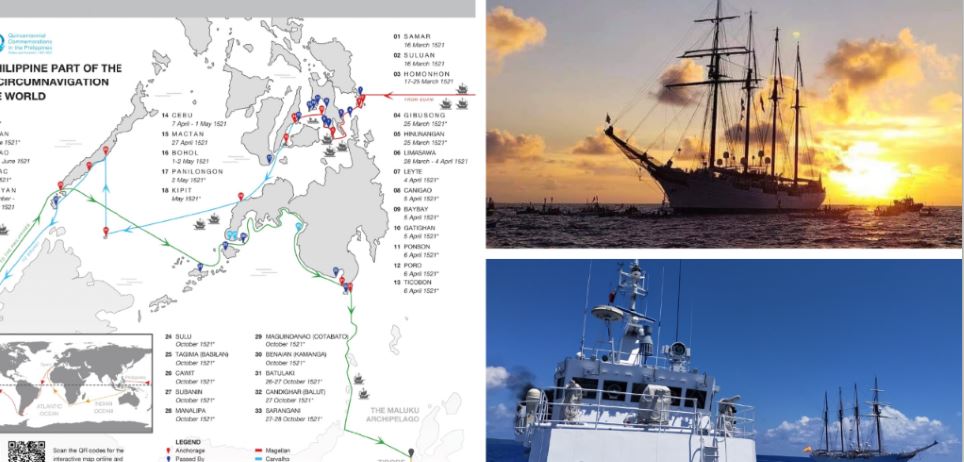 The first circumnavigation of the world 500 years ago is being celebrated today, March 16, 2021, with several events including the release of the Spanish expedition's route map around the Philippines' islands in 1521.
The day also witnessed the arrival from Guam of the Spanish Navy's Buque Escuela de la Armada Española Juan Sebastián Elcano (Spanish Navy Training Ship Juan Sebastian Elcano) in the seas of Suluan Island, Guiuan in Eastern Samar, as the fleet traces the circumnavigation path of the Magellan-Elcano Expedition 500 years ago.
The Spanish Navy Training Ship Juan Sebastian Elcano was met by the Barko ng Republika ng Pilipinas (BRP) Suluan, the namesake of the waters where the Spanish fleet first set anchor in the Philippine Sea, signaling the start of the 2021 Quincentennial Commemorations in the Philippines.
The 500th-anniversary events in the country will continue to trace the expedition's path with the unveiling of 34 historical markers until October 28 in Sarangani Island in the town of Sarangani, Davao Occidental.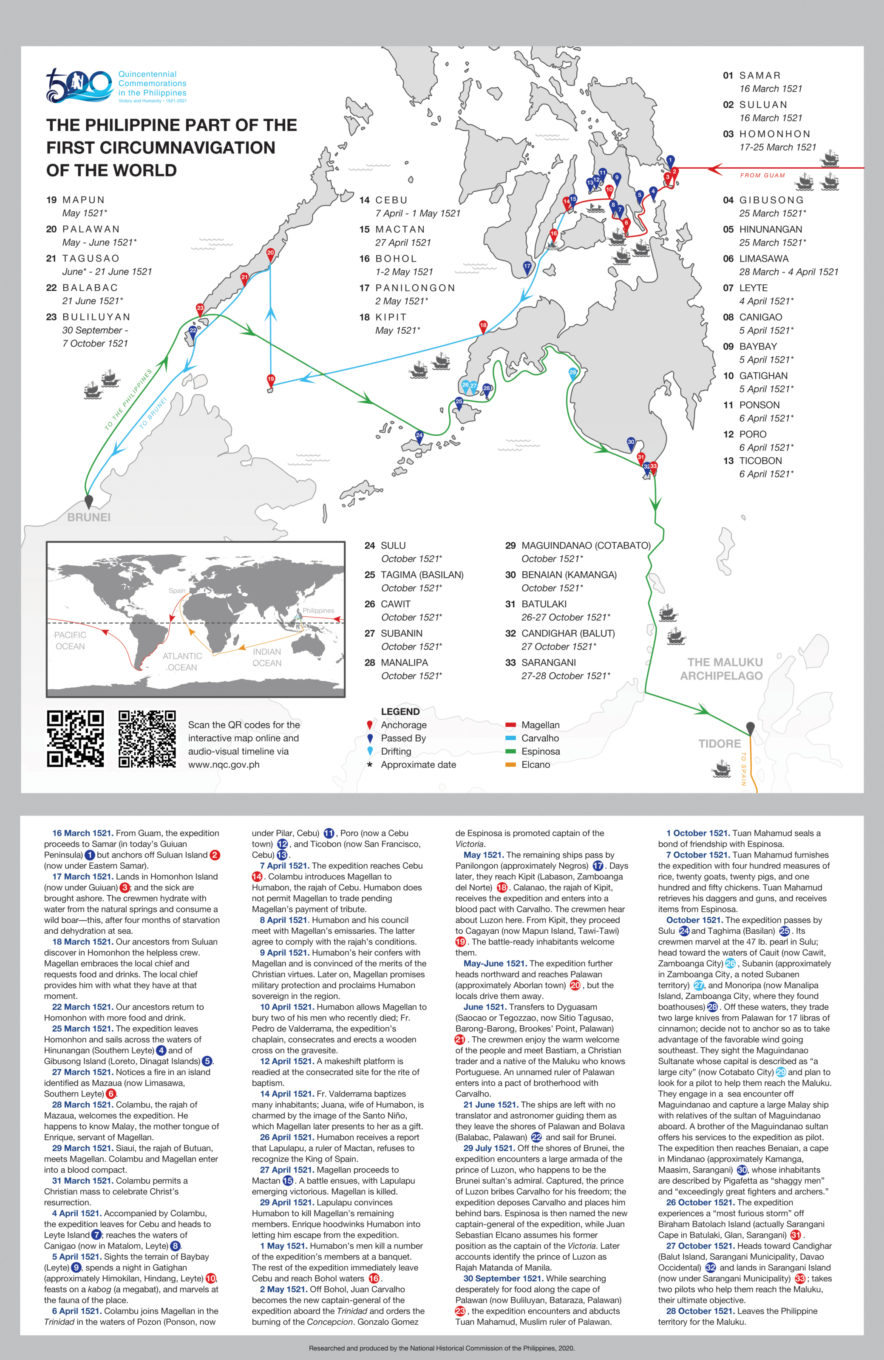 The National Quincentennial Commemorations notes that a "significant part of the history of the first circumnavigation of the world happened in the Philippines."
"Among these events that occurred during this part of the expedition in the Philippines, underscored the compassion of our ancestors toward the starving and undernourished crew of Magellan on meeting them in Homonhon; the blood compact between the expedition's captain-general Ferdinand Magellan and Rajah Colambu, as well as the celebration of Christ's Resurrection in Limasawa in Southern Leyte, the Christian baptism in Cebu; and the Battle of Mactan."
After Magellan's death in Mactan, Juan Sebastian Elcano, the captain of another ship, Victoria, completed the expedition back to Spain on September 6, 1522, via the Portuguese waters.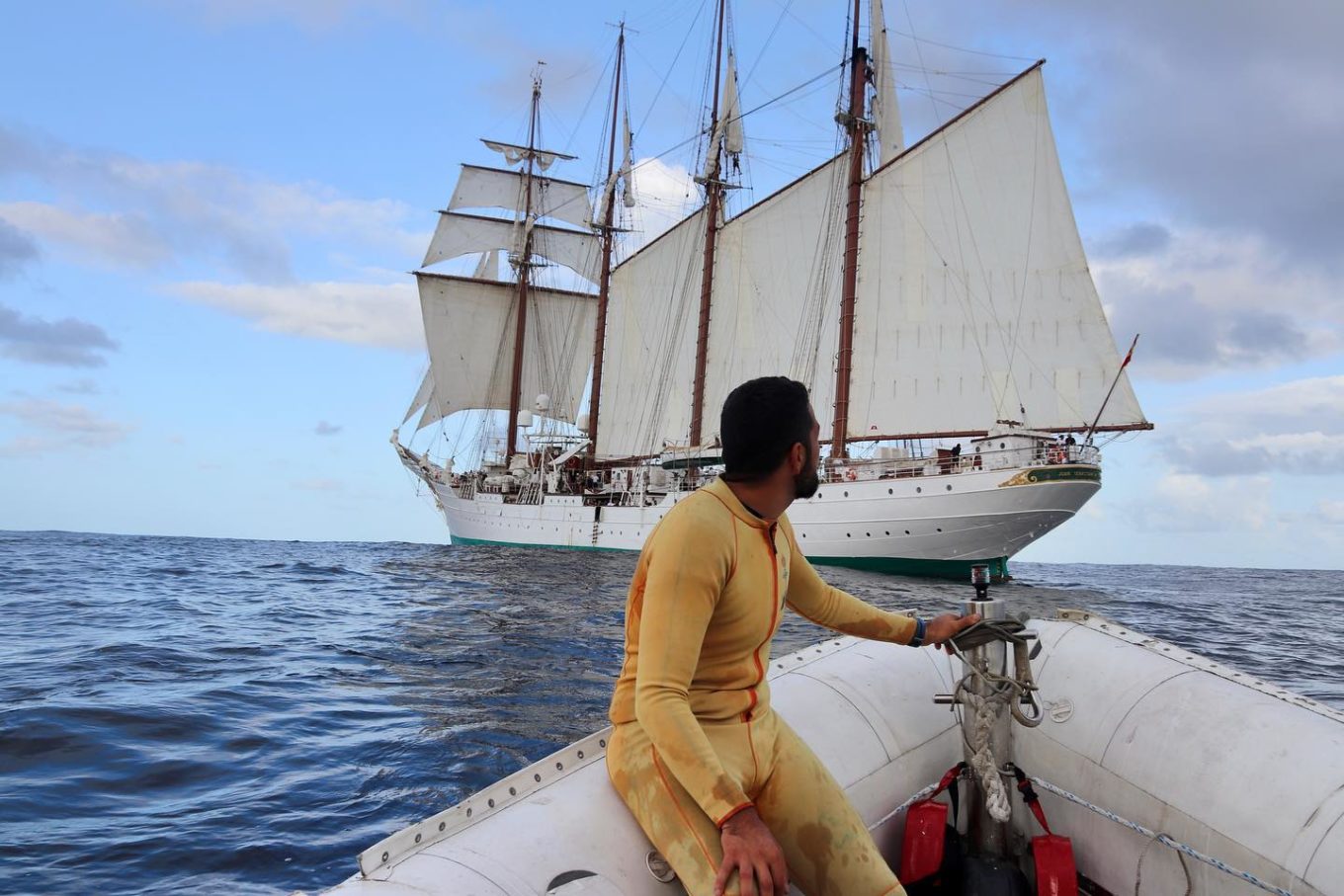 CHECK OUT the List of March Events for the Philippines' Quincentennial Commemorations here.
SEND CHEERS in the comments below as the First Circumnavigation of the World by the Magellan-Elcano Expedition 500 years ago in 1521 is traced on the Philippine Route Map released by the National Quincentennial Committee.
Good News Pilipinas is celebrating its 15th Anniversary in 2021 by giving away prizes! Subscribe to our Good News Pilipinas! TV YouTube channel and enter the raffle by sending us an email to editor@goodnewspilipinas.com
Facebook Comments