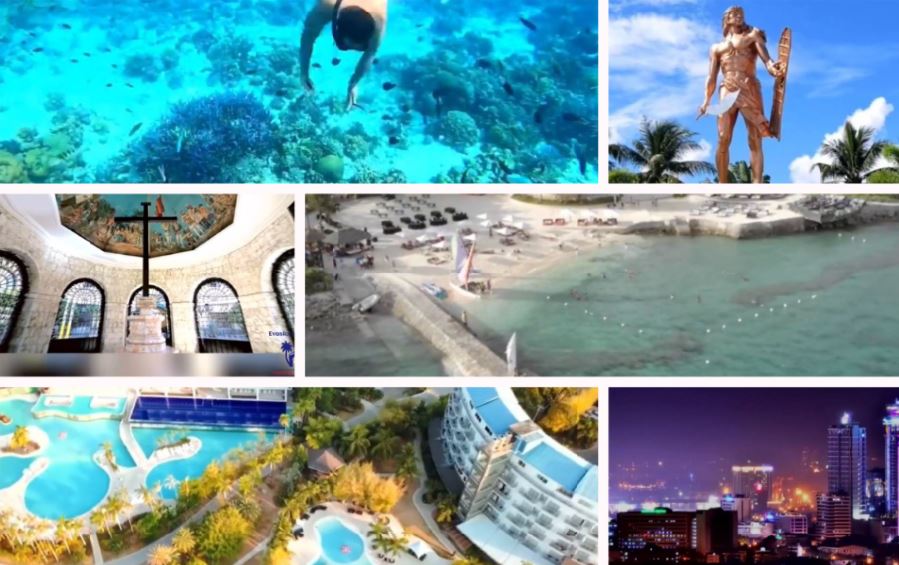 Cebu has declared its readiness to welcome more tourists to its beaches, hotels, resorts, popular city nightlife, and heritage sites through the "I Love Cebu" online travel sale.
The Queen City of the South's tourism sector led by the Hotel, Resort and Restaurant Association of Cebu, Department of Tourism, Tourism Promotions Board, and the local government launched the online travel fair today, March 16, 2021, ahead of the official opening this Sunday.
A total of 60 establishments, 18 tour operators, and 42 hotels and resorts are set to offer the best packages for travelers when the I Love Cebu Travel Fair goes live on Traveloco from March 21 to April 30, here https:traveloco.ph/ilovecebu
The Cebu tourism sector describes the world-famous island's offerings for travelers: "In this long and narrow island, mountains and seas converge, and tranquil coastal areas and a booming metropolis coexist. What is even more exciting in experiencing Cebu are its naturally innate and unique paradise experiences.
"If it is heights that excite you, numerous mountains can be trekked within Cebu, perfect for beginners and even for more experienced trekkers. The Osmena Peak in Dalaguete, Cebu's highest peak, is only a 3-hour drive from the city. Drive down south for an hour more and get to feel the exhilarating thrill of flying by paragliding in Oslob.
"In any case, Cebu is best known for its beautiful blues. In the very same town, the wonderful town that is Oslob dwells the majestic whale sharks. Swimming with these gentle giants is definitely an experience of a lifetime. Awe-inspiring diving spots are also the pride of Cebu. Up north are the beautiful white sand beaches of Camotes, Malapascua, and Bantayan, and many more.
"Near the metropolis is Lapu-Lapu City, dubbed as the Historic Resort City. Here you can find a strip of resorts, ranging from mid to highly acclaimed ones, but all offering their very own savoir-faire."
Cebu plays a major role in the ongoing Quincentennial Commemorations marking the Philippines' role in the first circumnavigation of the world by the Magellan-Elcano Expedition of 1521 and the arrival of the Christian faith in the islands.
The award-winning Mactan Cebu International Airport is the gateway to the world-famous island destination in the Philippines.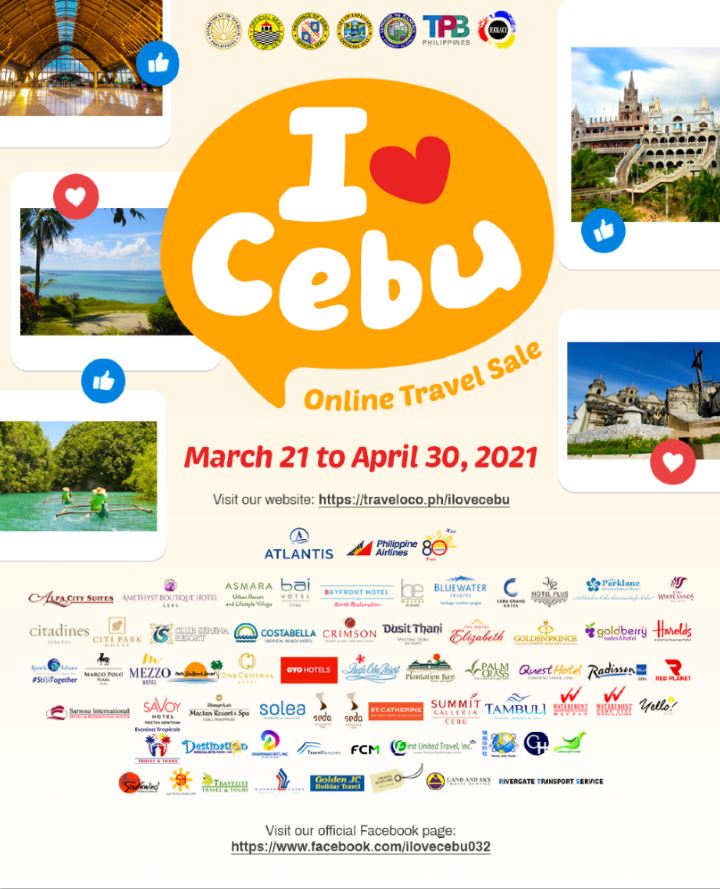 Make Cebu your first getaway destination after a long hiatus. Experience these and many more firsts in the beautiful island of Cebu through the I Love Cebu Travel Fair from March 21 to April 21, 2021.
Participating hotels and resorts are:
Alpa City Suites
Amethyst Boutique Hotel Cebu
bai Hotel Cebu
Bayfront Hotel Cebu
BE Resort Mactan
Bluewater Maribago Beach Resort
Bluewater Sumilon
Cebu Grand Hotel
Cebu Hotel Plus
Cebu Parklane International Hotel
Citadines Cebu City
Citi Park Hotel
Crimson Resort and Spa Mactan
Diamond and Club Serena
Dusit Thani Mactan Cebu
Golden Prince Hotel
Hotel Elizabeth Cebu
JPark Island Resort & Waterpark Mactan
Marco Polo Plaza Cebu
Mezzo Hotel
One Central Hotel & Suites
OYO 449 Sunrise 888 Oslob
OYO 455 Casa Bonita Inn Oslob
OYO 592 La Briana Guest House Sta Fe
OYO 638 Randy's Bantayan
OYO 659 Myrna's Pension Sta Fe
OYO 674 Seaforest Resort
Moalboal
Pacific Cebu Resort
Quest Hotel & Conference Center Cebu
Radisson Blu Cebu
Sarrosa Int'l Hotel
Savoy Hotel Mactan
Shangri-la's Mactan Resort and Spa
Solea Hotels and Resorts
Waterfront Airport Hotel & Casino
Waterfront Cebu City Hotel and Casino
Destination Specialists Cebu Inc
Divaishnavi Int'l. Inc
Experience More Travel Specialists Inc.
First United Travel Inc
Funtastic Travel & Tours Inc
Global Link Travel and Tours
Golden JC Holiday Travel
Grand Hope Travel Inc
Green Earth Tours and Travel, Inc
iTRAVEL iEXPLORE Tours & Services
PTN Travel Corporation
Southwind Travel & Tours
Travel with Southwind, Inc
Sun Travel & Tours, Corporation
Travelite Travel and Tours Co
Wander Lanes Travel Co. Inc.
Health protocols must have the standard minimum requirements by IATF and DOH. Stricter protocols are the norm in Cebu. It is only Cebu City that requires the negative RT-PCR tests. Lapulapu City does not require any testing nor travel requirements. Mandaue City and the Province Cebu require only a medical certificate and confirmed accommodation booking.
SHARE with us in the comments below, what do you love most about Cebu?
Good News Pilipinas is celebrating its 15th Anniversary in 2021 by giving away prizes! Subscribe to our Good News Pilipinas! TV YouTube channel and enter the raffle by sending us an email to editor@goodnewspilipinas.com
Facebook Comments