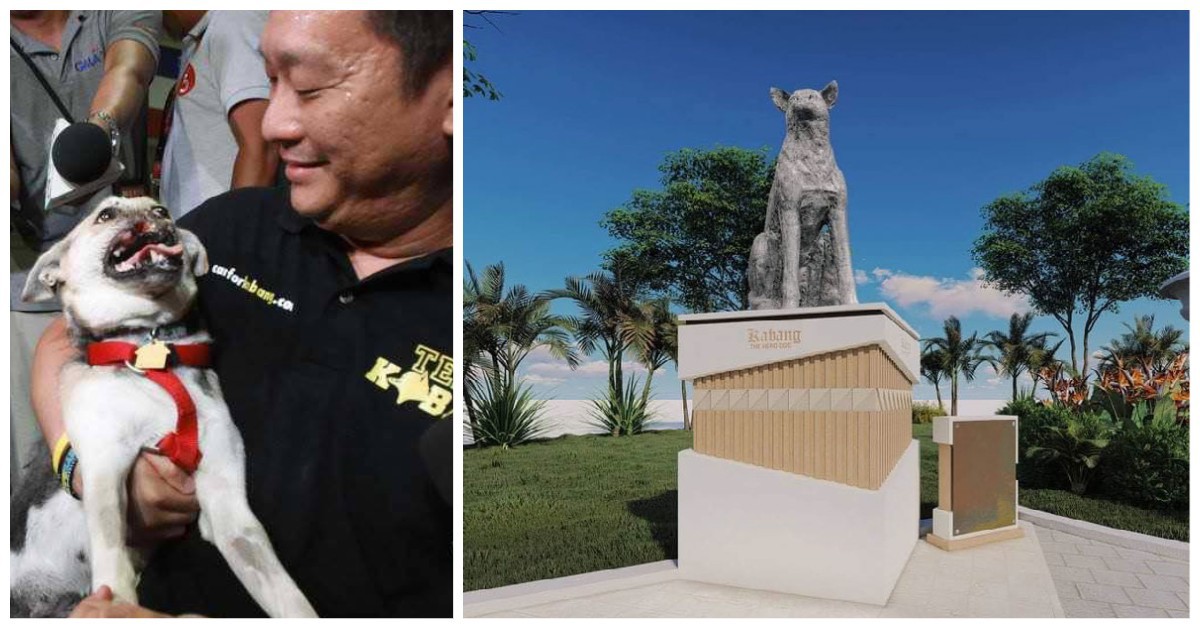 The Philippines' beloved dog hero Kabang will soon have a memorial marker in Zamboanga City erected in her honor, the first such tribute in the country.
In a Facebook post, the non-profit organization dedicated to "Kabang The Hero Dog" unveiled the final architectural design of the monument paying tribute to the well-loved female AsPin on May 26, 2021.
The memorial features the solid aluminum statue of Kabang made by Davao-based sculptor, Kublai Millan.
"The modern pedestal bearing the statue pays homage to the 'humility' of AsPins in our country," Kabang The Hero Dog wrote in a Facebook post.
Designed by Zamboangueño architect Keith San Antonio, the memorial marker hopes to increase awareness and promote the adoption of the local dogs known as "Asong Pinoy" or AsPin.
"The simplistic shape and form reflect their modest but elegant nature and at the same time, exhibits stability as they are the most common dog breed that Filipinos can rely on," the organization added.
The country's first memorial marker honoring a local canine hero will most likely be installed in a pet-friendly site near Pasonanca Park in Zamboanga City, according to Kabang's veterinarian Dr. Anton Lim, a humanitarian aid worker.
Kabang is Zamboanga City's Ambassadog of Goodwill for Responsible Pet Ownership and a Global Advocate for Animal Welfare.
Described as a "hero dog" by Filipinos, Kabang captured the hearts of millions of netizens from around the world after she saved her owner's daughter and cousin from a motorcycle accident in Zamboanga City in 2011, in the process losing her snout and endangering her life. Dr. Lim eventually took charge of caring for Kabang after her owner entrusted the dog to the vet.
Filipino netizens offered artworks and tributes online to the local canine hero after her veterinarian Dr. Lim revealed that she passed away in May. She was 13 years old.
A fund-raising campaign has also been launched to honor Kabang's legacy. The proceeds will be used to support animal welfare programs in the Philippines.
You may donate through this gofundme website.
Actress and known animal rights advocate Heart Evangelista encouraged people to adopt aspins from shelters instead of buying from pet stores in the "Have a Heart for Aspins" PAWS campaign.
SEND CHEERS in the comments below to the Philippines' beloved dog hero Kabang who will soon have a memorial marker in Zamboanga erected in her honor.
Good News Pilipinas is celebrating its 15th Anniversary in 2021 by giving away prizes! Subscribe to our Good News Pilipinas! TV YouTube channel and enter the raffle by sending us an email to editor@goodnewspilipinas.com
Facebook Comments