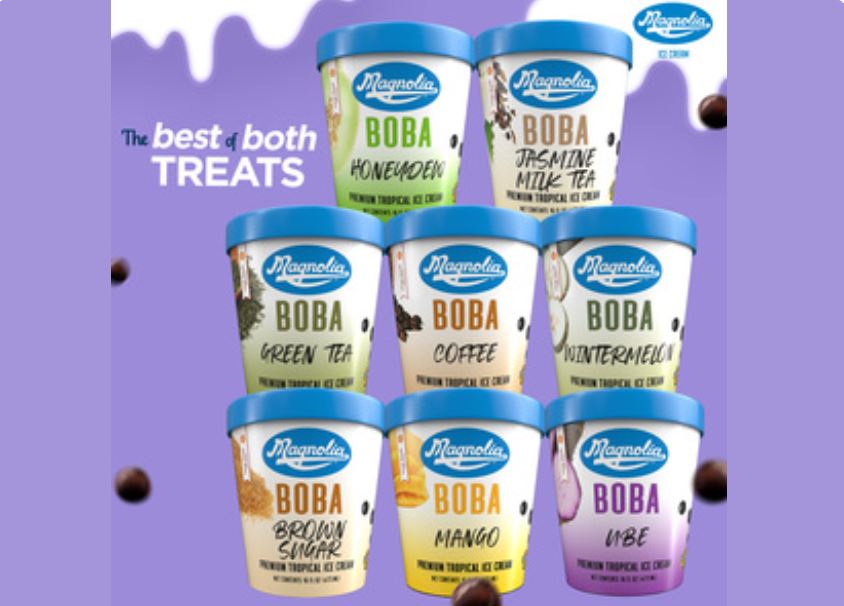 The Magnolia premium brand of Ramar Foods has introduced eight flavors of Boba Ice Cream to the American market.
The new Magnolia Boba Line will be a combination of familiar and new flavors. The entire line will be available in pint sizes, and the flavors include:
● Ube
● Mango
● Coffee
● Green Tea
● Wintermelon
● Honeydew
● Brown Sugar
● Jasmine Milk Tea
"The team is excited to be part of the boba trend; we are bringing the flavors our consumers love with a new twist while introducing new milk tea flavors to the Magnolia line," said Vaneza Agustin, the Marketing Coordinator at Ramar Foods.
According to the Ramar Foods team, the texture of the boba is as soft as you would expect in a boba drink, and that it would pair well with their premium ice cream. Typically, boba pearls are made with tapioca starch that hardens when frozen; however, their team made sure the consumers experienced
perfectly chewy boba with every scoop of ice cream.
The entire Magnolia Boba Ice Cream line will be available in the frozen aisle of various local grocery stores and on www.magnoliaicecream.com. For more information on the launch, visit their Instagram @magnoliaicecream and Facebook Magnolia Ice Cream USA.
Earlier this year Ramar Foods introduced the delivery of Pinoy dishes in bundle boxes to the American market.
Good News Pilipinas is celebrating its 15th Anniversary in 2021 by giving away prizes! Subscribe to our Good News Pilipinas! TV YouTube channel and enter the raffle by sending us an email to editor@goodnewspilipinas.com saying what you like about our site.
Facebook Comments