History channel's first and biggest entertainment convention in Asia will be hosted by Manila from August 25 to 28.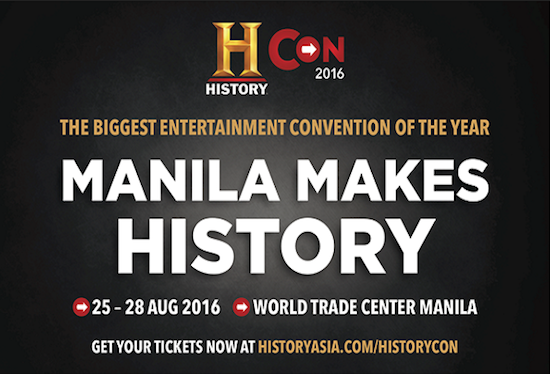 History Con promises to cover a broad range of topics and interests ranging from the adventure and survival, motoring, history and culture, to paranormal and sci-fi.
Popular History channel personalities will appear at the 4-day event to host talks, conduct workshops, and sign autographs.
Along with the channel's international personalities such as "Ancient Alien" host Giorgio Tsoukalos , Justin Mott of "Photo Face-off", Jarrod of "Storage Wars", and Damon Runyan of "Gangland Undercover", Filipino cast members of "Celebrity Car Wars," such as KC Montero, Joey Mead King and Marc Nelson and professional car driver, Gaby Dela Merced will treat fans to meet-ups.
A+E Networks Asia's Prem Kamath said the network is expecting the History channel's loyal fans and history buffs at the convention.
"We are thrilled to make history with the conception of History Con, the biggest entertainment convention of its kind, in Manila. History Con reinvents the way we connect with our local audiences, as an on-ground extension of our brand that offers something for everyone, whether they're our loyal fans who just can't get enough of History, or they're curious onlookers who are new to our brand. We're creating an experience beyond the television screen to engage our visitors at a deeper level that allows them to feel, live and see history come alive in an entertaining way," said the network's Deputy Managing Director.
Facebook Comments