Filipino math wizards from Philippine schools took home 30 medals and 12 merit awards from the 2016 Thailand International Mathematics Competition (TIMC).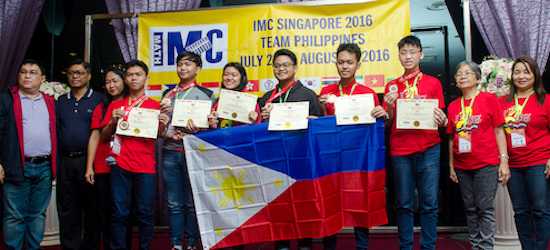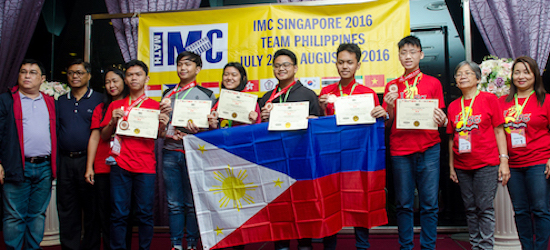 The 32 students of the Philippine delegation to the math contest won 2 gold, 5 silver and 12 bronze medals, and 12 merit awards in the individual contest, and 7 first runners-up and 4 second runners-up trophies in the group and team contests, according to the media release of the Mathematics Trainers Guild (MTG)-Philippines.
MTG's Dr. Isidro Aguilar announced the winning math students:
Gold medal
Fedrick Lance Lim – Zamboanga Chong Hua High School
Vicente Raphael Chan – Zamboanga Chong Hua High School
Silver medal
Dominic Lawrence Bermudez – Notre Dame of Greater Manila
Shawn Darren Chua – MGC New Life Christian Academy
Vanessa Ryanne Julio – St. Jude Catholic School
Bryce Ainsley Sanchez – Grace Christian College
Annika Angela Mei Tamayo – Ateneo de Iloilo-Sta. Maria Catholic School
Bronze medal
Vince Dexter Ang – Philippine Cultural College-Main
Immanuel Josiah Balete – St. Stephen's High School
Andrei Lenard Chan – Zamboanga Chong Hua High School
Mark Edward Gonzales – St. Paul College of Makati
John Henry Marquez – Philippine Science High School-Main
Ryan Jericho Sy – Chiang Kai Shek College
Justin Teng Soon Khoo – Learning Circle
Frederick Ivan Tan – Xavier School
Robert Frederik Uy – St John's Institute Bacolod City
Jan Cedrick Quintin – Mother Goose Special School System
James Matthew Young – Iloilo National High School
Jonathan Conrad Yu – Philippine Christian Gospel School
Merit award
Sarji Elijah Bona – Palawan Hope Christian School
Marco Erano Dumale – De La Salle University Integrated School
Lawrence Gabriel Dy – CCF Life Academy
Andrhea San Gabriel – University of Baguio Science High School
Xuanye Li – Xavier School
Lance Heinrich Lim – St. Jude Catholic School
Jose Ignacio Locsin – Philippine Science High School-Main
Raymund Carlo Masbano – St. John's Institute
Wesley Gavin Palomar – Falcon School
Rexza Mae Panaligan – Sta. Barbara Central Elementary School
Jose Oliver Narvasa – Notre Dame of Greater Manila
Karl Raymond Roque – Philippine Science High School-Main
In a media interview, gold medallist Lim said, "Each time we win medals and other honors in international math contest like the TIMC is a celebration of national pride."
Filipino math students also won in the China math competition, according to the Guild.
The Philippine team competed against contestants from Australia, Canada, The Netherlands, South Korea, Hong Kong, China, Bulgaria, Mexico, Thailand, Taiwan, Kazakstan, Mongolia, Indonesia, Cyprus, India, Iran, Laos, Lebanon, Macau, Malaysia, Nepal, Romania, South Africa, Sri Lanka, Tajikistan, Uzbekistan, Vietnam and the Philippines.
Facebook Comments