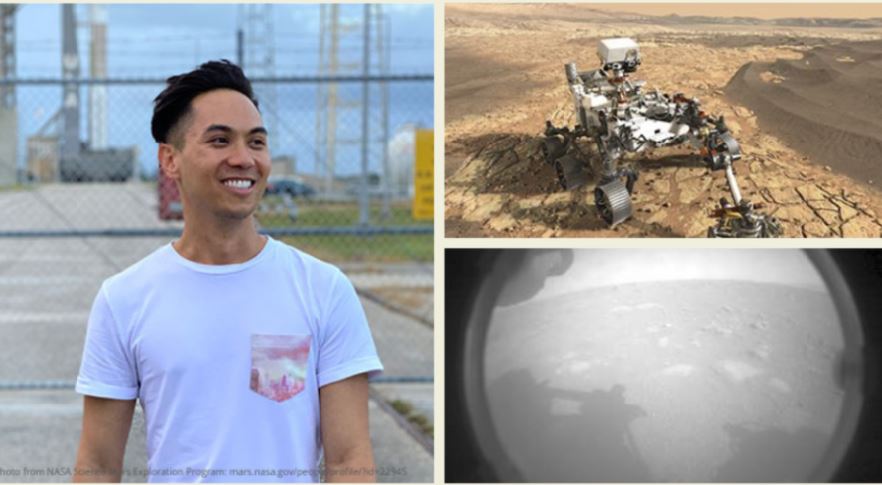 Meet Gregorio Villar, National Aeronautics and Space Administration (NASA) Filipino-American engineer, who helped build and test the system that landed the Perseverance rover on Mars.
Villar is part of NASA's Jet Propulsion Laboratory and NASA's Mars Exploration Program as the Entry, Descent, and Landing (EDL) Systems Engineer, where he spent seven and a half years building and testing a system that would land a car-sized rover on Mars.
He is an alumnus of Saint Louis University – Laboratory High School in Baguio, Philippines. He is a degree holder of a Bachelor of Science in Physics at California State Polytechnic University, Pomona, and a Master's in Astronautical Engineering at the University of Southern California.
While working with NASA's Jet Propulsion Laboratory, Villar heads the verification and validation engineer for the entry, descent, and landing phase. He also led a council of atmospheric scientists to characterize the Martian atmosphere.
Engr. Villar shared that leading a parachute test campaign in the world's largest wind tunnel is the most-extraordinary experience he had so far working for NASA.
When asked by Dr. Moogega Cooper in an episode of NASA Science Live on what the rover is doing right now, Villar stated that after seven months of being cramped up in a spacecraft, the team has been doing little checkouts of the mechanisms, turning on instruments, and making sure they are good to go.
Perseverance rover was launched from Earth on July 30, 2020, and landed on Mars on February 18, 2021. The main job of the rover is to seek signs of ancient life and collect samples of rock and regolith (broken rock and soil) for a possible return to Earth.
"Perseverance will be roving around, analyzing the rocks, assessing the outcrops, getting context for us. The rover will be collecting samples that will eventually return, hopefully, on the Mars sample return mission. So, we can then analyze those Martian samples back on Earth." said Dr. Kelsey Moore, field Geoscientist and Perseverance Science Team Member.
Another NASA Filipino engineer, Josephine Santiago-Bond, is head of the Advanced Engineering Development Branch at NASA's Kennedy Space Center.
The Philippines has topped the rankings of countries with 2,072,614 sign-ups from its citizens who have signed their names for inclusion in the National Aeronautics and Space Administration (NASA) "Send Your Name To Mars" program for world participation in the Mars Mission planned for the year 2026.
SEND CONGRATULATIONS in the comments below to NASA's Fil-Am Engineer Gregorio Villar of the Perseverance Mars Mission!
Are you a Proud Filipino? Get more good news stories on Filipino Pride! Subscribe to GoodNewsPilipinas.com and our YouTube channel: Good News Pilipinas! TV
Facebook Comments