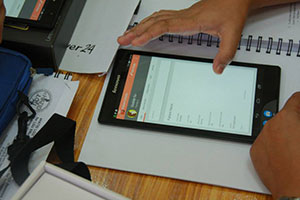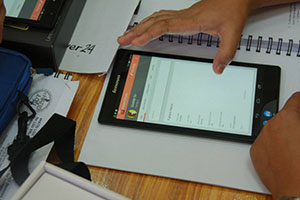 Doctors and health workers in Mindanao can now make better informed and accurate decisions about health-related concerns with the help of computer tablets integrated with a health information support system.
eHATID (eHealth TABLET for Informed Decision-making) LGU, is a project that aims to support LGUs with the use of an Electronic Medical Record mobile application that generates reports for the Philippine Health Insurance Corporation and Department of Health.
Funded by the DOST's Philippine Council for Health Research and Development (PCHRD) along with Ateneo de Manila University, the tablet ensures a more efficient patient record system that will save time and effort for both health workers and patients.
The eHATID turn-over ceremony was one of the highlights in the Department of Science and Technology's road show, "Science Nation Tour:Agham na Ramdam MIMAROPA leg" that also coincided with the 51st Regional Development Council Meeting held in Bellaroca Island Resort, Marinduque.
Dr. Dennis Batangan of Ateneo de Manila University and project leader for eHATID LGU, says that the tablet features a dashboard for real-time visualization through charts and graphs of the aggregated patient information in the locality for the decision making of LGUs. It also features a mayor-doctor communication system as a channel for decision-making and sharing of health information.
In the case of unavailable or intermittent internet connection, Dr. Batangan added that the health worker can use the tablet offline to input patient records and then synch the encoded information later to a government cloud facility.
The eHATID LGU project has been fully adopted by the island-province of Marinduque, and is expected to be deployed to 450 municipal and city LGUs by the end of 2015.
The project is an improved version of its predecessor, the eHealth Tablet, which was piloted in ten sites two years ago. As an improvement, the eHATID has integrated the PhilHealth's outpatient benefit package and claims system into its software.
The eHATID LGU project is one of the eHealth initiatives by PCHRD that will be tackled in the upcoming eHealth Summit on July 28 as part of DOST's National Science and Technology Week from July 24-28, 2015, to be held at the SMX Convention Center, Pasay City.
Facebook Comments