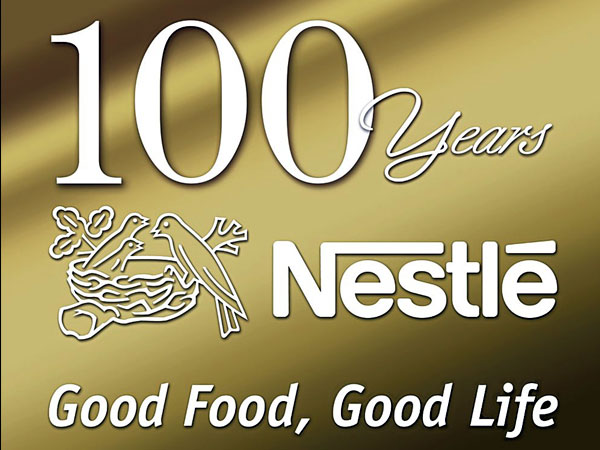 For the Philippine market of the Swiss food and beverage giant Nestlé, "shared value" is not an empty, meaningless phrase. Rather, it is a philosophy that guides the way it goes about its business.
It realizes that its success also depends to a great extent on the success of its shareholders, from the millions of loyal consumers who champion its brands to the hard-working farmers who produce the raw materials that go into its wide range of quality products.
And one of the products that is the testament to the benefits of the shared value concept is NESCAFÉ, one of the most consumed brands in the Philippines.
Through its inclusive growth program, Nestlé is able to improve the lives of thousands of coffee farmers across the Philippines who contribute to making NESCAFÉ among the most trusted brands in the Philippines thanks to the quality and value for money for consumers.
By helping the farmers produce more and thereby earn more, Nestlé is able to increase local supply of Robusta coffee thus securing supply for one of the most consumed products in the country, coffee.
The NESCAFÉ Plan is executed in the field by highly competent agronomists who ensure that superior coffee genetics (Robusta coffee plantlets) are available and produced, state-of-the-art technical trainings are extended and come harvest time, buying stations are open in strategically-located key coffee growing areas nationwide. Thus, completing the coffee production value chain.
Giving evidence to the benefits of the coffee growing program of Nestlé is Silang, Cavite-based A.V.B. Coffee Trading, which has been working with Nestlé since the early 1980s.
Now run by the founder's children, A.V.B. Coffee Trading considers its partnership with Nestlé the cornerstone of its thriving enterprise.
"Nestlé Philippines has become an integral, crucial aspect of our business, and a significant part of our lives," said Aidel Paul G. Belamide, vice mayor of Silang and also one of the proprietors of A.V.B. Coffee Trading, "In fact, our business has survived because of Nestlé."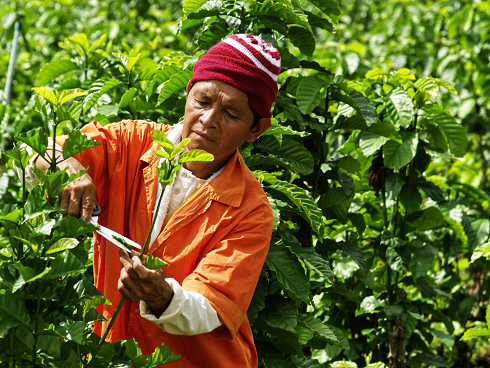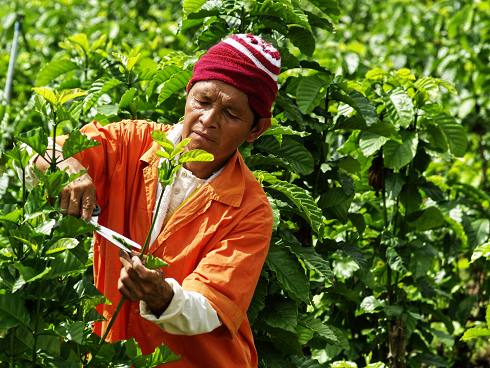 It was Nestlé, he said, who helped his parents, Apolonio and Matilde Belamide, nurture their coffee growing and trading enterprise. Together, and slowly but surely, the elder Belamide was able to secure his own warehouse, truck and milling facility.
His knowledge of the coffee business likewise improved with the help of Nestlé, who taught him how to properly grow coffee, how to make a success out of a coffee venture and the younger Belamide said that Nestlé can always be counted on to inform him of the latest market developments as well as agricultural breakthroughs to help him improve operations.
"It was also Nestlé who inspired us to carry on when our father died suddenly last year. It is Nestlé who serves as our teacher in the production of coffee. Its agronomists talk to us about the different kinds of fertilizer, the possible diseases we should watch out for, and the crops that we can plant along with the coffee to improve our revenues," said Belamide. Nestlé undertakes the partnership program through the NESCAFÉ Plan.
Launched in 2010, it is a global initiative that helps ensure a sustainable supply of quality green coffee. Through this program, Nestlé Philippines aims to increase supply of local Robusta coffee while helping local farmers increase their yield and their income from coffee farming.
Nestle's with its contract growing program, continues to improve the lives of thousands of coffee farmers across the Philippines.
The NESCAFÉ plan in the Philippines helps farmers through the following: 1) Production and distribution of high yielding plantlets, varieties of excellent quality and certified by the Department of Agriculture's Bureau of Plant Industry. These are grown in various facilities including those in Tagum, Davao del Norte, Lipa, Batangas and Malaybalay, Bukidnon, Aglipay, Quirino, Trento Agusan Sur and ,Carmen North Cotabato 2) Capacity building technical/ training for farmers in production of coffee from somatic asexually-propagated varieties. Nestlé regularly conducts Coffee Production Technology Training courses that cover coffee propagation, fertilization, care and maintenance, coffee rejuvenation, quality control and marketing. 3) Establishment of buying stations nationwide, to make it easier for farmers to sell their coffee to Nestlé. Farmers bring their produce to the buying station where a sample is collected on delivery to assess quality of beans. Farmers get paid within 8 banking hours upon receiving a receiving report from the buying station upon delivery.
Latest data show that since 2012, Nestlé has trained 30,000 farmers. Through partners, Nestlé has distributed 11,722,334 plantlets. The volume of sustainably sourced coffee has increased through the years and Nestlé wants to do even more, according to Ruth Novales, the Public Private Partnership lead for the NESCAFÉ plan of Nestlé Philippines.
"Nestle Philippines has become an integral, crucial aspect of our business, and a significant part of our lives,"
"It has always been our mission to contribute to the development of a strong and prosperous Philippines. We want to enhance our competitiveness while advancing the economic and social conditions in communities where we operate," said Novales.
Nestlé today is the single largest buyer of Robusta coffee, which goes to the production of instant coffee. It takes in the majority of the Robusta supply in the Philippines but Novales said there was still room for growth to buy more local coffee. It wants to buy more thus supply has to keep pace.
"We want to increase farmers' incomes as they increase their yields, so they can have more money from the same piece of land. At the same time, they become part of our supply chain," said NESCAFÉ Plan Lead and Head Corporate Affairs Atty. Ernesto S. Mascenon.
"We want to increase farmers' income as they increase their yields, so they can have more money from the same piece of land."
Belamide and the other farmers and traders who are a vital part of the NESCAFÉ Plan intend to help Nestlé achieve just that.
"As the vice mayor of Silang, I also want to pass an ordinance to encourage the youth here to take up farming," said Belamide.
For as Nestlé continues to help him, as it once helped his father, Belamide is confident that it can be counted on to help the next generation, helping prove that doing good for others is good for the business.
This story is part of a series of articles written by GO NEGOSYO writers being published by GoodNewsPilipinas.com every Tuesday as part of our support to Philippine businesses
Facebook Comments